By Samantha Fredberg
With a large crowd of supporters at city hall, Newton took one step closer to becoming a sanctuary city Wednesday, Feb. 8.
Two subcommittees approved an ordinance that will now be moved to a full city council meeting. The proposed ordinance would protect and shelter undocumented immigrants in Newton by limiting cooperation with federal immigration laws. Undocumented immigrants would not be detained or punished for their immigration status.
Six representatives of the subcommittee voted 'yes' and two abstained. The ordinance will now be moved to the full City Council, which will vote Tuesday, Feb. 21.
The subcommittee meeting did not allow commentary or questions from spectators, but the City Hall was filled with residents holding signs of support or opposition.
According to senior Jennifer Horsburgh who attended the meeting, this ordinance is necessary for the livelihood of Newton. "It doesn't ask a lot, it asks us to be compassionate and to protect our community," she said.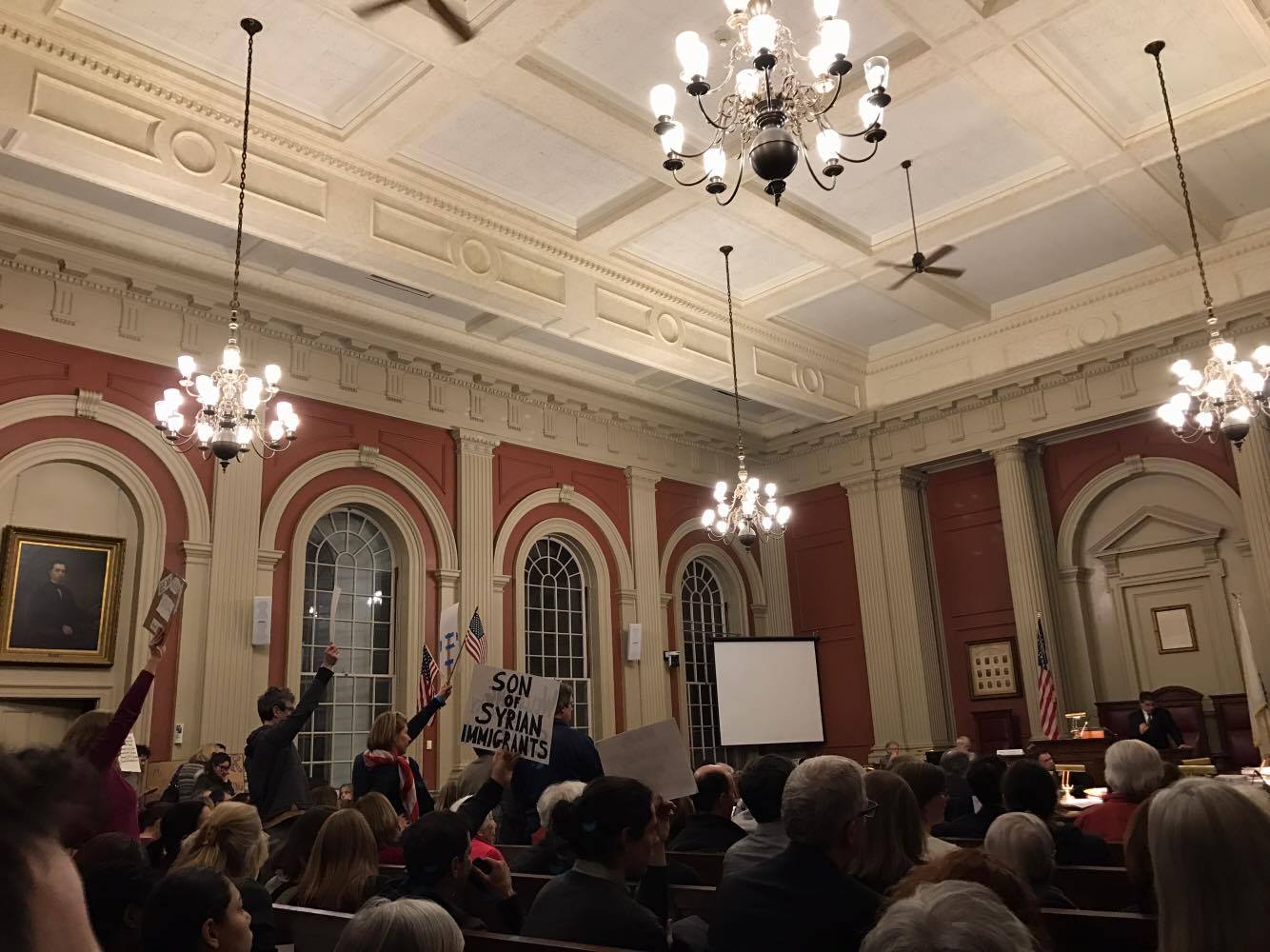 "I'm here because I want Newton to remain an open and welcome city, I'm here because I never want anyone to be afraid to tell the police about a crime committed to them because of their immigration status, and I'm here because I am very worried about our civil liberties right now," said resident Dossie Kahn.  
Though the majority of residents viewing the meeting were holding signs of support with slogans such as "love thy neighbor, no exceptions," "no human is illegal," and "ignorance does not equal safety," some residents were opposed to making Newton a sanctuary city.
"I think it's terrible that the city should consider going its own way without listening. We are a part of the United States, we want our military to protect us," said one resident who preferred to remain anonymous.
According to resident Avivia Eock, it is not only unethical, but un-American to oppose the ordinance. "I only hope that this city be an open city and that the people be protected," she said. "As a part of a surviving nation how can I possibly turn away? The whole idea of what is going on is so antithetic to anything we have ever stood for."
"I feel satisfied with the progress of this meeting," Kahn said. "I feel that everyone on the council and everyone working for the Newton city government was very welcoming and made the space available and comfortable for all the residents."