Girls' swim and dive top off fun season with impressive eighth place finish at state championship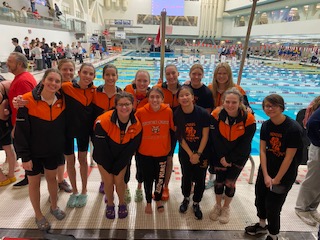 Girls' swim and dive, 6-3, placed eighth at the MIAA state championship on Sunday, Nov. 13 with 160 points. Nine swimmers and one diver from North's team competed against 15 other schools at the MIT Zesiger Sports and Fitness Center. 
Swimmers from North who compete at States are chosen through qualifying times they make through meets in the season. "It's a pretty big honor when they make qualifying times," said Kristen Smith, the head coach.
Freshman Nevie Lee and senior Alexa Vaillancourt both made personal bests in the 500 freestyle at States, according to Smith. Sophomore Kate Urdaneta placed fifth in the 100 freestyle. 
The team also achieved impressive results in relays as well as individual performances. The 200 freestyle relay team took fifth place, and the 400 freestyle team took seventh, with both relays being swum by senior Alexa Vaillancourt, sophomores Julia Kammer and Kate Urdaneta, and freshman Jill Schneider. The 200 medley relay, a relay that combines butterfly, backstroke, breaststroke, and freestyle into one event, took ninth and was swum by senior Claire Holland, juniors Leah Knapp and Lila Tulimieri, and sophomore Parker DeVeau. 
"Everyone's worked so hard to drop time and improve, it's nice to see how their hard work paid off," said DeVeau.
Senior Claire Holland, a captain with seniors Karen Matsuoka and Alexa Vaillancourt, said that Swim and Dive is a unique sport at North because of the tight-knit community. "We're all in the water in pain together," said Holland, adding that the swim and dive team does many team dinners and activities as a team, which makes the team fun. 
According to DeVeau, this meet was especially meaningful for seniors. "States was the last meet for seniors and the last meet of the season, so there were many hugs and goodbyes before we all left," said DeVeau. 
Swim and Dive has 53 members and placed 5th in Sectionals earlier in the year. The regular season for North was a major improvement from the previous year, going from a 4-5 record, to a 6-3 record this year. According to Holland, the team defied the odds by improving since last season, despite the fact that the team lost many talented swimmers and divers from last year. 
"We were 6-3 this year, we're chomping at the bit to be one of the best teams at the conference," said Smith. "The biggest strength of the team this year was their willingness to work and take chances. We had a lot of new novice swimmers on the team, that probably had never strung together a couple lengths of the pool before. To be able to see the team improve with their endurance and their technique over the course of the season was pretty awesome."