Amidst the chaos of applying to colleges and considering their career plans, many high schoolers struggle to determine where their interests lie. In college, even, about 80 percent of students change their major at least once, according to the National Center for Education Statistics. For those considering a career in finance, North's business classes, as well as extracurriculars, are unique opportunities to pinpoint their interests and build business experience even before graduation.
Building interest and knowledge through classes
Taught by business teachers Robert Kane and Ellen Novinsky, business classes at North include Accounting, Business Law, Entrepreneurship, Financial Planning, Interactive Multimedia and Website Development, International Business, Marketing and Management, and Money Matters.
These classes are some of the first chances for students to gauge their interest in the field, giving them a more informed sense of whether studying business could fit into their postsecondary plans. "Students will take a course to see if they like it before going to college," Kane explained, and to develop a better understanding of specific fields in business, particularly accounting, marketing, and entrepreneurship. North's classes "provide a great opportunity to better understand a subject prior to college," he added.
Senior Sam Thayer, who has taken Accounting, Entrepreneurship, Marketing and Management, and Money Matters and participates in the Future Business Leaders of America (FBLA), DECA, and Investment Club, explained that the "most important" feature of these classes is that they allow students to "see whether they like a certain career path or not."
"They can see, first of all, if they like business as a whole, and if they do, they can see what specific topic within business they like," he said. "It's an advantage to know what you want to do before college." In Thayer's own experience as a freshman taking Money Matters, Kane's discussion of the business world and its universal impact "struck a chord" with him. "That's what got me involved in business," he said.
"They can see, first of all, if they like business as a whole, and if they do, they can see what specific topic within business they like. It's an advantage to know what you want to do before college."
Similarly, for Keren Dekel '12, North's Accounting course played a key role in sparking her interest in the field. "I really enjoyed how everything balanced out" in the class, she said. "It was almost like working a puzzle. That's how I started getting into it, and that's when I decided that's what I was going to learn in school."
After graduating from North, Dekel earned her Bachelor of Science in accounting and finance from Lasell College and her Master's from Northeastern University, then went on to work at PricewaterhouseCooper as a certified public accountant. In her undergraduate and graduate classes, she found that studying accounting at North gave her "a bit of an edge."
At North, she explained, the classes began with the very basics of the field, which was especially useful because "in college-level courses, they jump right into things without giving you a strong foundation, which can be tough in classes in which you don't have any experience." When Dekel did encounter this complex material in college, she found that "it wasn't all brand new" to her as a result of her experience at North.
The extensive opportunities for independence in these classes further allow students to explore their interest in business and consequently build up relevant knowledge for the future. Kane noted that business classes "are different from the core classes because the core classes have to follow what's in the textbook or what's in the curriculum," whereas business classes "have more freedom." This curriculum-based freedom can in turn translate to more flexibility for students to explore the subject matter on their own.
Kane has taken students on field trips to tour Brookline Bank and to compete in a stock market competition on State Street, Thayer recalled. "He's willing to work with students and help them reach their goals" beyond the classroom, he said.
Dekel also noted that she was able to "take the initiative" in Accounting by completing additional work offered by Kane and working independently in order "to really be prepared for college."
Past just completing supplementary activities and work, students in North's business classes also benefit from more intangible but no less significant encouragement and messages about independence. Kane and Novinsky "encouraged a sense of entrepreneurship" in their students, Alexander D'Agostino '11, who took Entrepreneurship and Personal Finance at North, explained. They motivated him to explore finance on his own, telling him, "'If you're interested in things like playing the stock market or starting a company, absolutely run with it,'" he said.
Kane and Novinsky, D'Agostino added, "encouraged me to apply to business-focus schools," and their emphasis on independence proved useful when he did enter college and the workforce. D'Agostino went on to study finance at Bentley University, then made his way to work at J.P. Morgan Chase in New York City in asset management.
Financial literacy at North and beyond
With the variety and depth of the classes presented in its business program, North is the exception to the norm, both statewide and nationwide. Only 20 states require that students take a course in economics, and 17 states a course in personal finance, according to a 2016 survey by the Council for Economic Education on economic and personal finance education. In Massachusetts specifically, economic and personal finance education is included in statewide K-12 standards. Implementation by districts of these standards, the offering of and student enrollment in related courses, and standardized testing of economic concepts, however, are not required.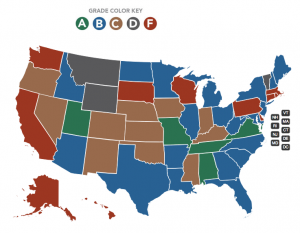 In 2015, Champlain College's Center for Financial Literacy released their National Report Card, grading states on "their efforts to produce financially literate high school graduates." Ultimately, the report said, "What the grading shows is that we have a long way to go before we are a financially literate nation."
Massachusetts, in fact, received an "F" on the report.
"The MassCore, which is the state's recommendation for subjects to be taken prior to graduation, does not specify economics or personal finance," the report said. "Massachusetts has curriculum frameworks for social studies, and they include a framework for a 12th-grade elective in economics. However, there are no personal finance concepts included in the curriculum framework."
North, however, stands out from much of the rest of Massachusetts and the United States in the business program it offers. Through its varied, comprehensive, and engaging classes, North presents distinctive business and financial literacy opportunities which are few and far between at other schools across the state and country.
Senior Henry Johnson has taken Accounting, Entrepreneurship, Marketing and Management, and Money Matters and serves as the co-president of FBLA at North. He noted that when speaking to students of other schools, he heard that few had the option to take classes as specific as Accounting and Entrepreneurship—or any business classes at all. He commented, "I don't really know many other places where you can get this in-depth level of business classes."
"I don't really know many other places where you can get this in-depth level of business classes."
"Compared to other schools, there are a lot more opportunities" at North for students to study business, Thayer said similarly. While clubs such as FBLA and DECA are found at schools across the country, he said, the classes offered at North are unique.
These business classes can be useful even to students not interested in pursuing a business career. Through various projects and curricula, these classes develop students' mastery of basic financial skills—skills from which students with or without a prior interest in business can benefit.
Novinsky explained that the classes help students to develop a range of financial "life skills," she said, including writing checks, paying bills, and working with a budget. These topics are applicable to "all consumers" and "necessary for you to be successful in life." In Financial Planning, for instance, students learn about the process of buying houses and cars and can apply that knowledge when it comes time for them to make such purchases.
Johnson echoed Novinsky's sentiments, noting that the classes are "focused on everyday skills you would need," giving students "the mindset that you need to have later in life when it comes to money."
Expanding skillsets in extracurriculars
FBLA, DECA, and Investment Club, all of which Kane advises, extend the opportunities for students to explore business past classes and into the realms of competitions and community projects. These extracurriculars can, like classes, provide "valuable skills" to students who participate in them, according to Thayer.
These extracurriculars involve "presenting yourself in front of judges, public speaking, and getting involved in the community," Thayer explained. They can even be more worthwhile than classes, he noted, because students do not have to sacrifice space in their schedule to study business and reap the benefits of that study. They can simply join an extracurricular that provides them with the same or similar experience, he said.
North's business extracurriculars involve "presenting yourself in front of judges, public speaking, and getting involved in the community."
FBLA members compete in events testing their business knowledge and skills at the State Leadership Conference; organize event days, including Entrepreneurship Day, Women in Business Day, and the Job Fair; and complete related community service, according to Johnson. In short, FBLA is "focused on all of the business activities that go on in the school," he said, and it is through these activities that students can build a repertoire of useful skills.


In organizing the Newtonopoly project—in which North students put together a board game similar to Monopoly but featuring Newton businesses—with FBLA, for instance, Johnson explained that he developed his communication and organization skills. "I had to build up networks to get people to donate to the project," he said, which he expects will prove helpful when he studies business in the future.
DECA provides similar opportunities for its members. According to Thayer, students complete tests about certain business fields and subsequently present to a venue of judges. As a result, competitors develop practical speaking and communication skills which are relevant regardless of whether or not they pursue a business career.
Investment Club, Thayer said, is less competition-based than DECA or FBLA and instead involves weekly presentations and videos. Kane explained that the club's purpose is "to help students learn about how the stock market works and about what's going on with the economy."
North students, with the option to participate in these clubs, have an even wider and deeper array of opportunities to build upon their business interests. Students are not limited to just classes to expand their skills—they can put to good use extracurriculars and competitions which provide alternative or supplementary options to develop their financial knowledge.
Alumni experience after North
Despite the breadth and depth North's business program, many alumni faced unprecedented challenges when entering the workforce and finding jobs, experiences for which not even classes or extracurriculars could prepare them. Nonetheless, in pursuing interests which North's classes and extracurriculars helped them to develop, their passion for business consistently counterbalanced the difficulties which they encountered.
Gloria Li '13 studied business at New York University; worked for Bank of America, J.P. Morgan Chase, Goldman Sachs, Morgan Stanley, and the White House Council of Economic Advisers; and now works at Google. She explained that the field of financial services is especially "nepotism-based."
"If your parents work in the industry, it's easier for you to get in because they have connections and they can help you get an internship or a job." Because Li's parents both work in medicine, not finances, "when I decided to go out and do this on my own, it required a lot of networking," she said. "It's a little more difficult, and you have to face a lot of rejections during recruiting season."
For D'Agostino, too, "there are a lot of challenges when it comes to bureaucracy at companies." He explained, "In college, I decided I wanted to go work at a bank, but coming from the school I was attending, there wasn't a real pipeline to get to New York City."
Despite these challenges, the alumni have still found working in business to be rewarding and worthwhile, with their interest in the field and growing experience outweighing the challenges they periodically face.
Learning to network appropriately, D'Agostino said, "showed me that it's not all about your grades, and it's not all about your resumé, but if you're willing to work hard and put in the time, there's going to be an opportunity for you." He added, "I had always told myself when I was a young kid that I was going to work on Wall Street someday." Working in New York City now, he said, "I'm happy to realize my dream of getting to Wall Street" and to find a job which "marries all of my passions."
Dekel explained that as a result of her training as an accountant, she can work for a variety of clients in a variety of fields and companies, allowing her to "see the ins and outs of all types of businesses." In turn, she said, "if I have a passion for sports or for fashion or for anything, I can just go and be in that industry while working in their accounting department."
Finance is also unique in another sense, D'Agostino noted. "The overwhelmingly important thing" in every career, he said, is that "you're challenged and stimulated in different ways each day." While some professions involve simply going through the motions on a daily basis, he said, when working in business and finance, "you're constantly pushed every day."
Working in the financial industry, "you're constantly pushed every day."
By participating in the business program, students still at North have the unique opportunity to not only build their financial interests and skills, but also experience this world of business and what it can offer after graduation.
For all students, even—not just those who are business- and finance-inclined—North's classes can help them to develop a better understanding of financial skills which they will inevitably apply later in life. Kane explained that the goal of the program is "to create real-life experience so that when students leave here, they can comprehend the material, concepts, and related information and use it practically" in their future college and career plans, business-related or not.