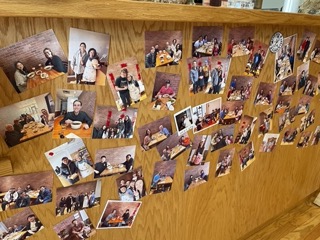 Anyone who steps into Grandma's Kitchen is immediately greeted by the buzzing of the boba blender. A three little pigs welcome sign, a rotary phone, and comfy chairs add to the cozy atmosphere.
Placed in bustling Newtonville, Grandma's Kitchen features a diverse Taiwanese menu filled with entrees, desserts, and drinks. The family-owned business, started by Shiuchen Chang in November 2022, offers sit-down dining and takeout. The most popular items on the menu include popcorn chicken, beef noodle soup, spicy wonton noodles, sesame balls, and boba tea.
Shiuchin Chang opened the small business a month after retiring because she wanted to continue her passion for cooking. She now works with her daughter, Yvonne Chen, and her nephew, Andy Ma.
According to Chen, Chang "hopes that when her grandchildren visit the restaurant, it's like when they go to her house," leading her to call the restaurant Grandma's Kitchen.  
Chang's love for her family extends beyond the name of the restaurant to the menu. "Some of the items on the menu are chosen by her grandchildren, some are chosen by grandma, and the rest are recommendations from friends," said Chen. 
Photographs of the restaurant's regulars line the side of the counter, each one showing smiling faces and a table full of food. According to Chen, the tradition came to be when Chang began to recognize regulars. "Whenever we see them, we get very happy," she said.
While the soup and noodles draw in some of the regulars, many of North's students go to Grandma's Kitchen just for the tea. The store sells some of the most affordable and delicious boba tea in Newtonville. The cold tea has an even balance of sweet and bitter while the tapioca pearls provide a chewy texture. 
Chang's favorite item off of the menu is her beef noodle soup. The soup comes in four levels of spice: mild, medium, hot, and not spicy. The dish has slightly crunchy boiled baby bok choy that contrast with the tender and sweet beef, all tied together by the rich broth. 
"I like to eat the beef noodle soup and chicken noodle soup because it is very comforting," said Chang.
Like the beef noodle soup, customers can choose the spice level of the popcorn chicken. The appetizer arrives with a crunchy crust coated in spice, forming a delectable texture with the tender chicken. 
The sesame balls, another popular item, offers a sweet filling in addition to a crunchy sesame shell. Despite being a dessert, the sesame balls are appealing to those who aren't hardcore sweet tooths. 
Chang hopes that, regardless of which dish they choose, that every customer leaves believing Grandma's Kitchen is "like a home," she said.