by Douglas Abrams
Sandwiches, unlike other foods, offer a uniquely wide array of possibilities. Just about anything will go between, on, under, inside, or through two pieces of bread. Sandwiches, the Student Foodie way: elegant and simple.
First up is Egg in a Hole with the volume turned up. If you've never had this sandwich-egg combination, then you need to try this recipe out. Start by stacking two pieces of bread and cutting out a two-inch diameter hole through both of them.
Then, fill in between the two slices with a thin spread of dijon mustard, which adds complexity and sophistication, and thick slices of cheddar cheese.
Cook the hollow sandwich over medium heat with about a teaspoon of butter just like a grilled cheese. About a minute in, crack an egg into the hole, turn the heat down to low, and cover the pain so that the egg streams and starts to cook.
Once the egg sets, which should happen in two minutes, carefully flip the sandwich and cook the other side for one minute, until the bread is crispy.
This sandwich is truly fabulous. The crispy exterior of the bread is a perfect foil to the soft oozyness of the egg yolk and cheese.
Another great sandwich is a play on a classic caprese salad, which is comprised of tomatoes, basil, and mozzarella. This recipe is incredibly simple.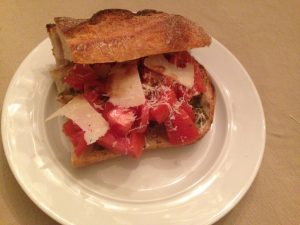 Start by cubing a large tomato and tossing it with balsamic vinegar, olive oil, salt, and pepper. Then spread a thin layer of pesto on one half of your chosen bread (I like a baguette) and spoon the tomatoes on top. Finish with a couple bold shavings of parmesan cheese for a salty edge.
There aren't many things you can cook that are easier or more satisfying than sandwiches. By using high quality ingredients or applying a new technique to an old favorite, you can easily turn up the volume on any sandwich.