Siciliano leaves legacy of support, hard work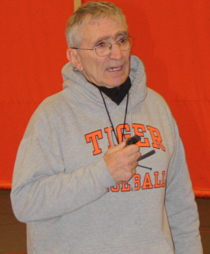 "I always said he was probably going to die on the baseball field, coaching," said math teacher Brandon Mogayzel about his colleague in the math department Joe Siciliano, who retired more than 50 years of teaching in Newton and 33 years of coaching baseball at North.
Anywhere, and at any time, Siciliano could be seen interacting with students—as a teacher, a baseball coach, and a mentor. A lively and energetic member of the faculty, Siciliano earned immense recognition and respect from those around him. "He's a great man, and there is nothing bad you can say about his personality," said Brendan McLaughlin '20, a former captain of the baseball team.
According to Siciliano, in his almost four decades at North, he set out with the goal to support kids that needed it. "They were my primary motivation," said Siciliano. "I wanted to do right by them and make sure they understood I had their back."
According to Mogayzel, who coaches girls' track and field, Siciliano always looked out for his players, students, and anyone at North. "He gives time to anyone who asks for it, whether that's faculty members or kids from the classroom, whether it's going to athletic games or supporting the teams."
Athletic director Tom Giusti added that in addition to his love for the game, his work in the classroom was just as prominent. "I really think that he balanced the educational component to the athletic piece very well," said athletic director Tom Giusti.
McLaughlin added that Siciliano not only led their team to success, but he also brought out the best in his players. "He knew what I was capable of doing, and he believed in me," said McLaughlin. "He showed us that he really cared about us and our team."
According to Mclaughlin, in a crucial game against Brookline, Siciliano gave a speech that motivated the team to come from behind and win. "Honestly, that was probably one of my favorite moments with him," said McLaughlin. "I'll never forget that."
Throughout his coaching career, Siciliano won 376 career games, and, in 2014, won the Super 8 championship, the first in North's history.
Despite his accolades on the field, Siciliano said that winning games was a minor accomplishment compared to the rest of his coaching experience.
"Coaching is teaching, and when a player is struggling with stuff, you work with them and eventually they're successful with it, which I think is the highlight of the entire thing," said Siciliano. "As I look back, you could say we won games, but I think it goes beyond that."
Even when the team did not come out on top, Guisti said that Siciliano always tried to turn negatives into positives and encourage his players to look on the bright side of things.
"It's the effort that counts when you reflect on it," he said. "Did you give your best effort? Did you get better at something? I think Joe always looked for that."
Siciliano grew up in Newton, Massachusetts, where he graduated from Sacred Heart High School in 1964. He earned a master's degree in counseling from Boston College in 1968. After college, he taught at F.A. Day junior high school in Newton as a math teacher for 15 years. Siciliano transitioned to Newton North, where he's been for 37 years, after F.A. Day became a middle school.
"North is a very supportive community," said Siciliano. "They always try to do the best for the people that work with them and the people that work there." Siciliano added that "his colleagues were very down to earth," which was helpful in adjusting to the North environment.
As his career progressed Siciliano became someone to look up to, even to younger teachers at North. "He was my mentor when I first started teaching at Newton North," said Mogayzel. "I'm going to miss being able to turn over my shoulder to ask him a question about life, or a question about professionalism, or a question about sports or coaching."
Mogayzel added that he admired Siciliano from their very first interactions. "The first day I met him, he was so passionate about teaching, about coaching, and very relatable," said Mogayzel. "Just a great human being and really what I wanted to be later in my teaching career."
After his retirement, Siciliano hopes to spend more time with his eleven grandchildren, especially with schoolwork and zoom meetings during the pandemic. "My hobbies are my grandkids at this point," said Siciliano. He also plans to cheer on the Tigers at future games from the stands.
As he looks back through all the years, Siciliano said that he is proud of being able to make an impact in many students' lives. "At the end of the day, you hope to make a difference, or a little difference in their lives," said Siciliano. "You hope to help them along the way."