Boys' volleyball defeats Framingham three sets to none
Photo by Joelle Sugianto
Boys' volleyball, 6-2, defeated Framingham three sets to none at home on Wednesday. According to senior Kevin Seuch, a captain along with seniors Chris Gavris, Henry Johnson, Jack Pomper, and Sam Thayer, the team played "well enough" but needs to "make less errors as a team."
The Tigers went on a 10-5 run to start the first set, highlighted by an ace from Gavris, leading Framingham to call a timeout. The Flyers started to come back, cutting North's lead to two, making the score 17-15. After a back-and-forth affair, a massive slam by Seuch made the score 22-20, eventually leading to the Tigers winning the first set, 25-22.
North started off the second set strong, taking an early 6-1 lead. A kick save by Seuch extended the Tigers' lead to five.As with the first set, Framingham came back, and at one point, North was only up by a single point, 9-8. Ultimately, the Tigers pulled ahead, and took the second set 25-14.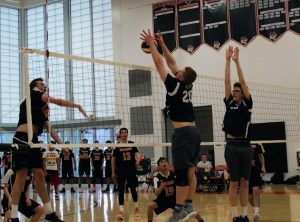 The Tigers started off the third set slowly, as Framingham took an initial 3-2 advantage. The scoring was back and forth at first, with both teams unsuccessfully vying to secure consecutive points. This gridlock was temporarily broken, however, after a fake tip by sophomore Gavin Emenaker, which Seuch called "an awesome play that changed the momentum of the third set." A crucial block by Emenaker made the score 24-21, allowing the Tigers to claim the final set 25-22.
According to Seuch, a turning point of the game was when the team started to "turn up" the energy. "Once we started to play more aggressive defense, our offense did a lot better, so picking up the energy helped us out a lot."
The Tigers face Braintree at home on Friday, before playing number  ranked  Natick away next Tuesday.