Math teacher Joe Siciliano to be inducted into Baseball Coaches Hall of Fame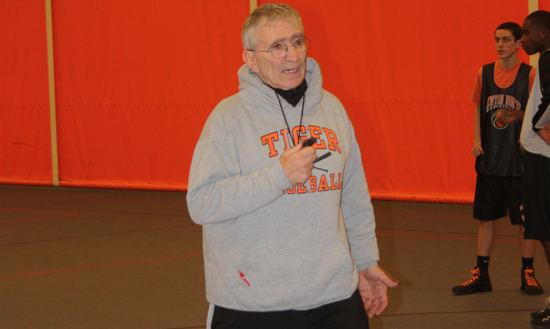 by Jacob Gurvis
For almost three decades, math teacher Joe Siciliano has been coaching varsity baseball and junior varsity basketball at this school. This Saturday, Siciliano, nicknamed "Joe Sic," will be inducted into the Massachusetts Baseball Coaches Association Hall of Fame. Siciliano said, "It is very humbling because the people who go in the Hall of Fame are very accomplished."
During his tenure as coach, Siciliano's teams have compiled over 270 wins, two Bay State Conference Championships, and 14 State Tournament appearances. Siciliano has also kept a winning percentage of over .500 throughout his coaching career.
Most recently, last season, the Tigers, 10-10, lost in the North Division Finals to Lowell, but had a very successful run.
Siciliano's assistant coach, graphics teacher Tom Donnellan said, "We had an up and down season early on. We really came together as a team, and Siciliano kept us together. It was a great time, and a lot of fun."
A valued colleague

With 26 years under his belt, Siciliano was able to rattle off more than ten names of past and current assistant coaches, humbly stating that he had many people to thank. "First and foremost is former F. A. Day principal Ed Fraktman."
Siciliano is a valued member of this school's community, and his colleagues have enjoyed working with him over the years. Housemaster and coach Fraktman, a member of the MBCA (Massachusetts Baseball Coaches Association) said, "Over a long period of time he has helped young people, athletes and non-athletes, become better students, and most importantly, better human beings."
Donnellan, with whom Siciliano has coached for 15 years, said, "He is absolutely deserving. This is a great honor to a guy who has devoted much of his life to coaching young people. I couldn't think of a guy more deserving. I am very happy for him and his family."
Donnellan played basketball for Siciliano as a sophomore in high school, so he has worked with him from both perspectives, as a coach and a player. He said, "His passion rubs off. I've learned a lot of the way I am a coach from him."
"This past year was one of the greatest years for us. We did well in the finals. I'm so happy to be with him. There are so many great memories with him. He's one of a kind," said Donnellan.
Athletic director Tom Giusti also commented that he was "extremely happy" for Siciliano.
"We like to think we have plenty of hall of fame coaches at this school. I've known him for a while. Both myself and the school are incredibly pleased to see him get the recognition he deserves," said Giusti.
Giusti said he has enjoyed working with Siciliano, and that the two of them have a "great amount of respect for each other.
"You begin to see the level of commitment and level of responsibility and ownership for his program."
With many favorite memories to choose from, Giusti's favorite was "last year, when the team made that run in the winning streak of the playoffs," he said. "Seeing everything coming together and the expression on Siciliano's face when he saw the kids have that success was great."
Giusti noted that there have been many funny "Joe Sic" memories, and after thinking for a minute, he recounted one comical story of his friend.
The story that Giusti remembered was during a game, when the umpires missed a call. Siciliano ran onto the field and demonstrated what the players did, jumping and diving and rolling on the field. "It shows the level of passion and his love of the game of baseball and this school's kids," said Giusti.
A true role model to students

After 26 years, Siciliano has taught and coached many kids, and he cares deeply about everyone of his students and athletes. The students on his teams are the ones that see first-hand his real passion and how much he cares. Both current and past players of Siciliano praised him and the impact he had on them.
Senior Danny Swain, a player on the varsity team, has enjoyed playing for Siciliano, and thinks very highly of his coach.
"I think he is a successful coach because of how much he loves the game. He is always thinking about baseball. I've heard from Donnellan that he is already working on setting a lineup for the first game. Siciliano loves to talk about baseball."

Swain said, "Probably the thing that sticks out most about his coaching style is his passion. It's true that he will yell at guys sometimes but he's really just looking for us to work as hard as he does, and care as much as he does. I think the way he will analyze the numbers of each game and post them, as well as things to work on, really helps."
He added, "Siciliano also lets us know how big an impact each player on the team can make, he is always telling us how we can help the team win even when we are sitting on the bench. He works hard to teach all the guys on the team to have each other's back."
Swain also experienced Siciliano's commitment to his athletes, saying that his favorite memory of his coach is when "over the summer, I was playing a baseball game out at Bryant College, and Coach Siciliano woke up at six in the morning and drove all the way out there just to watch me play."
Because Siciliano is a teacher, he understands that a large portion of the game is not necessarily on the field, but in one's head. Swain is only one of many athletes who have benefitted from Siciliano's lessons about the mental side of the game.
"I think the biggest thing Siciliano has helped me with is mental toughness. Siciliano is a smart guy; he can tell when a player isn't giving 100 percent, or when a player is so focused on himself and his failures or success that he stops supporting his teammates.

"Siciliano has really helped me take responsibility for my attitude, and has helped me mature as a person," said Swain.
Jack McLaughlin '11, captain of the varsity team in 2011, is currently playing club baseball at Clemson, and he said, "Coach Siciliano taught me the importance of focusing on the task at hand. He taught me the importance of practice and honing my skills there, and from there I could perform in games.
"One lesson that has resonated with me that coach taught me is that I need to prepare myself in practice and win during practices. If I do that I can just play during the games and not work on skills."
Playing college baseball is not an easy feat, and McLaughlin appreciates the affect his former coach had on him. "I would attribute a major part of my success at this school to coach Siciliano, not just baseball. Coach stayed on me about my academic success and even tutored me in math."
Personal reflections

Siciliano said he has had many joyous memories, but that his favorite thing about coaching at this school is "seeing kids grow as human beings and as baseball players." Siciliano remembers many great games, but said his overall favorite memories are "seeing kids making improvements in games. There have been many come-from-behind victories, and big clutch moments."
Siciliano himself best explained his own passion and success. When asked if coaching has made him a better teacher, Siciliano smiled and said, "Other way around. A teacher is a coach. The ball field is an extension of the classroom. There are lots of similarities. You have to motivate kids, and make them want to be there."
Over the years, Siciliano said he has identified several keys to success, including communication. "Players need to know exactly what your expectations are. Humor and motivation are good ways of doing that."
When Siciliano thought about how long he plans on continuing to coach, he smiled, laughed and said, "I have no idea. I can't coach forever. Come back in a year or two and ask me again. When it's time, it's time, but you won't know until then."