(Photos by  Jason Alpert-Wisnia and Joelle Sugianto)
A-block 
by Helen Xiao
Transgender panelists explained what it means to be transgender and how their sexual identities have affected their lives during a-block of Transgender Gay Lesbian Asexual Diversity Day (ToBGLADD), Friday, April 13 in the auditorium.
Sophomore Alex Kolodney and senior Christopher Stevens moderated the panel, which consisted of junior Viola Brockman, junior Achille Ricca, senior Elle Nolan, and other adults from the community including Kay Gordon, Pamela McA'Nulty, and speech and language teacher Rhys McGovern.
Despite having unique stories on their experiences of being transgender, all six panelists highlighted similar roadblocks they faced due to their gender identity.
"It's difficult to navigate through life and deciding when you can be out and when you can't," said Ricca. "When I look at colleges, not only do I have to consider if it has my majors and such, but also if it is situated in a place where I will get killed for being trans."
McGovern also noted how life is much more complicated being transgender, because coming out creates self doubt and has to be done multiple times. "You have to come out over and over again, and whenever you move to a new place or get a new job, there's always an internal conversation of how will I tell them and if they will accept me or not."
However, the panelists also shared many positive outcomes that came with transitioning and coming out.
"I woke up one morning, happy, and I realized how depressed I had been," said McA'Nulty. "I woke up happy that morning because I had a dream, that I transitioned, and although I knew it was a dream, I realized something, and I ran with it."
The panelists emphasized how first being able to gather the courage to come out was difficult and terrifying. According to Brockman, coming out at school was the most difficult for her, however, she knew that it would be worth it in the end.
Brockman explained how the fear behind coming out for her actually sped up her coming out process. "I needed people to call me by my name and pronouns, despite being terrified, so I ended up going around to all my teachers explaining that I was transgender and my pronouns, and left the room as soon as possible to make the experience as short as possible."
Gordon, explained that his coming out process was lengthy and complicated. "I kept on wondering if I was positive enough or trans enough to come out, so I changed my name and started asking to be called "they," just to experiment. After a year, I finally put my foot down and said, 'this is who I am, this is who I want to be'."
B-block
by Jacques About-Rizk
Panelists spoke on their experiences of being "invisible" as part of the LGBTQ+ community while answering questions during b-block of ToBGLADD.  
LGBTQ+ students, teachers, and other adults took questions from the audience and the moderator on issues including media portrayal of the LGBTQ+ community, the Newton "bubble" of acceptance, and how being part of the community has affected their personal life.  
Panelists discussed the Newton "bubble" of acceptance and how not everyone is as accepting as the Newton community.  
"It's one of the reasons that I came here," said panelist Clark Wright, a bisexual man. "It was the openness and the acceptingness in this community that drew me here."
According to sophomore Alex Kolodney, the "bubble" has made them realize that not every area will accept them as part of the LGBTQ+ community.  
"I have restricted myself to the West coast and the Northeast coast," said Kolodney on their future in college. "Where I go to college needs to be a place that accepts my identity."  
Panelist senior Gabriella Avelino, said that being bisexual is one of her most important characteristics.  
"I have been able to feel lucky to be the odd one out," she said.  "I have twice as many people to meet and its important to find pride in your identity."  
The panel also discussed the continuum of different genders.
"You can't really say how many gender identities there are because everyone is different and we just group ourselves together," Kolodney said.  "If someone makes a new term, they are just using it to better describe themselves."
C-block
by Amy Xue
A panel consisting of various members of the LGBTQ+ community examined the struggle of balancing the intersectionality between racial, religious, gender, and sexual identity during c-block of ToBGLADD.
The panel was moderated by junior Hayley Cline, a Gender Sexuality Alliance (GSA) officer, and consisted of Queer Muslims of Boston representative Kandeel Javid, senior Sophie Ferreira-Iannone, junior Cheryl Nong, junior Achille Ricca, and METCO director Maricel Sheets.
Many panelists agreed that it can be difficult to find acceptance in both their racial or religious communities and the LGBTQ+ community. "A lot of the time in the LGBT community, a lot of people question how you can be a person of faith and still be in the community," explained Javid.
Ricca, who identifies as an African American bisexual and transgender man, explained his differences in both communities. " I don't have the same experiences in the gay community as a white, cis man. I also don't have the same experiences in the black community as a straight man," Ricca said.
Ferreira-Iannone, who identifies as lesbian and latina, explained that she said, "It really depends on which community I'm in for which identity I want to highlight and which one to let fall into the background."
The conversation then turned to stereotypes about the members' sexuality, race, or gender. "In Chinese society, there is a lot of emphasis on traditional gender roles. I had a hard time growing up realizing Asian women could go after something romantically or sexually," explained Nong, who identifies as Asian and lesbian.
Ricca also said, "For black men, there's a pressure to always be hyper-masculine. And as a bisexual person, there is a lot of stigma around being feminine."
Ferreira-Iannone further discussed the intersectionality of her identity. "When I came out as gay to my mother, she said, 'well what can you do about that?' That was really hard for me to hear in middle school. It became her being concerned about the entire group and less about me. It's just not a norm in the Latinex community," she said.
The panel then accepted questions from the audience.
When fetishization of race and gender was bought up, Ricca shared his personal experience. "Freshman year I went on a date with a white girl and she said 'I've been meaning to try something new.' It's a bad feeling just being reduced to what your stereotypes are," he said.
The panel ended with the speakers sharing some final thoughts. Ferreira-Iannone said, "I'm empowered to let people know who I am so I'm not scared that people will find out. I feel secure because they already know."
E-block
by Sophia Zhou
Faculty panelists shared personal stories about the difficulties of coming out as members of the LGBTQ+ community e-block of ToBGLADD.
The panel, moderated by junior Maeve Slack-Watkins, who is an officer of Gay Straight Alliance (GSA), consisted of six faculty members.
Each member shared his or her experiences growing up, coming out, navigating the workplace, and dealing with discrimination and bias.
"It's a continuous process, everyday you're having to come out even if you don't want to," said counselor Belma Johnson, who identifies as lesbian.
"Don't assume because that's unintentionally hurtful. Try to say spouse instead of wife or husband. Don't assume someone's sexuality," said special education teacher Lisa Goldthwaite, who is the adviser for GSA. "I struggle because I have a husband, so people assume that I'm straight. Anytime some does that, I wonder if I should say anything, if
the person needs to be aware of the fact I'm bisexual."
Spanish teacher Dan Fabrizio, who identifies as gay added that members of the LGBTQ+ community simply want to be accepted for who they are.
"The gay agenda just does not exist. We're not trying to push ourselves. We're just trying to be ourselves. Just as your straight teachers don't teach you to be straight, we're not trying to teach you to be gay," he said.
According to Slack-Watkins, ToBGLADD included a faculty panel in order to "have a few more available adult figures" for students who want someone to talk to.
Johnson added, "It's important for all of you to know who the teachers are in the school who are going through the same thing you are."
G-block
by Samantha Fredberg
Students shared poems, songs, and speeches about identity and hardships within the LGBTQ+ community, during Speak Out g-block of ToBGLADD.
The Northern Lights acapella group opened the presentation singing "reown to the River to Pray" by Alison Krauss and "Light in the Hallway" by Pentatonix. Senior Gabriella Avelino sang as the soloist. Forte, North's all-girls acapella group, closed the show with "Beautiful Trauma" by P!nk.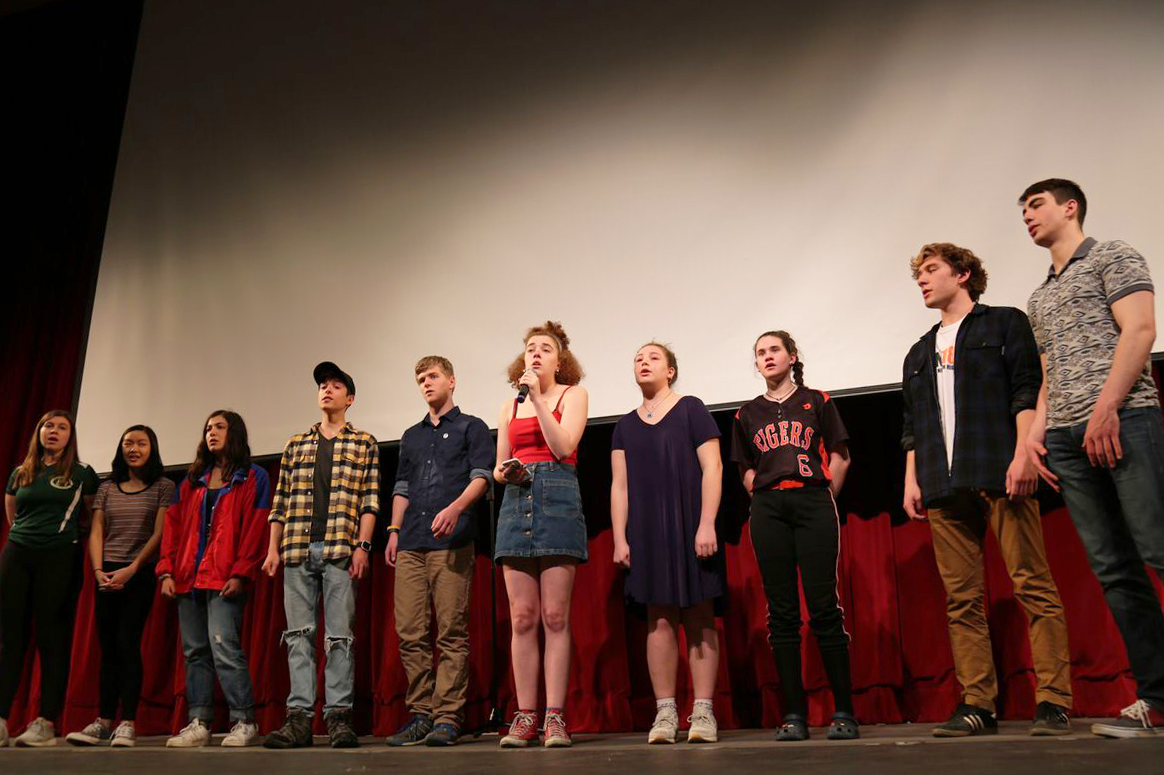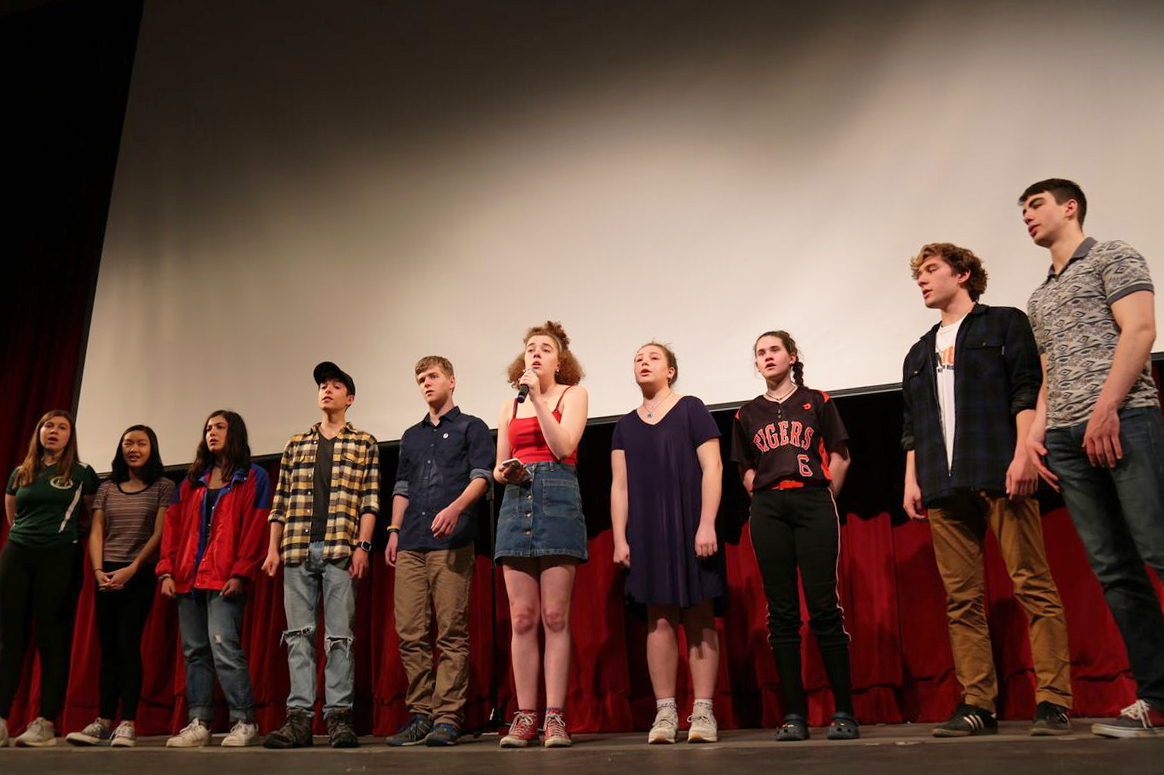 Junior Achille Ricca recited his poem "God Doesn't Make Mistakes." The poem detailed Ricca's inner turmoil before realizing his transgender identity, and, after coming out to his community, dealing with the fact that his body and brain did not match.
According to Ricca, after transitioning, he found happiness in his deepened voice and changed physical features, and finally felt as though his physical and mental identity aligned.
Sophomore Alex Kolodney read their story entitled "Nightmare 11.9.16," which described the fear that many LGBTQ+ community members experience under the current presidency. Kolodney recited a personal mantra, "You are here, you are queer, and you are not the girl they wanted," to maintain strength in identity.
Junior Viola Brockman gave the audience a brief history lesson and discussed Albert Cashier, a transgender man who served in the Civil War. His sex was discovered after his service, and he was forced to wear women's clothing. After only wearing pants for 50 years, Cashier tripped on his skirt and died falling down the stairs.
Though Cashier is not well-known, "his story of a life well-lived is a reminder that trans experiences are not, in any way, new," according to Brockman.
Counselor Matthew Ford sang "I Am What I Am" by Jerry Herman, an openly gay composer. The song was featured in La Cage aux Folles, a musical that follows the lives of a gay couple and their struggles with conservative figures around them.
Next, freshman Emma Pinch recited "Coming Out; A Two-Part Story," which described her struggle to share her identity with friends and family. She explained that coming out requires the courage to tell people, but also the courage to face backlash and hostility.
"It's not just coming out I'm afraid of; I am afraid of the aftermath," Pinch said. "I am afraid of what they will do, not just for the next hour, but for the next week, the next month, the next year."
Freshman Talia Zalis then recited a work of poetry about the desensitization of the word "faggot." The word is commonly associated with violence towards members of the LGBTQ+ community, yet many use it as a synonym for "stupid," according to Zalis.
"That word has a past that you can't shake or brush aside for your own comfort after so many people have died," they said, urging the audience to reconsider their use of the word.
Senior Carl Adrianza discussed his struggle with accepting his identity in a Catholic-Venezuelan family. When he was 13 and realized that he was gay, his family and church made him feel as though he was "broken and needed to be repaired."
Adrianza explained that he turned to self-harm because he was "substituting pain for more pain." He added that he has now been clean for two years.
"Be open," he said. "Don't assume anything about your child, and don't tell them off for being honest. Acknowledge that they might grow up to be different from you in some ways, and make them feel comfortable talking about these things."
Junior Celia Friedman took the stage to discuss representation of bisexual characters in film. Orange is the New Black follows the life of a bisexual character named Piper, yet the term 'bisexual' is only used twice to describe her in the entire series, according to Friedman. She added that this, and many other examples in film, enforce the idea that "bisexual people aren't real," and are instead "confused" straight or gay people.
F-block
by Helen Xiao
Students learned what it means to be an "ally" to members of the LGBTQ+ community during f-block of ToBGLADD.
Senior Ashlyn Kelly and sophomore Alex Kolodney, Gay Straight Alliance (GSA) club members, led a powerpoint presentation on allyship.
According to Kolodney, "An ally is someone who is cisgender, and heterosexual who supports, but is not part of the LGBTQ community."
Kolodney and Kelly also shared general tips on how to be an effective ally, highlighting the importance of pronoun usage.
"Try not to mess up someone's pronouns," said Kelly. "If you do make a mistake however, just own up to your mistake, quickly but sincerely apologize and then move on. Don't over apologize though, because that will only lengthen the mistake, making a person have to dwell in the moment of being identified by the wrong pronouns, which is never a good feeling."
The presentation also taught students ways to avoid uncomfortable and awkward situations regarding someone's sexuality.
"You should do your own research on certain pronouns or anything in general related to the LGBTQ community," said Kolodney. "Misusing a word related to the LGBTQ community can be both hurtful and harmful."
Kelly also pointed out that using slurs was offensive during the presentation. "Using a slur gives a word a negative connotation that directly may affect one of us. Again, do research on words that could potentially be hurtful."