The sound of chatter filled the cafeteria as students streamed in with parents and faculty to celebrate the many cultures at North, Thursday night, Nov. 14.
Each country set up a table with representative food, flags, and other decorations. Students and parents running the booths proudly showcased and explained the many delicacies of their traditional cuisines to visitors.
"I think it's important for people to experience different cultures so they can see a different world view and see how people live," said junior Aram Brunson, who ran the Armenia booth.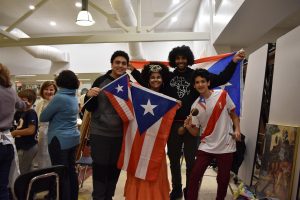 Learning and experiencing the distinct cultures at North through the variety of food available was a highlight of the event for many people.
"It's great to see how these different cultures can bond and communicate through food, it's really incredible," said sophomore Antonio Dalton, who helped run the Spain booth.
Senior Christina Zhao added that the event gave "people opportunities to try foods from other cultures they normally wouldn't be able to."
In addressing the attendees at the event, principal Henry Turner stressed the importance of the diversity of cultures present in the event.
"It's important that we celebrate all the different cultures that are here," he said.