by Emily Dhadley and Kathy Mitchell
Students participating in the fan favorite fashion show strutted across the auditorium stage in pairs, showing off their mixes of colorful, modern, and traditional Asian clothing during Asian Culture Night on Saturday, May 27.
The event was organized by the Asian Culture Club (ACC).
"To have a night that showcases who these students really are and what they can do is really important," said English teacher Charlene Beh, one of the advisers of ACC. "It allows the North community to come together and understand more about everyone."
While some wore traditional Asian clothing like qipaos, hanboks, saris, and kurtas, others wore modern clothing from trending brands like Off White. Performers also wore traditionally inspired clothing that is more in-style, such as a bomber jacket with a floral pattern.
Sophomore Shivani Shah received one of the largest rounds of applause with her self-choreographed dance to Bharatanatyam Fusion. Her black outfit with gold details and small bells on the bottom of her pants, along with her traditional dance moves, were an impressive way to start off the night.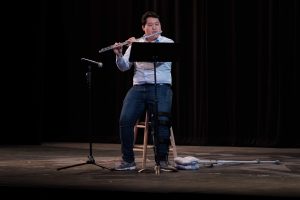 "The cheering that these Asian-American students hear from the audience is what this night is all about," said English teacher Michele Leong, the other ACC adviser. "Whether members of the audience are Asian-American, black, Latin-ex, white, students, family members, faculty, whatever, they are all so passionate about this event."
Junior Lasya Thavnati also impressed the audience with her soulful voice as she sang to the song "Main Kaun Hoon", with sophomore Tristan Jensen playing accompaniment on the guitar.
The Bollywood dance performed by the South Asian Student Association (SASA), was another crowd-pleaser. The female dancers wore red flowy outfits, while the males wore traditional Indian robes, called kurtas. The dance, which put the audience on their feet, kicked off the second act with excitement and energy.
"I wanted to be part of something that meant a lot to me because I've always felt like sometimes my voice wasn't heard, so by doing these events–because we're a minority–it helps that," said sophomore Kyrene Sugianto, vice president of Asian Culture Night.
Junior Johnny Poon performed an amazing flute solo, blowing the audience away.
"Sometimes Asian-American students might fly under the radar, so this event is a great opportunity for these students to come together and just celebrate all of their awesomeness," Leong added.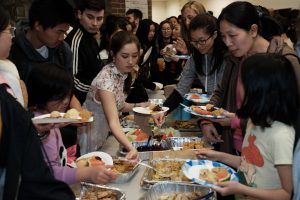 "Showcasing Asian culture is really important, especially for other Asian-Americans who maybe aren't seeing as much Asian representation as they should. So having a night like this is really important," said senior Nina Wang, who performed "Nightingale" on the violin with Jason Wang who played flute and piano.
Following the event, the audience and performers enjoyed delicious Asian cuisine donated by parents and sponsoring restaurants such as Rice Valley, Kung Fu Tea, and Manow Thai Kitchen.
"It's nice to see all kinds of students, not just Asian-American, coming together to help support everybody participating in this event," Beh added.