"Youth is not defined by our age, but by our spirit. We have a vigor for change" David Hogg told a crowd of eagerly listening students in the gymnasium Thursday, Feb. 7.

Hogg, a survivor of the 2018 Marjory Stoneman Douglas High School shooting, spoke to students about gun violence, advocacy, and civic engagement b and c-block. He created the national March for Our Lives Movements along with four other Parkland survivors and has inspired people to advocate against gun violence.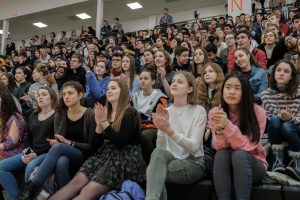 Hogg said that it is important to start advocating against gun violence because it's such a relevant issue. According to Hogg, around 40,000 people die from gun violence each year and because gun violence is a preventable issue, the number should be much lower.

"Until we get the change we need, this movement is getting bigger every day because there are so many more people who have experienced gun violence in America in the form of mass shootings and everyday gun violence," he said.

Senior Maddy Ranalli invited Hogg to speak at North. Ranalli said she met Hogg while working with the March for Our Lives Movement.

Claudia Wu, a co-director for the Center for Civic Engagement and Service (CCES) at North, helped put on the event as part of the Dan Fahey Speaker Series, which brings in public figures to talk with students on the importance of helping their community. She added that the purpose of the speaker series is to inspire students to advocate for issues that are important to them.
During his presentation, Hogg encouraged students to be civically engaged because it's important for their voices to be heard.

Hogg said that voting is a great way for students to be active in their community. "Vote against corruption and greed. Vote for a better and brighter future," he said.
He also advocated for stringent regulations of gun ownership and a cultural change regarding violence.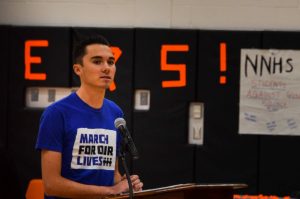 Stopping violence of all forms is important, according to Hogg, because even if guns were outlawed, there would still be instances of violence and people would still be able to get guns illegally. "We need to stop all violence as much as possible by changing our culture around it."

Speaking with The Newtonite after his public remarks, Hogg further clarified that "this movement is not about gun control." Rather, the March for Our lives movement, he said, aims to address gun violence in a number of ways including advocating for mental health funding and changes in the way Americans talk about violence.
Hogg added that when discussing gun violence, mental health can play a big role. "The system that we have is not working," he said. "Yes we can expand it, but we have to fix it first, and we need more guidance counselors and more mentors."

He further explained that teachers are often able to recognize mental health issues among their students. "The people that are best at stopping school shootings are, in reality, the people who are best at stopping them before they happen. That's teachers that know what's going on at home."

Ranalli agreed that over-policing the students is not always the best route, and that providing mental support can be more effective.

"I think safety in a community like this, doesn't really look like locked doors or metal detectors," she said. "I think it looks like students laughing on the way to class, and learning things for the sake of learning, and not memorization. Students feeling like they are welcome and excited to learn, which I think is an area that can be improved in every school."

Ranalli added that there are small things students can do to advocate against gun violence.

"There are things that you can just do like petitions. They don't take very long to sign. It's very easy to just send a link and have someone sign it," she said.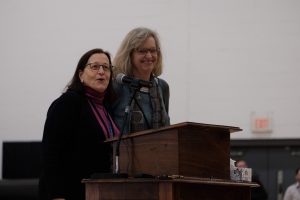 Wu added that the CCES is always willing to help students learn how to help their community.
"If I had a message for anyone of the students that are really charged up about something, it's that we can help them learn the skills that they will need to do advocacy, community engagement, work on legislation, and run for office," she said.

Wu added that she hopes that students' main takeaway is that their opinion matters and whether it be through voting or other forms of civic engagement, students should care about what is happening in their community and around the country.
To see more photos, check out The Newtonite Facebook at: https://www.facebook.com/media/set/?set=a.2021629711238970&type=1&l=6567c80bc0.