Elizabeth Elvin won the seventh annual Martin Luther King Jr. Sophomore Speech Competition with her speech about the cost of slut-shaming, "The Unslut Project," Friday, Jan. 11.
The English department holds the competition for sophomores to honor Martin Luther King Jr. and the power of public speaking. A winner is chosen from each English class to move on to the semi-finals, where five judges select five winners to go on to the final round and speak in front of the school.
Stephanie Spector received second place for her speech about the dangers of perfectionism and Nicole Ou placed third for her speech about resisting peer pressure.
This year's finalists were Elvin, Ou, Spector, and Elliot Alberts and Dafna Melamoud, who gave their speeches to the panel of judges, which included last year's winner, junior Amit Vallabh, Barry House dean Aaron Sanders, English teachers Alicia Carrillo and Pam Pistiner, principal Henry Turner.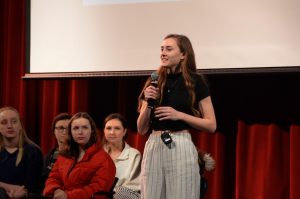 In her speech, Elvin discussed the numerous times she has been the subject of student rumors, starting out by discussing the time her locker was vandalized with derogatory terms such as "whore," "slut," and "hoe." She said that the slut-shaming culture is damaging to young girls' self-esteem.
"I was crushed, devastated, embarrassed, with a slutty reputation, and I hadn't even had my first kiss," she said. "When you are constantly bombarded with negative affirmations, you begin to internalize and believe them yourself."
Elvin concluded by encouraging students to make a conscious effort to try to "unslut our culture" in order to promote well-being and mental health.
Spector talked about the danger of striving for perfection, and that it is okay to be just "good enough" in her speech "Confessions of a Perfectionist."
Ou, in her speech "The Majority is not Always Right," spoke about the impact of peer pressure and argued that people should learn to embrace differences. "We need to stop trying to be like everyone else and begin accepting our differences," she said.
In his speech "What Will We Tell Them," Alberts talked about the issue of wastefulness and the lack of environmental awareness in today's society, concluding his speech by speculating about how the next generation will live with pollution, rising sea levels and temperatures, and increased natural disasters due to the current-day environmental abuse.
Melamoud discussed the difficulty of self-doubt and the fear of failure in her speech "Your Mind is a Virus," and ending by encouraging the audience to step out of their comfort zone and not fear failure.