Beyond Kindness Day presentations discuss living with disabilities, finding success
(Photos by Jason Alpert-Wisnia and Joelle Sugianto)
B-block
by Samantha Fredberg
Students panelists shared experiences relating to their disabilities and identities in an effort to bridge the gap between students with and without disabilities during b-block of Beyond Kindness: Understanding Our Differences Day Thursday, May 3 in the auditorium.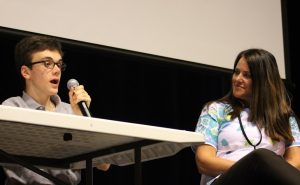 Junior Nathan Persampieri, an organizer of the day, worked with special education teacher Rebecca Comiskey to moderate a discussion with Community Connections students Ali Barisamo and Ian McKay, senior Thacher Andreae, and sophomore Brendan Whalen.
The presentation highlighted the importance of focusing on people's personalities rather than their disabilities. For example, audience members learned that Barisamo likes to sing, McKay is a car expert, Andreae participated in performing arts, Whalen loves to do Zumba, and Persampieri enjoys photography.
"Go outside your comfort zone and talk to someone with a disability," said Persampieri. "Make them feel welcome, see the person, not just the disability, understand where they're coming from. Remember to be kind, make eye contact, and smile."
According to Andreae, asperger syndrome has given him a slower processing speed, which affects him both academically and socially. While his disability is important, it does not consume his whole identity, he added.
"It makes things harder for me, but it doesn't mean it's impossible for me to succeed," he said.
Similarly, McKay said that he has overcome many obstacles that one might think impossible for a person with a disability. "My challenges become my strengths," he said. McKay now works at Star Market and runs the Pan-Mass Challenge with his dad every year.

Persampieri shared that he often struggles to find people to sit with at lunch, but "we all feel that way sometimes; that feeling of loneliness and isolation, especially in the crowded lunchroom." He added that he hopes sharing this information this will create change in student outreach at North.

C-block
by Isabella Lecona
Several panelists spoke about life after high school for people with disabilities during c-block of Beyond Kindness: Understanding Our Differences Day.
Junior Nathan Persampieri and Lisa Comisky, district-wide facilitator for special education moderated the panel, which consisted of Collette Divitto, a woman with Down Syndrome who owns her own cookie company, Collettey's Cookies, Victoria Hamilton, a student at Boston College School of Social Work with Cerebral Palsy, and David Ticchi, a blind, retired faculty member of Newton Public Schools.
Many of them agreed that getting employed was one of the most difficult struggles for them. "I spent many years trying to get a paying job," said Devitto. " I kept getting rejected."
According to Hamilton, she was told she would never go to the college of her dreams, but she ignored those people and got into the College of Charleston, in South Carolina.
"You have to go outside your comfort zone and talk to people who are different than you," she said.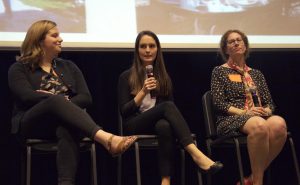 Similar to Devitto, people also told Hamilton she would never go to college. But things turned around for her when she started baking cookies in her North End apartment and selling them at a local open air market. She then asked bigger companies to sell her cookies at their stores, leading to the creation of her company Collettey's Cookies. Now her products can be purchased on her website or at several Star Market locations.
"I am so happy because now the world is seeing what a person with disabilities can do," said Divitto. She encouraged audience members to never give up on their dreams. "If I can do it, you can do it."

Ticchi shared his experience as a young man and his struggle to become a teacher. According to Ticchi, he was not allowed to major in education because blind people were not permitted to become teachers in many school systems when he was applying for positions.
Ticchi said that he felt saddened by the way people focus on differences rather than commonalities. "We're all human," he said.