Deaf Culture Day presentations bust myths, advocate for inclusion of deaf people
A-block
by Helen Xiao
Deaf studies professor Bruce Bucci busted myths about deafness and encouraged students to communicate and reach out to deaf people during a-block of Deaf Culture Day April 25.
Bucci presented a powerpoint on the  "Deaf Journey" in American Sign Language (ASL) and sign language interpreter Krystal Chung translated the presentation into English.
Throughout the presentation, Bucci disproved many myths about deaf people and explained that the deaf utilized their other senses to compensate for their loss of hearing.
"People don't think that we can enjoy music because we can't hear," said Bucci. "Actually, deaf people love music and can enjoy music, because we can still feel the vibrations of the music."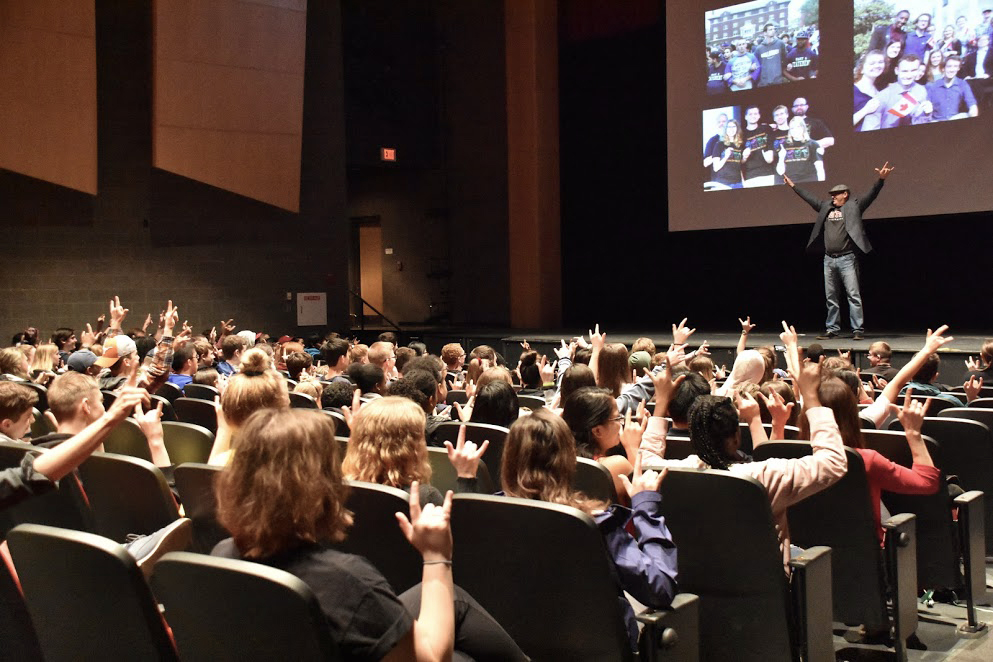 Bucci also introduced many deaf people who were able to defy their disability, such as Nyle DiMarco, who won Dancing with the Stars and America's Next Top Model.
Bucci also addressed other myths regarding deaf people's abilities to drive, fly airplanes, and succeed academically. According to Bucci, people who aren't deaf treat deaf people as "lesser than human."

"The reason why we are able to communicate and live like normal beings is because we have our own language like everyone else," said Bucci. "Many people don't accept ASL as a real language but it is, and we have used and treasured it for all that it has done for us."
Additionally, Bucci talked about the National Association of the Deaf (NAD) and its fight for equal justice for the deaf.
"The NAD made captioning for TV shows and other films available," said Bucci, "as well as the right for deaf couples to get married, and the right for the deaf to drive."

B-block
by Jacques Abou-Rizk

Elementary students from Horace Mann School for the Deaf and Memorial-Spaulding promoted anti-bullying through a mix of American Sign Language (ASL) and dance in a performance during b-block of Deaf Culture Day.
Formed by Memorial-Spaulding  teacher Jamie Robinson three years ago, 'DEAFinitely' provides opportunities for  students in grades 3 to 5 to perform using ASL and dance. As the group grew, Horace Mann teacher Melissa Brown formed a partnership with Robinson in order to let students from both schools be part of the group.
"We are thrilled to be here and celebrate Deaf Culture Day," Robinson said.  "It's a great opportunity to talk about bullying and the deaf community."
The group first performed to the song "True Colors" by Justin Timberlake and Anna Kendrick, taking an upbeat twist with the song's choreography accompanied by handmade posters that further present the message of anti-bullying.

"The posters were just a fun add on that the students made and it turned out to be something they really enjoyed," Robinson said.  "They got really into it and it was super fun to do."
The next song, "Lose Yourself" by Eminem was performed using breakdancing and a hip-hop style dance in order to further push the message of anti-bullying.
"It was all about no bullying and acceptance within the community," said freshman Makayla Marucci. "Just because one person is deaf doesn't mean that they can't do something.  Being d
eaf shouldn't put you in your own separate little category."

D-block
by Tali Falk-Judson
Students attended a presentation by Rabbi Darby Jared Leigh of Temple Kerem Shalom who spoke on his experiences growing up as a deaf man and a fan of heavy metal music during d-block of Deaf Culture Day.
Leigh told the story of meeting his favorite band and being able to be on stage during one of their concerts.
"[Heavy metal] was one of the first things I could hear with my hearing aids," said Leigh. "And it has stayed with me since then."
Leigh described his love for the band Twisted Sister and his eventual meeting with them.
"At my graduation from rabbinical school, the dean called my name and quoted one of their lyrics," Leigh said. "Someone took a video of it, sent it to the band, and they wanted to meet me."
The band's lead guitarist was Jewish, and he wanted to meet with a rabbi to discuss Judaism, according to Leigh.
"Before I knew it, they brought me onstage during one of their performances to sign a song. It was one of the best experiences of my life," Leigh added.

E-block
by Zoe Goldstein
"Deaf people can do anything but hear," said junior Brendan Pratt, a student of the EDCO program, on the importance of Deaf Culture Day.
During e-block of Deaf Culture Day, the EDCO program set up a table outside the cafeteria with information and activities having to do with deaf culture.
At the table, students were encouraged to participate in a lip-reading challenge or learn words in American Sign Language.
The activities were "teaching the ABCs, some signs, and how hand shapes work and how the language works," said Pratt.
He added that the activities also highlight the history of deaf people.
On the table as well were an assortment of books either by deaf authors or featuring deaf characters, such as the graphic novel El Deafo by Cece Bell. There was also an assortment of Deaf Life magazines, a monthly magazine about the deaf community and its culture.
According to Pratt, the point of the table was to "teach people about deaf culture" because, he said, many hearing people do not understand much about deaf culture, including the fact that members of the deaf community can have varying degrees of deafness.
"Hearing people don't realize there's a whole diversity within the deaf community," he said.
"It's important to embrace our culture," said Pratt.

F-block
by Sophie Murthy
Students learned about hearing loss, deaf experiences and the way deaf people are left out of discussions of bias and inclusion from Barbara Johnson, a senior IT consultant at MIT, during f-block of Deaf Culture Day Wednesday. Johnson has a cochlear implant in one ear and a hearing aid in the other.
Johnson began her presentation by telling the story of how she started to notice her hearing loss at ten years old. She further explained that her hearing loss is genetic. Four of her five brothers also suffered from hearing loss.
According to Johnson, 36 million people in the United States or one in every five people suffers from hearing loss.
"When you talk about diversity and inclusion, what about people with disabilities?" said Johnson.
She furthered explained how there are many misconceptions about people who having hearing losses. Some are that they are snobs, are stupid, they don't pay attention, they have no sense of humor, and they all know American Sign Language (ASL), she said.
Additionally, Johnson identified various ways that fully hearing people can help those with hearing loss, like talking at a regular pace and being conscious of the deaf person's ability to see and read lips.

G-block
by Jake Forbes
Students of the EDCO program spoke with senior IT consultant at MIT, Barbara Johnson, during g-block of Deaf Culture Day in room 366 last Wednesday.
Speech Language Pathologist for the EDCO program and ASL teacher Rhys McGovern said, "Barbara has gone through an experience that many of our kids can relate to."
According to McGovern, Johnson used hearing aids and implants before starting to learn sign language several years ago.
"Students could ask very specific questions that they might not have felt comfortable asking in front of the hundreds of kids in the auditorium," added McGovern.
McGovern felt that by allowing the students to ask more questions about Johnson's past, they could learn about other people's experiences with battling hearing loss.