Asian Culture Day presentations speak on cultural identity, discrimination, mental illness
A-block
by Sophia Zhou
Child and adolescent psychiatrists Gene Beresin and Juliana Chen presented their film "Looking for Luke," for which they were executive producers, during A-block of Asian Culture Day Wednesday, Feb. 14.
The film follows the story of Chinese-American Luke Tang, a bright college student who committed suicide in 2015 during his sophomore year at Harvard due to mental illness.
According to Chen that depression and mental health are often more stigmatized within Asian communities.
"This experience totally changed my view of depression. Yes, despite all those achievements on the surface you can still be depressed—and depression is deadly," said Luke's father, Wendell Tang, in the film.
According to the film's website, the mission of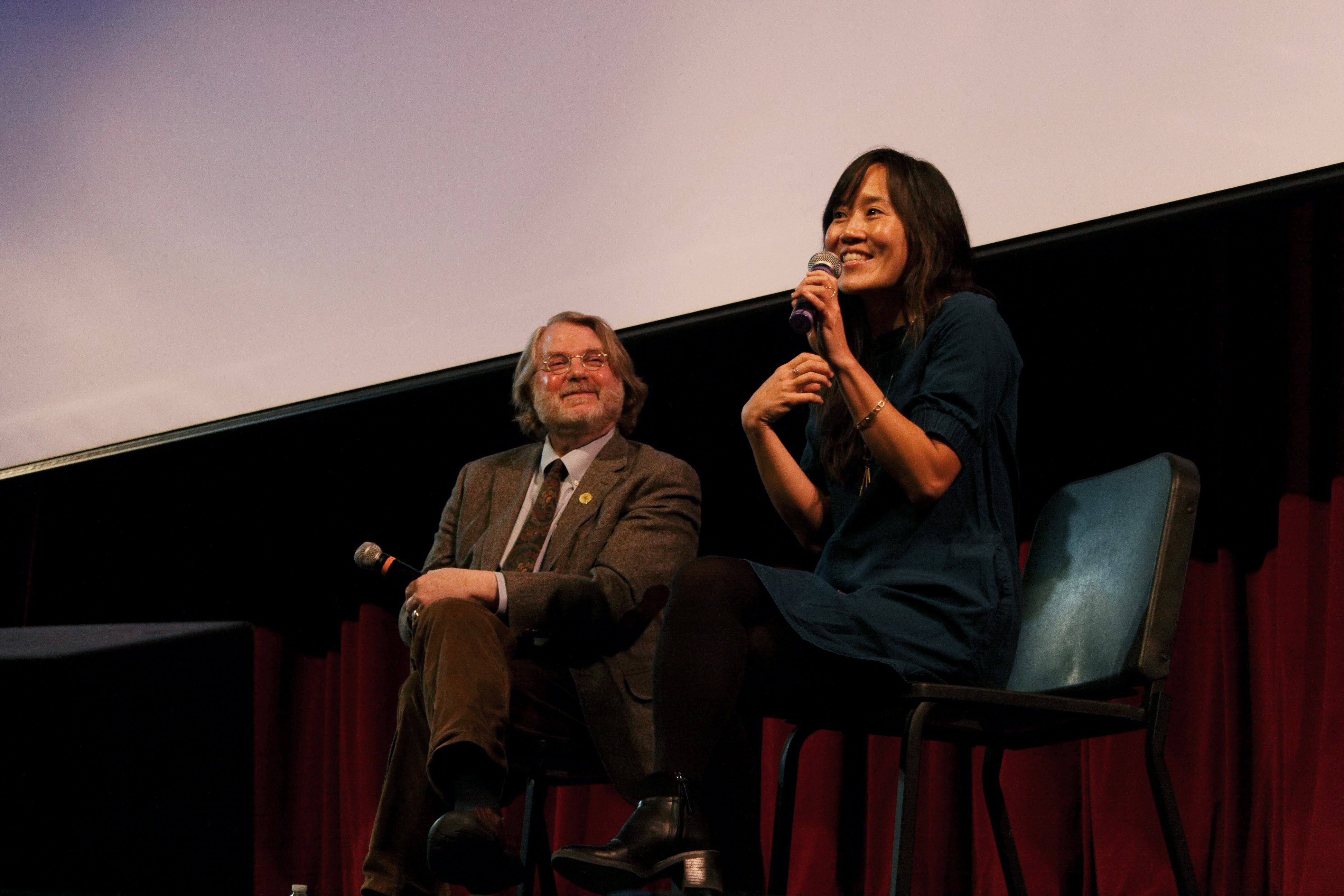 "Looking for Luke" is "raising awareness of depression as an illness and destigmatizing seeking help for mental health issues, two topics of incredible relevance and concern today at college campuses across the country."
Chen explained that 1,000 suicides, largely due to mental illness, occur on college campuses every year, which is around two to three deaths every day.
English teacher Nick Grant, whose son was at Harvard when the incident occurred, also shared his thoughts with the audience.
"The upsetting thing for me was that many people weren't surprised. So many students are struggling with this same issue, maybe not acting, but going through this same thing," he said.
During the question and answer period after the film, Beresin and Chen emphasized the importance of seeking help, and the idea of not "worrying alone."
"You've got to tell somebody," Beresin said. He explained that it is always better to seek help, even if it causes a fight between friends. "Don't worry about your friend being pissed. They're going to be pissed, but they are reaching out for help."
For those struggling with mental illness, Chen advised, "Everybody's different. There's no treatment that will work for everyone. If it doesn't work, try something different, but don't give up."
Beresin ended the presentation on a positive note, explaining that mental illnesses can be a strength.
"Many great artists, poets, people we admire wouldn't have done what they've done without being so emotionally sensitive," said Beresin. "It's a weird thing to say, but don't see it as a weakness but as a great asset to you."
B-block
by Isaac Tang
Students panelists answered questions about issues relating to race during B-block of Asian Culture Day Wednesday. The panelists talked about issues such as stereotypes and cultural identity.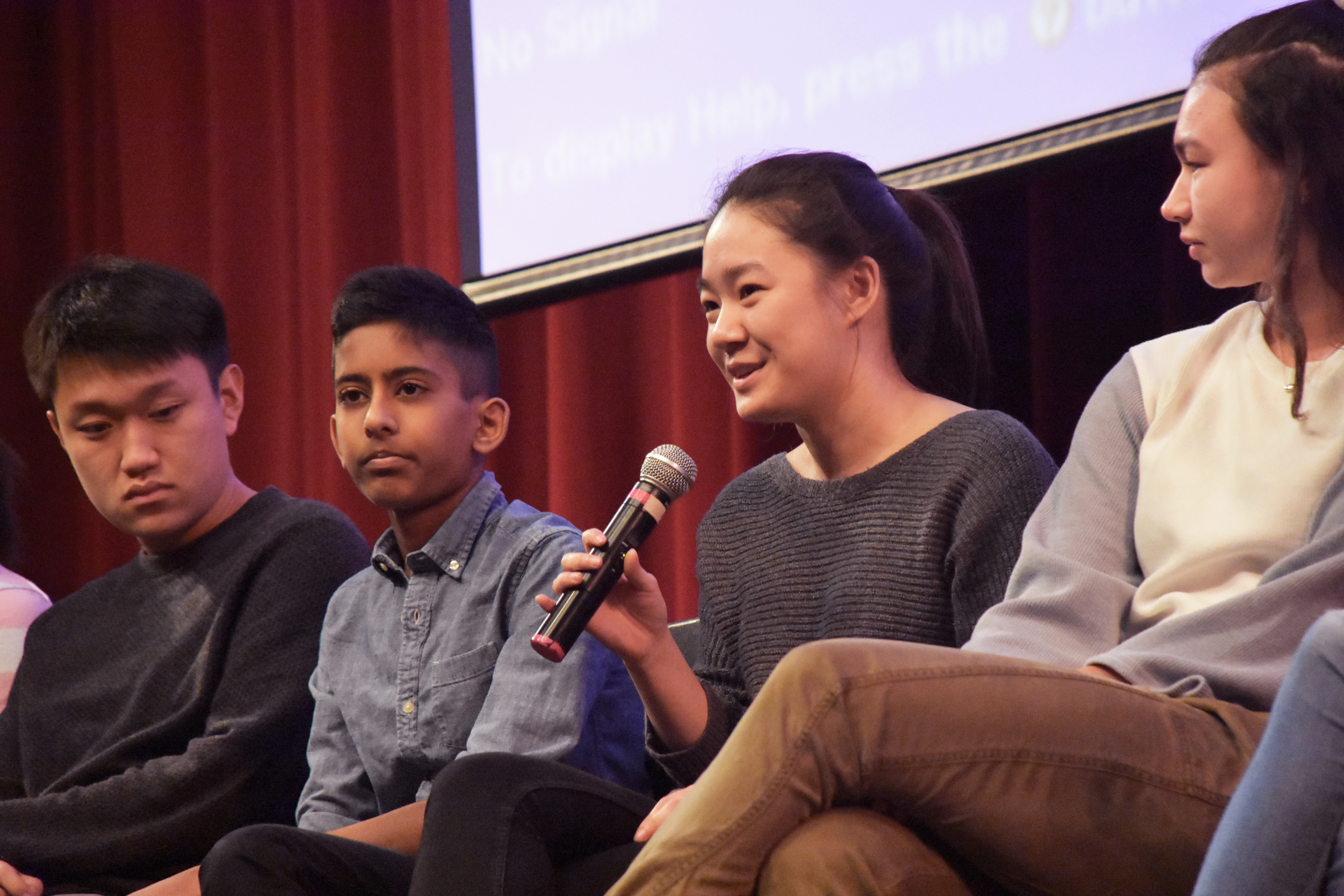 The panel comprised of seniors Thacher Andreae, Shriya Shinde, Lydia Smith, and Joe Varady, juniors Amar Ahmad and Joelle Sugianto, sophomore Amit Vallabh, and alumni Eugene Oh and Fiona Yang.
Panelists shared their experience regarding racial stereotypes and statements. Yang, a Chinese American, told the story of when she encountered a group of boys after a basketball game against Catholic Memorial.
"These boys in our grade, they were all white. They saw us and told us to go back to rice valley," said Yang.
Vallabh, a second generation Indian-American, had a similar experience when customs officials stopped his 80-year-old grandmother at a U.S. airport during a random search. When she was stopped, she complained to the officer that she was an old woman and she could not carry out an attack, the officer replied, "Osama was old too."
Panelists also talked about how their experience as an Asian-American has shaped their identity, with many panelists discussing cultural conflicts when growing up.
"Growing up, making friends was especially tough," said Vallabh, adding that he had trouble connecting with other Indian-Americans because he couldn't speak their language and had a different experience.
Senior Shriya Shinde said that growing up, she thought that being Asian meant one is not attractive or beautiful and wanted to be white because that is what she thought is beautiful. However, Shinde added that now she believes that "whiteness does not define beauty."
D-block
by Jacques Abou-Rizk
Members of Asian Culture Club discussed problems in media portrayals of Asian-Americans in a panel during D-block of Asian Culture Day.
Senior Wendy Li, co-president of Asian Culture Club with senior Carrieanne Mamba, hosted a roundtable discussion with seniors Michael Lee, the club treasurer, and Sheil Mehta, the public relations manager.
The panel touched on some of the most glaring problems in the media: Asian stereotypes, limited Asian actors playing Asian roles, and the one dimensional portrayal of Asian characters.
Mamba talked on the progress made in online representations of Asian-Americans.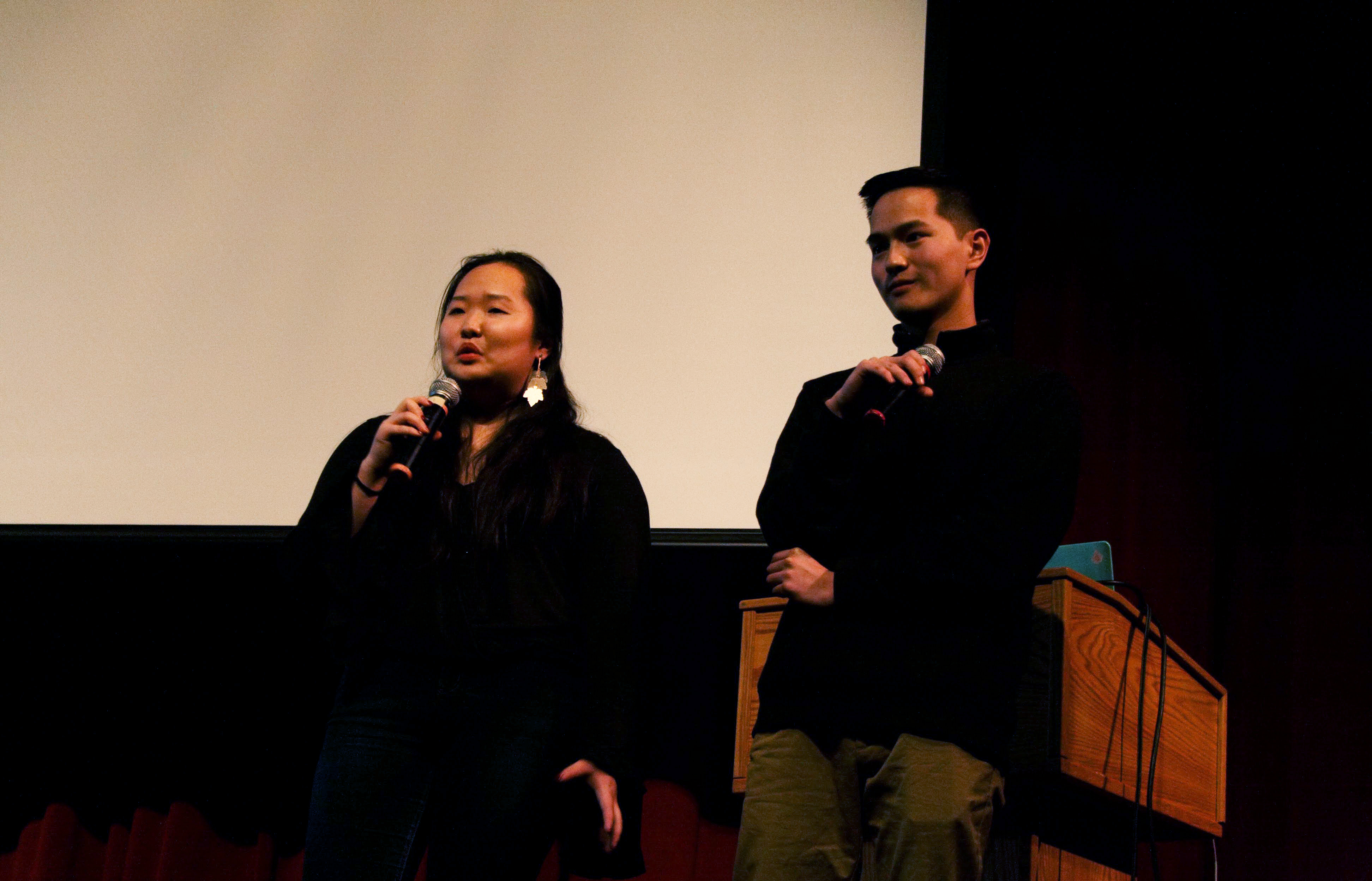 "Asian-Americans have been in this country for a while," she said, "and the media has been here for a while too, and although we are getting a lot more attention, and though things are going in the right direction, we can't sit back."
Mehta added that the desexualization of Asian-Americans in movies and shows is a problem that should be addressed promptly.
"In American media, Asians are dismissed as the least attractive minority," he said. " In new movies, there are Asian-Americans that are represented as powerful, attractive, and talented, and I want to see more of that."
The panel also discussed the difference in representation of Asian actors, singers, comedians, and artists. They talked about the stereotypes shown in each piece of media, but also the places where Asian-Americans were correctly portrayed.
According to Li, Asian-Americans in the media are often not considered to be American.
"I don't want Asians to be the stereotype in movies," she said, "When it comes to being an Americans, we want to be seen as one and correctly shown in the media."
While Li acknowledged that strides have been made, Lee expressed the belief that there is still "progress to be made in the Asian-American community." "Soft racism," such subtle media misrepresentations "still do have an impact" and is something that everyone should be striving to fix he explained.
E-block
by Sophie Murthy
Authors Anjali Duva and Grace Talusan spoke about the meaning behind and use of the term "Asian-American" during E-block of Asian Culture Day Wednesday.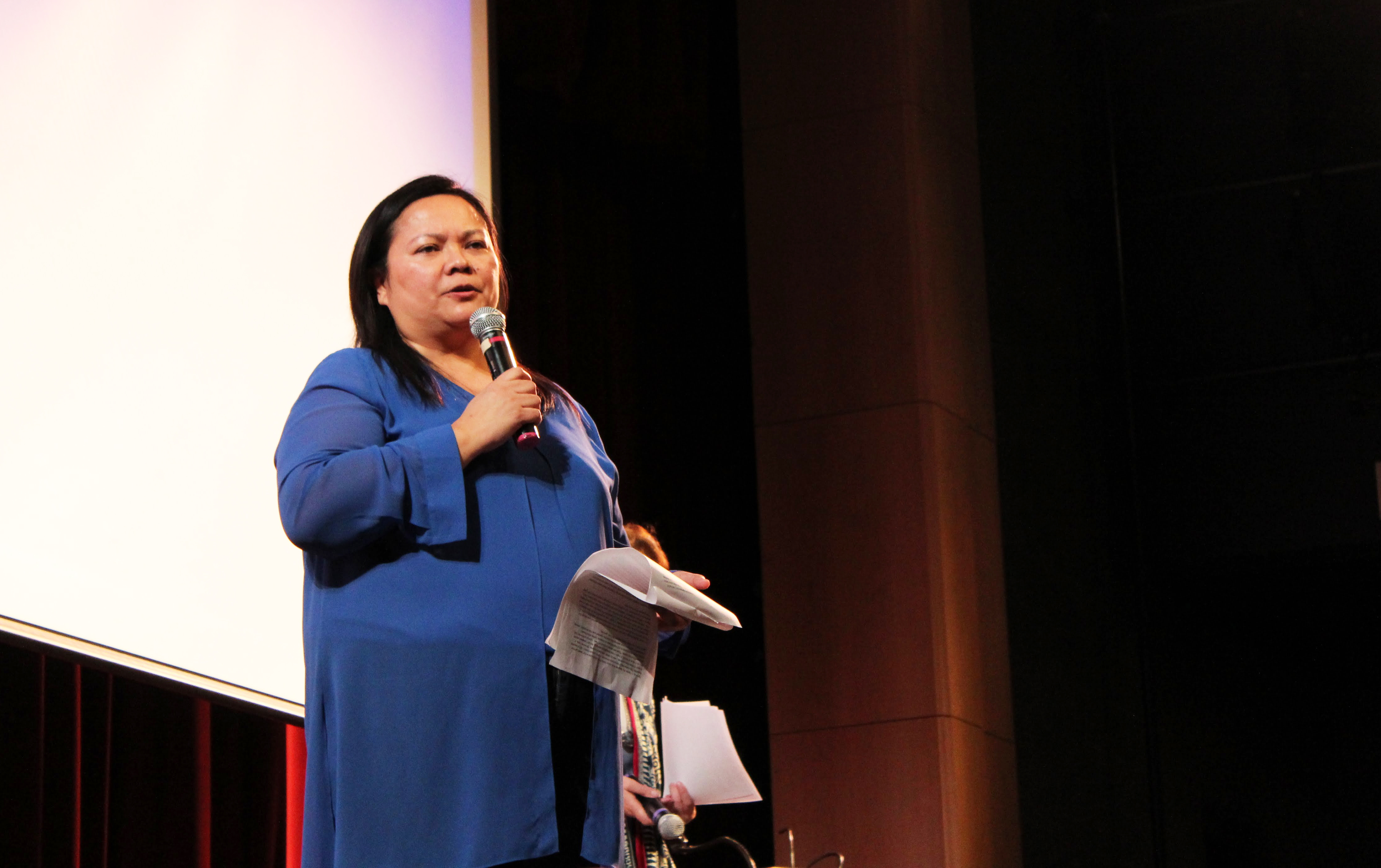 Duva is the author of Faint Promise of Rain, a book about a girl born in Rajasthan, India who wants to pursue dance instead of marriage. Talusan is the author of The Body Papers, a memoir about her immigration and illnesses.
"I've never thought that term [Asian-American] applied to me. People would assume it was someone whose parents were born in an
East Asian country, but were raised in the US," said Duva, an Indian-American with one parent Indian and the other American. She added how her in her experience, the term was more exclusive than inclusive, because it didn't include everyone from Asia.
Talusan, however, explained that she likes the umbrella term "Asian-American" because it includes a diversity of people and ethnicities. As a child she was called oriental instead of
Asian-American, a term she would eventually come to dislike.
"When I was growing up, I was called oriental. Someone called a rug oriental and I remember thinking, 'No, I am not like this rug,'" she said.
Growing up, both authors had different experiences regarding their race, identity and how they fit into society, despite their shared Asian origins.
Duva grew up in France as an Indian-American, a rarity at the time, going to an international school where diversity was widely accepted. "As an adult, I realize how lucky I am. I was lucky that I didn't really mind being seen as both belonging and not belonging," said Duva.
Talusan grew up in the United States after her father's immigration from the Philippines. She and learned the culture by taking road trips in a green station wagon across the country with her family. "That green station wagon was the place where we learned how to be American," she said.
Additionally, Talusan explained that when she was a child, she saw no Asian role models in the media. "I was always a big reader, and I was always looking for myself in the books I was reading. There were some Asian characters, but they were the only representation of myself I got, and I rejected them because they were described in comedic stereotypical forms."
Talusan explained that, as an author, she hopes to create role models for future generations of Asian-Americans. "It's my job to fill in the spaces where we weren't existing or we were only existing in jokes. I'm hoping to write against stereotypes and invisibility."