A-block
by Laura Schmidt-Hong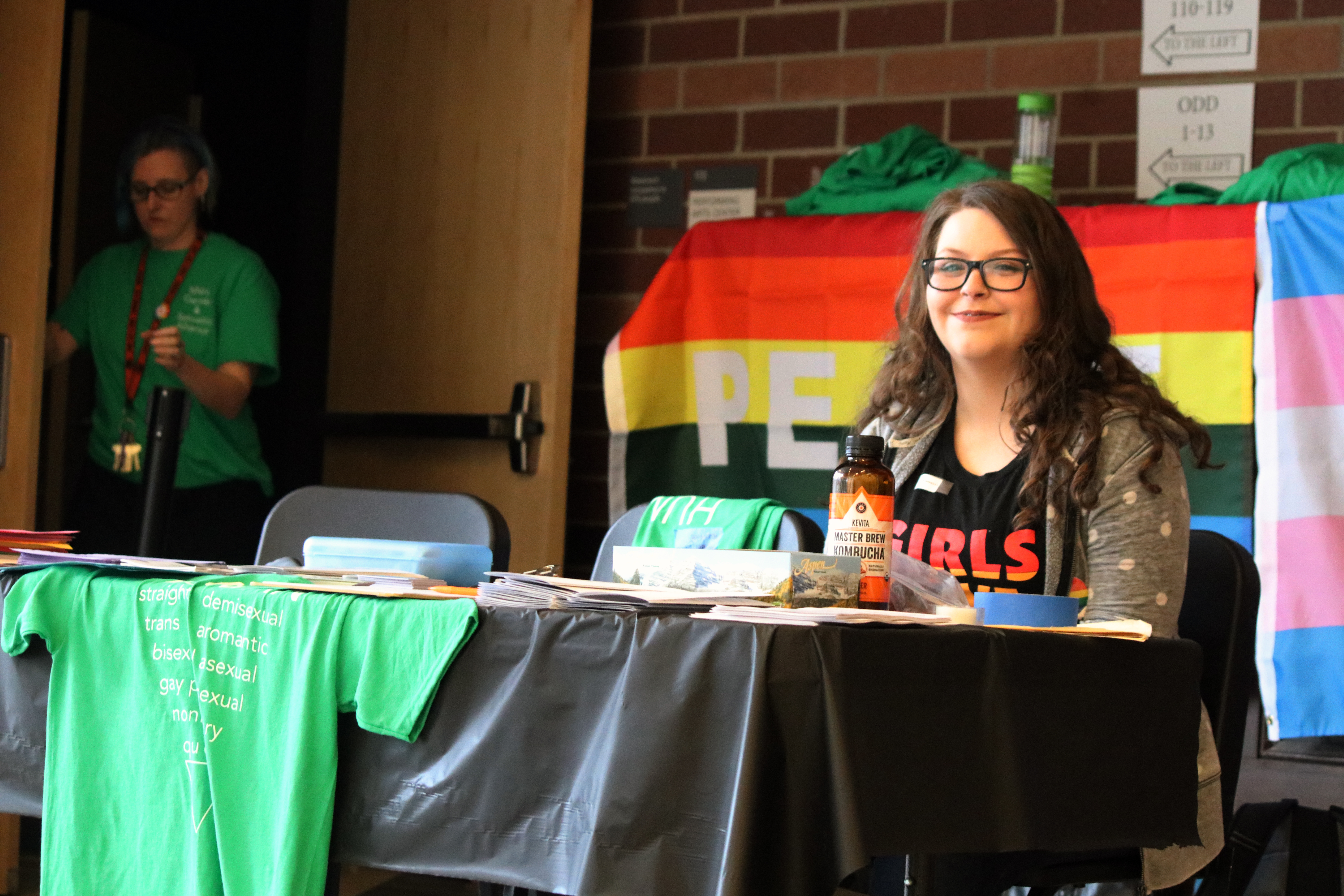 As part of ToBGLAD Day, a panel of members of the LGBT community and of various religious communities spoke about the intersectionality between religious beliefs and sexuality and gender identity last Friday during A-block in the auditorium.
Moderated by sophomore Achille Ricca, an officer of the Gender Sexuality Alliance (GSA), the panel consisted of Laura Abrasley, Molly Eskridge, Nabil Khan, and Jonathan Newell-Roberts.
First, each of the panel members introduced themselves and shared their preferred pronouns and their religious affiliation. Abrasley identified as Jewish, Eskridge as Wiccan, Khan as Muslim, and Newell-Roberts as Baptist.
The panelists began by commenting on their experiences in their respective religious communities while being part of the LGBT community.
Abrasley said, "Today, being an out, lesbian rabbi is becoming less and less of a big deal," which she regards as a sign that the Jewish community has become more open, explaining that she initially doubted her potential to become a rabbi "outside of the heterosexual context."
Eskridge commented that she was "lucky" to have entered the Wiccan community in a setting with LGBT representation, which made her feel more welcome when she joined.
She also commended Wicca's emphasis on an "immediate and personal relationship with the divine," adding that it allowed her to be more open with herself and her identity. "To deny, obfuscate, or shade the part of me that was queer would mean that my relationship with the divine wasn't honest," she explained.
Similarly, Khan, who was raised as Muslim in Middle Eastern, Muslim-majority countries, noted, "Your relationship with God comes before what your community tells you about God."
He added that being homosexual "just wasn't talked about," and "there was almost 'don't ask, don't tell.'" Although LGBT Muslims may have come out in some of their communities, he said, they are, for the most part, "not out in their religious communities."
Newell-Roberts explained that he only embraced his sexuality when he found a community which accepted him "in totality," saying, "In my more conservative settings growing up, I was not comfortable being out."
The panel then opened up to audience questions and discussed openness to transgenderism and gender rigidity in religious communities.
Newell-Roberts said, "I actually think there is a big difference" between how open religious communities are to transgenderism compared to homosexuality or bisexuality. "We're doing the work of normalizing the 'LGB,' but the 'T' is in a space of newness," he explained.
Eskridge noted, "The larger Wiccan community can be largely gender-rigid," but she strives to emphasize the idea of a gender spectrum which "allows for more fluidity."
Abrasley ended the panel by explaining that queerness means to "be yourself, your full self."
B-block
by Nour Chahboun
During a B-block presentation, sophomore Achille Ricca and freshman Alex Kolodney discussed both the offensive and positive and forward-thinking portrayals of LGBTQ individuals in television as part of ToBGLAD Day in the auditorium.
Ricca presented a powerpoint containing the general history of members of the LGBTQ community's appearances on cinema and television including the Hayes code, which prevented "any interference of sexual perversion" and limited images of LGBTQ members on screen during the late 1930's until the 1960's.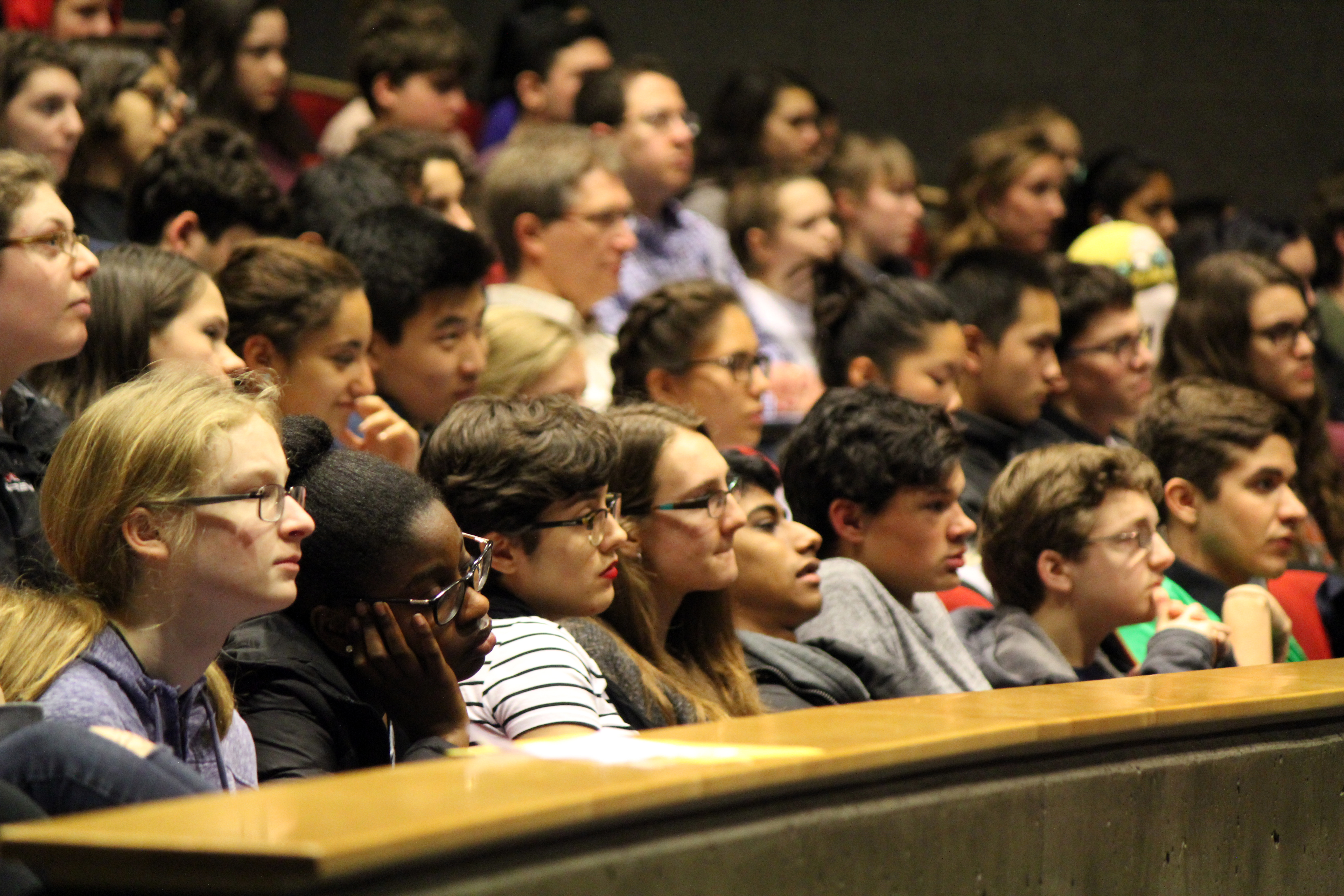 Ricca spoke about the code's influence in shaping on-screen LGBTQ characters into villains and joke-worthy stereotypes. Kolodney also displayed a historiography clip that explained how gay characters were often shown as weak and effeminate during the code's era.
The speakers then assessed the LGBTQ representation in modern television and concluded that although currently there is more freedom to create diverse content today, stereotypes and LGBTQ misrepresentation are still very common.
Although representation on television has progressed and diversified since the Hayes code, "at a time of diverse immersion, LGBTQ fetishes and stereotypes can be created," said Ricca.
Just like numerous other people, an increase in representation of LGBTQ members in media has given Kolodney an opportunity to "find himself from looking online."
C-block
by Tali Falk-Judson
A panel of students and teachers discussed issues in and around the LGBT community C block as a part of ToBGLAD day on Friday, April 7.
The panel answered prepared questions as well as questions from the audience with each panelist sharing an opinion about the question.
"We want to give a platform for people to speak about their own experiences," said senior Cassandra Taylor, the moderator for the panel. "It's important for people to hear."
"It's always good to have a safe place to talk about what people often don't want to talk about," said math teacher Amy Donovan, a panelist.
The panel delved into issues of sexuality, gender identity and discrimination within the LGBT community itself.
"There's still a lot of transphobia even in the community," said sophomore Achille Ricca.
"A lot of people think of us as one group or something, but there's plenty of stuff going on that you wouldn't think necessarily if you aren't part of the community," Ricca added.
The panel ended with some final thoughts from the speakers.
"I think it's just important to talk about things," said physical education teacher Courtney Albert, another panelist. "There's still a lot of misconceptions, but it's nice to be able to correct those things in a friendly place where people want to support you."
E-block
by Sophia Zhou
Jason Lydon, the founder and national director of Black & Pink, an organization that supports and advocates for LGBT and HIV positive people in prison, spoke about the discrimination and mental health issues faced by those groups during E-Block of ToBGLAD Day.
Lydon began his presentation by introducing the background and origin of Black & Pink.
"The work that we do at Black & Pink is predominantly focused on meeting the immediate needs of LGBT folks and our HIV positive people that are currently locked up in prisons and jails across the country," he said.
Black & Pink currently reaches about 12,000 prisoners across the country every month through their monthly newspaper made up of "prisoner generated content, where prisoners are telling stories to each other," he added.
According to the Black & Pink website, the group works to abolish the "prison industrial complex" through advocacy, education, direct service and organizing.
Lydon himself has served time in county jails in Georgia for trespassing onto a military base to bring awareness to the effects of U.S. foreign policy. He created Black & Pink after he got out to stay connected and look out "for the guys and the prison fold that had looked after me," he said.
Next, Lydon explained the massive "prison industrial complex" and how it is not simply just the buildings "where we're housing human bodies," but a complex system involving our justice system and "the police and how they target communities."
"We're talking about a court system that forces people to take plea deals and forces them to go into prison for enormously long prison sentences," added Lydon.
Lydon then moved on to discuss the unfair disadvantages and disproportionate targeting faced by the LGBT community.
According to Lydon, 40% of prisoners in women's prisons identify as bisexual or lesbian yet they only make up 8% of the general population.
"We also know the LGBT folks are much more likely to be homeless, are more likely to use illegal drugs, mostly as a way to deal with homophobia, transphobia, and society," he said.
"That's a very reasonable thing for folks to do. When you're trying to have some sense of self in this system, in this society that devalues you, having a break from that, by using drugs can be a break from the harm and violence that you're experiencing."
However he added, because of the way drugs are criminalized, the LGBT community is then disproportionately targeted by police.
"When you're homeless, you don't have access to jobs, so you don't have access to a place to live. You're likely going to break the law and learn to survive. That's going to be part of the way that you get by," he said. "You're going to steal things, you are going to trespass simply to get by. So we see our communities being affected by that."
Moving on to the treatment of LGBT people in prison, Lydon shared his experiences in county jails in Georgia.
He described being put into a separate cell with 24 other queer people and being forced into humiliating situations and circumstances, such as being required to change in front of the straight, cisgender men.
"They said they were keeping us safe," he said, but in reality "guards would come in and make fun of us and call us names, because they knew it was where the queer people were."
Despite the violence, Lydon said, "Even in a place where we faced harassment, we were able to come together as a family."
He added, "That's why Black & Pink calls ourself an open family, because so often LGBT communities, especially when our people get locked up, lose access to their families of origin. So Black & Pink tries to come in and provide family."
Lydon then talked about the limited access to important items such as hormone replacement therapy in jail.
According to Lydon, many transgender people use hormone replacement therapy as a way to change their body, so it's a very important part of their transitions, but most prisoners are denied access to such a crucial item.  
He also explained that the effect of stopping the use of hormone replacement therapy is greatly detrimental on both mental and physical health as the body slowly readjusts.
Lydon then talked about the large numbers of sexual assault within prisons.
"The prison itself actually functions as a tool of sexual violence," he said. "For prisoners, their bodies don't belong to them. They belong to the state."
Lydon ended his presentation by saying, "We're all more than the worst thing we've ever done and we're also all more than the worst thing that's ever been done to us."
The organizers of ToBGLAD Day set up a table on Main Street focusing on mental health to teach ways to cope with negative thoughts and feelings.
G-block
by Rose Skylstad
Students recited poetry and sang songs relating to their identities and struggles as young members of the LGBT community during ToBGLAD Day's annual "Speak Out," G-block.
Sophomore Achille Ricca spoke first, reciting a piece of poetry about the questions he has to answer as a transgender male. A repeating line of the poem was "I mean maybe, I guess, but that's not how it works."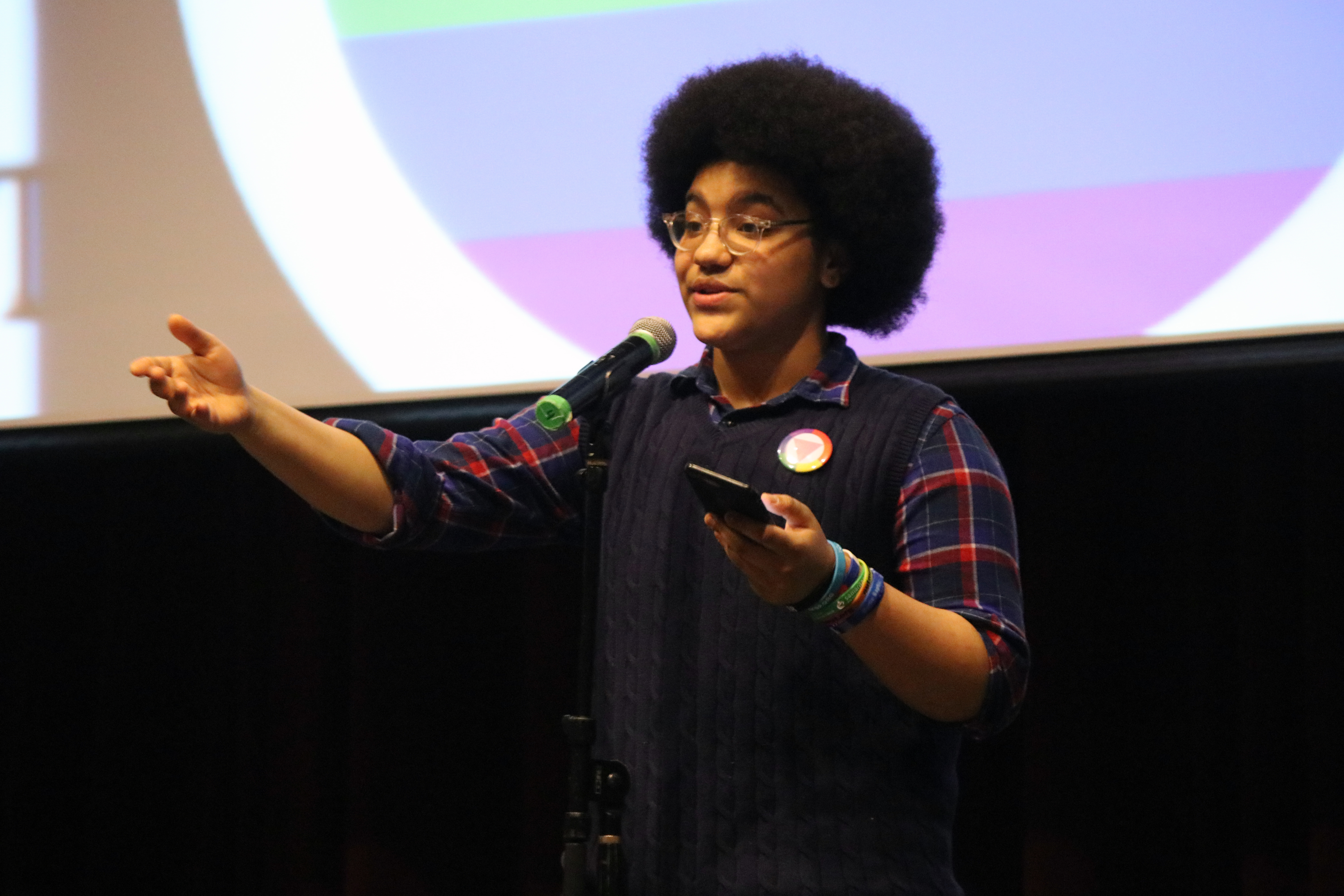 Next, freshman Eliza Huntington recited her poem about having a less recognized sexuality than the LGBT sexualities. Her poem included common misconceptions about abrosexuality, a fluid sexuality that changes frequently. "I think you need to widen your vocabulary, because we're not just imaginary," she said.
Senior Megan Fieleke, who recited a love poem last year, shared a poem about her break up, and said that "it hurts just as much when you're gay."
Signing a song about their experiences as gender non-binary, freshman Alex Kolodney expressed the challenges of not being their parents' daughter or son, and how society expects them to pick a binary gender.
Next, senior Cass Taylor shared a spoken word poem about originally thinking she was bi, even though that was not her sexuality. Throughout the poem, she personified "the closet" and a monster in her closet as her struggle to find her true identity and self.
"I will tear the doors off of closets if they want to be opened, because I know how tight those locks can close," said Taylor.
Freshman Phoenix Watters, spoke next, sharing a poem about their self confidence and hiding their insecurities behind makeup and baggy clothes.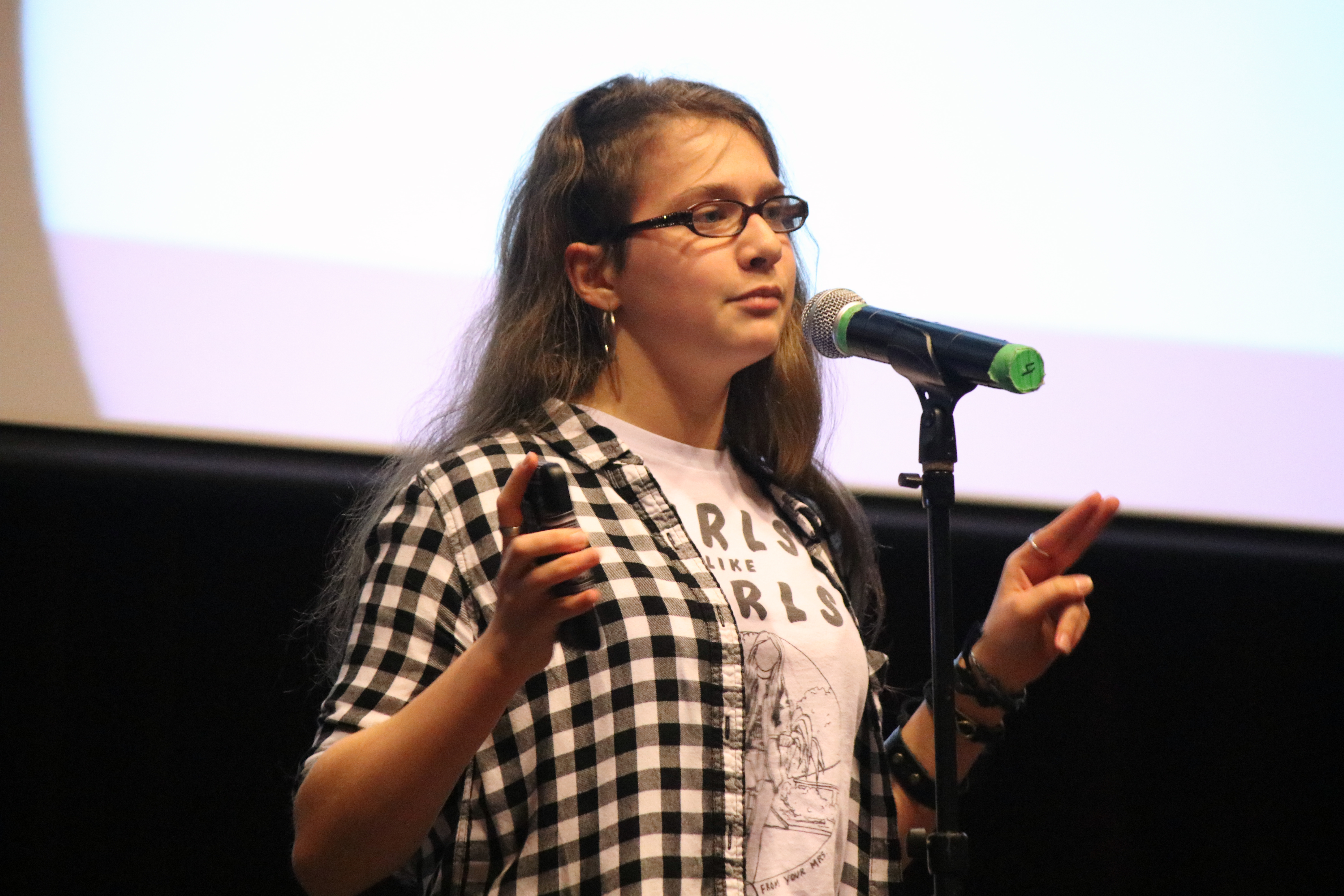 Senior David Mapes-Frances shared his poem about "gender police" and how society places restrictions and has prejudices against anyone who is not cis-gendered.
After hearing two men in a bookstore make homophobic comments, senior Astrian Horsburgh wrote a poem as a "retroactive" response. The two men, she explained, complained about LGBT literature in the philosophy section of the store, and said things like "this isn't even philosophy."
"Just as a reminder, we have one bookshelf, and now we are being too loud and taking up too much space in your philosophy section," she said.
After these students shared their art, the Melocotones, North's a cappella group sang "Told Ya So" by Adult Mom, with junior Olivia Kelly as the soloist.
The show ended early, so, to fill the time, junior Drew Nolan sang "House of Gold" by Twenty One Pilots, and Ricca shared another poem about the differences of being a "black girl" and a "black boy."
F-block
by Maya Waldman
Panelists, including parents, students, and other transgender people in the North community described their experiences as transgender individuals during ToBGLAD Day last Friday during F-block in the auditorium.
Community member Courtney Allen, sophomore Achille Ricca, freshman Alex Kolodney, North parent Pamela McA'Nulty, sophomore Viola Brockman, and junior Anna Schertz were invited to speak.
According to the panel, people who identify as transgender are faced with many difficulties, even in today's progressive society. "There's still a lot of violence against trans people," said Allen.
"I had to jump through so many hoops, and my family did too," said Ricca, recalling his transition.
Ricca added that there are two types of transitions: a medical and a social one. According to him, a medical transition can involve taking hormones and having surgery, while a social transition often involves "coming out" publicly as a transgender person.
Each person has a different transition based on what part of their life they are in when they transition, said Kolodney.
"Generally, people are pretty good about it," added Kolodney. "But then again, it's high school, so you never know how someone will react."
The time period into which a trans person is born can create more obstacles for them, according some panelists.
"I live in Newton, so everyone had a great reaction to me being transgender," said McA'Nulty. "But back in the seventies, it was a lot harder for me to be myself."
Many panelists said that publicly transgender people experience prejudice not only from the outside, but also from people inside the LGBT community.
"I didn't want to come out because it can kind of suck. It feels like everybody hates you," said Schertz. "But I did it anyways."
According to Schertz, she also felt discrimination from the LGBT community, the last place where she expected to feel judged.
Coming out as transgender is often mentally draining, especially if the people who you are relying on are unsupportive, according to Ricca. "My mental health went down the drain," he said.
One problem that transgender people often encounter is posed by public bathrooms, according to some panelists. "In a perfect world," said McA'Nulty, "every place would have gender-neutral bathrooms."
The panel concluded by discussing dysphoria, a state of unease or general dissatisfaction with one's life and its relation to transgender people. "It's like feeling a very strong unhappiness, particularly with your body," said Schertz.
According to McA'Nulty, dysphoria is often experienced by transgender people when "you take your makeup off or see those few hairs starting to grow back where you don't want them to."
However, according to Ricca, dysphoria is often overshadowed by the elation that comes with being comfortable in public as a transgender.
"Everyone still loves me for me," he added.