Women in Business Day's strong female role models share experiences, advice
G-block
by Rose Skylstad
President and CEO of Boston Children's Hospital Sandra Fenwick discussed her career and advice on leadership for Women in Business Day during G-block this Friday in the auditorium.
"I run a two billion dollar hospital, with over 1,000 doctors, 1,000 researchers, 10,000 employees and nurses, and we are, as you may know, the number one ranked children's hospital in the United States," said Fenwick.
In her presentation, Fenwick outlined the qualities that have allowed her to succeed as a leader: passion, integrity, courage, and vision.
She explained that passion is important because loving a job is key to succeeding in it, and vision for both a leader's own career and their current work gives a guideline for this success. Courage to take "measured risk" allows for growth and innovation. Integrity, she continued, is also "absolutely critical" to a leader because it creates respect and relationships with employees.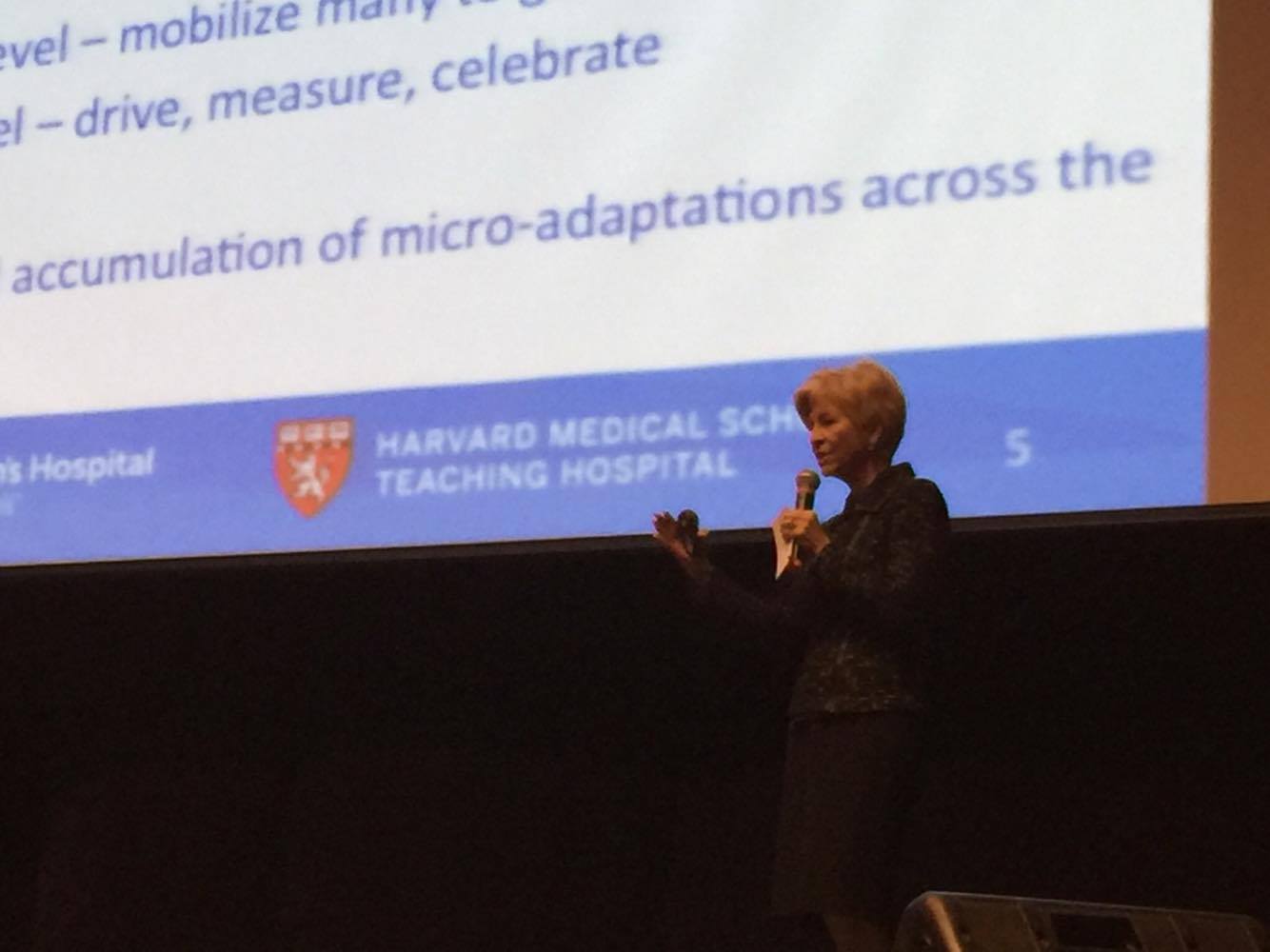 During her 40 year career, Fenwick has researched diseases, traveled to Saudi Arabia for research, and lead the pediatric departments of multiple institutions. Fenwick was also the first woman to be part of senior management at Beth Israel Deaconess Medical Center in Boston.
After opening the the floor to questions, Fenwick addressed how being a woman has affected her career. "There were times when I was the only woman in the room. Many, many times," she said.
However, she added that "knowing when to speak up" and making sure to understand her work thoroughly allowed her to get past these obstacles. "If you show that you have value, people want you back and want you to do things," she said.
She explained that, though they were present, she never let these challenges get in the way of her success. "Have there been people who have kind of blown me off a little bit? Yeah. But I keep trying, and I'm just not going to let them get me," she said.
F-block
by Hannah Liu
North alumna Gloria Li, '13, took the stage F-block to explain how her experiences in political, financial, and technological fields will help her impact the world. Li is a student at NYU Stern Business school, where she minors in psychology and majors in finance.
Li began the presentation by asking students what they planned to be when they grew up. When considering her own career options, she explained that she felt "underexposed" and "overwhelmed" when she realized the vast range of options available to her.
Li advised students not to "limit yourself to what your parents do now." Both her parents were in the medical industry, but Li decided medical school was too costly and too long, after carefully considering her options.
There are many more experiences offered in college, according to Li. "I did a few international experiences. I did this not only out of my own interest, out of long term wanting to make a global impact, change, but also to see what the world out there is like," she added.
Extracurriculars in colleges have allowed Li to travel all over the world. In Lisbon, Portugal she helped a company create a three prong restructuring plan.
In Waodze-Tsatoe, Ghana, she helped build a foundation for the first primary school in the village, one of her favorite trips. She told a story where the kids would help stir the concrete, and it would be sweltering. Struck by the fact that she had easy access to ice water, but could not give it to the children because they would fight over it, she realized the disparity between the two countries.
In the financial sector, she has worked at the Bank of America, JP Morgan, Goldman Sachs,  and Morgan Stanley, where she learned to work efficiently. There was a constant need to meet deadlines, according to Li, and people would go to work at 9 a.m. and stay until 12 a.m. or 2 a.m. the next morning.
Commenting on the "fratty bro culture" of the banks she has worked at, she said, "It's a little harder to fit in as a woman, so you just have to work really hard and show that you can contribute to the group with a unique perspective."
In the political sector, she worked at the White House and contributed to the paper detailing "Artificial Intelligence, Automation and the Economy" and an economic report to President Obama.
After she graduates, Li will move to California to work at Google as a rotational analyst to fulfill the technological aspect.
She encouraged students to consider their future plans early on and build connections, "never give up" in the face of rejection, and to go after the opportunities that interest them.