Boys' gymnastics wins State Title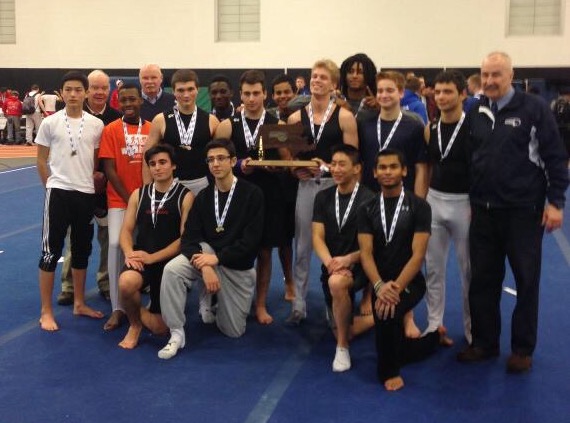 by MacKenzie Silvia
Boys' gymnastics won the State Title last Friday.
Combined this season with South, the team was able to find its rhythm and compete as a unit, said junior Vitaliy Kates, a captain with senior Alex Lund and South senior Tomer Keren.
The team faced many injuries this year, which often forced the team to compete without most of its star gymnasts, according to Lund.
"We did surprisingly well given that a bunch of our guys were unable to compete," Lund said. "We are a strong team that worked hard and was able to come together to pull the weight of our teammates that weren't there due to injury. It definitely paid off in the end."
Kates said he believes the loss of a few key players motivated others to step up and get their jobs done.
"Even though I couldn't complete in States, I think that it made the team work harder knowing that we're missing a couple kids," Kates said. "We only lost the State meet by less than one point last year so I definitely think winning this year was a big deal for us."
Lund attributes the win to the team working hard during practice and learning gymnastic techniques.
"We performed the same way we had during practices, only doing what we felt comfortable doing," Lund said. "Many other teams lost a lot of points trying to do moves that they hadn't learned completely."
"Our parkour kids did a great job over the season progressing into gymnasts," he said.
Kates said he agrees that the team "became stronger as gymnasts which gave us more motivation to win. We improved on the things we had a hard time with in the beginning of the season."
Keren attributes the success of the team to the hard work during practices and the chemistry between North and South.
"Every practice everybody showed up motivated and determined to get better and learn a new skill," Keren said. "It was great practicing with the North guys and I think that we all really pushed each other to get better every practice."
Lund said that winning the State Meet was a special ending to his senior year.
"Being my last year on the team, it was really rewarding for all the hard work I have put in over the years and I'm sure we all felt that in some kind of way after we took the title," Lund said.