Huntington Lecture: Harvard research associate discusses Chinese Cultural Revolution
by Jackie Gong
Juwen Zhou, a research associate at the John King Fairbank Center for Chinese Studies at Harvard University, discussed his experiences as a witness to the Red Guard movement in China during the Chinese Cultural Revolution Thursday in the Film Lecture Hall as a part of the Huntington Lecture Series.
Zhou focused on "Red August," the month where the Red Guard violence came to a head in Aug. 1966 in Beijing, China.
As a young school teacher in China, Zhou said he was 22 when he witnessed the horrifying crimes of the Red Guard, a mass army of young people who supported the Chinese Cultural Revolution in 1966 and 1967.
In early July 1966, students from Qinghua University decided that anti-revolutionists threatened the country's Cultural Revolution, and declared themselves the Red Guard to protect their leader, Mao Zedong.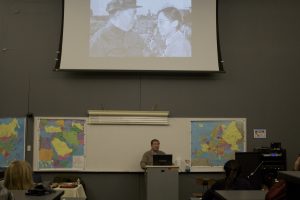 Zhou explained the importance of the color red in their name. "In China, red has a big significance. It's used at weddings as a sign of fortune, and is a good color. But it also has another meaning: revolt," he said.
Zhou showed many images of the Revolution in effect, with the Red Guard destroying old buildings and marching in large groups, holding signs that Zhou translated as, "We are breaking the old world, we are creating a new world!" Zhou explained that Mao led China with a socialist future in mind as he promoted the Cultural Revolution and mobilized the Red Guards.
The Chinese Cultural Revolution had a mission of destroying the so-called "Old Fours" in Chinese culture: old customs, old culture, old habits, and old ideas, according to Zhou. He talked about the violence he saw in attempt to destroy these ideas, and how it personally affected his own family. He said that the Red Guard randomly broke into homes and destroyed precious books and paintings. Zhou recalled a break-in at his family's home one night, where the many books and instruments his family collected were burned, and his father was beaten.
Zhou wrapped up his talk by answering questions from the audience about the Chinese Cultural Revolution. If Mao saw modern-day China, Zhou said "he would definitely feel upset. But even though he wouldn't like it, he wouldn't be able to doing anything about it because he lost a lot of power before his death, and even on his deathbed, Mao admitted the Cultural Revolution he launched was not very successful."
According to Zhou, few were supportive of the Red Guard and its actions, and he said that many Red Guard members who participated in the events of the Red August ended up rallying up and apologizing to everyone for their actions. "At Mao's last interview, he was quoted saying, 'My shoulders are so heavy, I think the best solution is to die.'"