English teacher discusses Zen Buddhism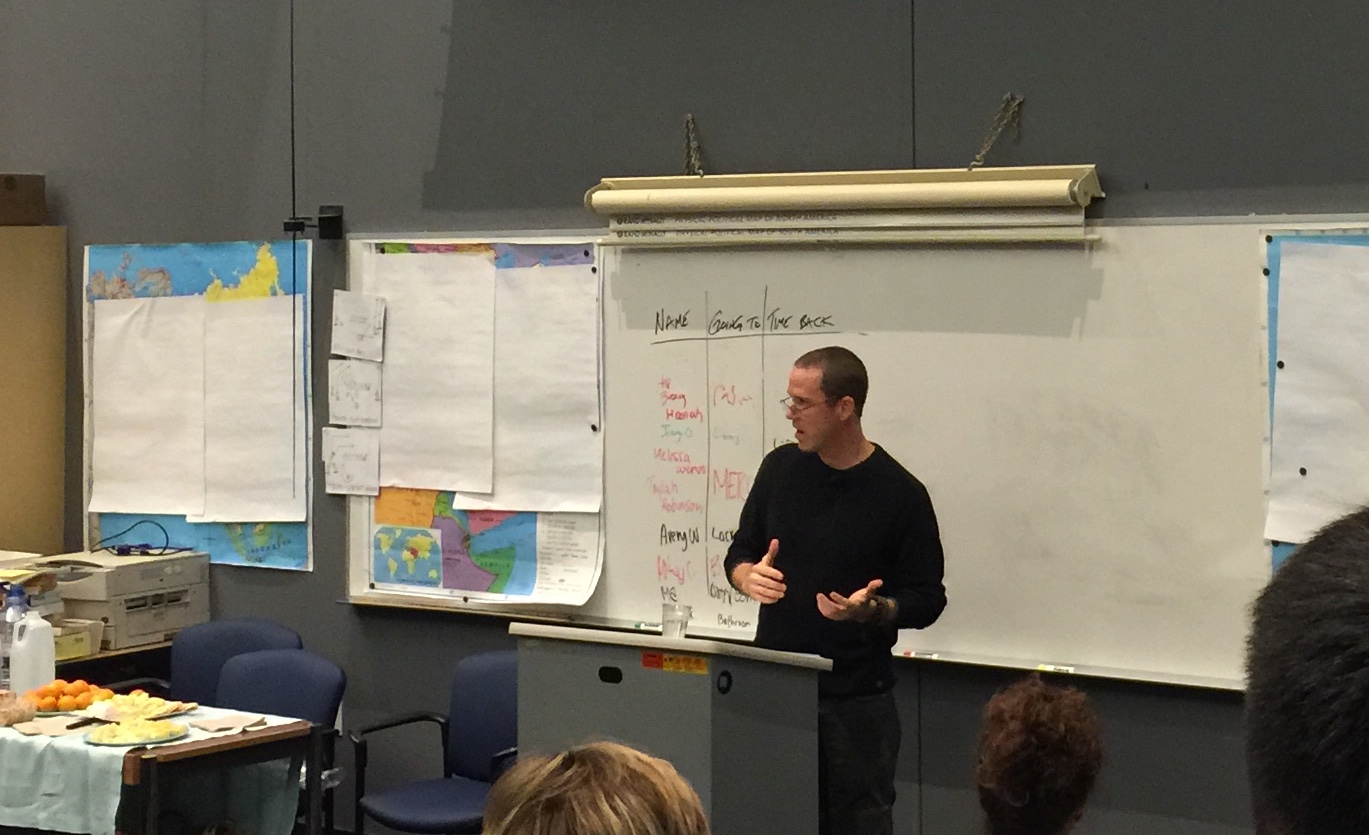 by David Kwartler
English Teacher Michael Fieleke presented the first Huntington Lecture of this school year Thursday in the Film Lecture Hall. The Huntington Lecture series is an annual series of presentations and discussions that encourage a community appreciation of learning.
Fieleke discussed "The Heart of Zen," trying to describe what exactly Zen is and how it can be better understood by Americans. He is a Senior Dharma Teacher for the Boundless Way Zen school, and described his personal spirituality as a "life commitment to serve the dharma," which are the teachings of Buddhism.
Fieleke has studied Buddhism for over 30 years and joined the Boundless Way Zen group 10 years ago. For him, practicing zen "brought my interest from the theoretical to the practice," which allowed the theories of Buddhism to "come to life in a way I couldn't imagine possible."
According to Fieleke, the Buddha achieved enlightenment through a careful balance of practice. His dedication to find enlightenment as he sat under the Bodhi tree led to his realization of the Middle Way, the path that leads to liberation and release.
"When we sit, our mind goes and goes, finds problems, and wants to solve them," said Fieleke. But, it can be painful to always focus on the negative. As he meditated, the Buddha envisioned his own demons and challenges, and had to face them. "I see you," the Buddha said.
"This is the heart of our tradition, this is what it means to sit," said Fieleke. He explained that to sit is not to get rid of anything, to chase away what might emerge, not embrace it, but to see it and accept it. Fieleke sits for 25 minutes each day and attends a weekly practice with his zen group. He tries to attend multiple sesshin retreats, where his group meditates continuously for days at a time, doing everything as a group.
Fieleke said the zen experiences are very powerful, and he has "faced a lot of demons, but receive great joy, great release, and remarkable beauty" from the meditative trips. He explained the three forms of practicing zen: sitting, walking, and bowing.
At the end of his talk, Fieleke took questions from the audience and elaborated on his beliefs. Senior Eli Schwamm asked him, "How can you practically apply zen in your life?"
According to Fieleke, he used his spirituality to overcome his nervousness to speak publicly that evening. "It's a very real way to acknowledge it, to say 'okay… I feel fear, but the situation in reality is not threatening.'"
Senior Sonya Jampel asked about how Zen Buddhism is passed down through families compared to Christianity or Judaism.  "Often, people who come across the teachings in their own life travels make a personal decision to accept it," said Fieleke. Unlike other religions, the practice of Zen is an individual's own journey and "may not be for everybody," since it is important to feel the value of it in yourself, according to Fieleke.
He ended his discussion by giving interested audience members tips on how to explore Zen traditions and text.