One School One Book: Panelists discuss personal experiences with Asperger's Syndrome, trauma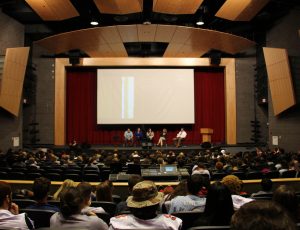 by Douglas Abrams
"We wanted to choose a book that was accessible and applicable to all people," said special education teacher Peter Cavanagh, who helped organize One School One Book this year. "I hope that everyone could relate to something in the book."
During the B-block presentation of One School One Book day, four panelists—Phyllis Attisano, who was near New York City during 9/11 and has a child with aspergers, History teacher Catherine Codd, who also has a child with Asperger's Syndrome, Emergency Medical Technician James Sullivan, and trauma psychiatrist Michelle Wexelblat—shared their experiences with people with Asperger's Syndrome and dealing with both personal and large scale trauma situations. The presentation was only loosely based on the book Extremely Loud and Incredibly Close—it emphasized real-world situations and how all people deal with trauma and overstimulation.
After the panelists introduced themselves, Attisano and Codd discussed their experiences as mothers of children with Asperger's Syndrome.
"The most important thing to know when interacting with someone with aspergers," Attisano said, "is that they have trouble understanding how others think. There is a rigidity to their thinking." As a result of this, she and other panelists said, it is hard for people with Asperger's Syndrome to connect with others.
The second topic covered by the panelists dealt with how to deal with traumatic situations, like 9/11 or the Boston marathon bombings.
"It is normal for people to need to talk to someone when something traumatic happens. People start to feel like there is no safety in the world—that everything might hurt them. It's crucial to bring back a sense of safety and normalcy," Wexelblat said.
Sullivan also described his work as an EMT, and how he has to separate himself from the victims to get through the day. "We need to talk about our emotions too," he said.
In the end, Cavanagh said that he was happy with how One School One Book went this year. "I was proud of all the questions that the seniors asked during B-block," he said. "They were very insightful.