by Douglas Abrams
As school gets under way, I'm finding myself more and more busy, and I know I'm not alone. Here are two fast and simple recipes that make the most out of a small amount of time. Magic in five minutes or less.
Recipe One: Nutella Truffles
Even though this recipe only takes five minutes to make, it is truly special, and anyone you serve it to will think that you spent hours making it. Start by combing a cup of semisweet chocolate chips with a quarter cup of nutella and a tablespoon of milk in bowl. Stick the mixture in the microwave for about 30 seconds, or until the chocolate is melted and everything is combined.
The next step is even simpler: stick the mixture in the freezer for two to three minutes until the mixture is cooled, but not frozen. Texture wise, it should be somewhere in the middle of hard chocolate and soft nutella. Thick and creamy. Finally, roll balls of the mixture and set them on a cookie and dust them with cocoa powder.
That's it. Garnish with nuts, fresh herbs, spices––whatever you like with chocolate. Even though this recipe comes together quickly, the truffles have a complex and sophisticated flavor.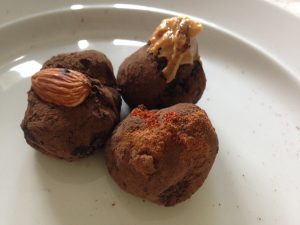 Recipe Two: Tomato Salad
This recipe is even faster than the truffles. It takes three minutes.
Start with the best tomatoes you can find. I used a big beefsteak tomato because that was what looked good when I went shopping, but any variety––as long as it is sweet and ripe––will work. Slice the tomato or tomatoes into thick slices and arrange on a plate.
Then, make a vinaigrette with one tablespoon balsamic vinegar, one half tablespoon extra virgin olive oil, and a tiny droplet of mustard for thickness. Whisk the ingredients together in a bowl and spoon over the tomatoes. Use it sparingly. Top with fresh mint, scallions, and a tiny bit of grated cheese (that's optional).
This recipe celebrates the simplicity of tomatoes in an easy and delicious way.