by MacKenzie Silvia
Boys' lacrosse, 9-5, is ready to push far in the State Tournament, according to captain senior Jack Boucher, a captain with juniors Ben Bassett and Andrew DeNucci.
The team must win one more game in order to secure a spot in the State Tournament.
"It's clear we have improved tremendously since our first couple of games," Boucher said.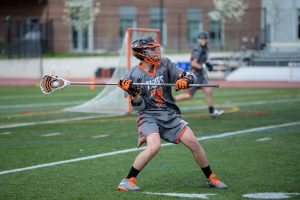 The Tigers started off slow with a losing record, but quickly picked up momentum and began to inch towards their goal of making the State Tournament.
Bassett attributes most of the team's improvement to its chemistry and willingness to play as a team.
"A major factor for us was improving as a whole and a unit. We did not just want to play as individuals. I think our team chemistry has been really good this year," Bassett said. "This team is made up of a really good group of guys who like being around each other."
DeNucci added that "the chemistry is definitely on point," and has helped lead the team to major success.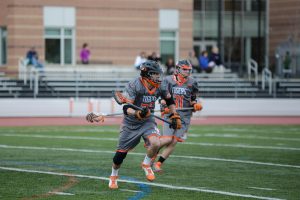 Although the team is happy with making tournament, they are hoping to push deep and win many games, DeNucci said.
The Tigers must continue to work on their motion offense and attacking the net in a positive way.
DeNucci wants the Tigers to stay motivated and continue to push themselves. "I think it is important for us to stay hungry. We cannot just be satisfied with reaching the State Tournament," DeNucci said.
The team hopes all of its long and intense practices will pay off when they are matched up against the best teams during the State Tournament.
"We are ready to make some noise in the tournament," Boucher said.