Michael Dukakis speaks to Up Close club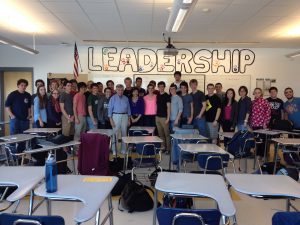 by Nicky Kaufman
Former governor and one-time Democratic presidential candidate, Michael Dukakis spoke to the Up Close club Thursday X-block in 473.
Dukakis began the meeting by discussing his roots in the Brookline and Newton area; he grew up in Brookline and attended Brookline High School with his future wife, Kitty Dukakis.
He then went on to talk about the beginnings of his career in politics, in which he was an elected member of the Brookline Town meeting and  a member of the Massachusetts House of Representatives from 1962 to 1970.
"The way I got elected was that I went out and rang every doorbell in my district and stood outside the precincts for 13 hours, making my case to every voter that came by," he said.
This type of campaigning has been widely been adopted recently by candidates running for both local and national government. When asked if such a form of campaigning would become the norm for candidates, Dukakis replied, "We've seen the success of both President Obama and (Senator) Elizabeth Warren, and they both employed this strategy, so I believe that campaigning like this really does work and we'll become much more widely used."
Dukakis also discussed what he felt he could have done better in his bid for the United States Presidency in 1988. He told the group how he felt isolated by the Secret Service and was less able to connect with voters. Instead, he relied more on general campaigning and stopped employing the grassroots campaign that had given him power in Massachusetts, a decision he now regrets.
Dukakis ended his talk  by encouraging the members of the club to enter into the political world, a decision he made when he was seven years old. "It may not pay a lot and it can be hard," said Dukakis, "but to be able to know that you can make a difference in someone's life is really something else."
"It was really great to to have such a successful and accomplished political figure visit our club and give us his insights into his own career," said senior Russell Petry, an officer.