The Price Is Right: The importance of speech writing and performing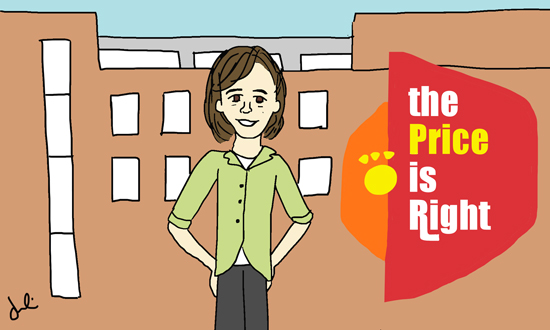 This is principal Jennifer Price's first installment of her column, The Price Is Right. A new column will be posted once every two weeks. The column will depict Price's thoughts on the upcoming weeks, as well as her experiences as principal.
by Jennifer Price
I am so excited to be writing this column, The Price is Right. As the principal, I am rarely right about anything, so it is exciting to finally be right for once. This column will be focused on communicating what is on my mind with students on a regular basis. So here goes my first attempt.
Recently, I have been thinking about the power of effective speech. This focus began last Friday when I had the privilege to judge the Martin Luther King, Jr. sophomore speech contest. Every sophomore participated in this project, learning the techniques needed to write and ultimately give an effective speech.
The five finalists, Jelani Asim, Leah Budson, Daniel Ruttenberg, Shira Stonehill and Tommy Mobley, were amazing. I heard about the importance of relaxing, the need to create safe space for LGBT students, the fact that not all accomplished people were successful in school and the power of the masculine and feminine images in our society. All five of the speeches were delivered with passion and finesse.
Monday, I heard president Barack Obama give his inauguration speech which simultaneously inspired and pushed me to think about the future of our country. On a number of occasions, he has demonstrated the power of an effective speech, whether it was one of his inaugural addresses or his speech after the Newtown tragedy.
We all know that the ability to give a speech, make a presentation or simply speak in front of a group of people is extremely important. Yet, so many of us are afraid to take this type of risk. Why? I think it is because we get so little practice speaking publicly.  That is why it is so important that our sophomore English teachers worked collaboratively to explicitly teach effective speech writing.
I know from experience that the only way to become comfortable with speaking publicly is to actually get up and do it. I am excited that our school is making sure all of our students are learning this critical skill. I hope you feel the same way.