Tommy Mobley wins sophomore Martin Luther King, Jr. speech contest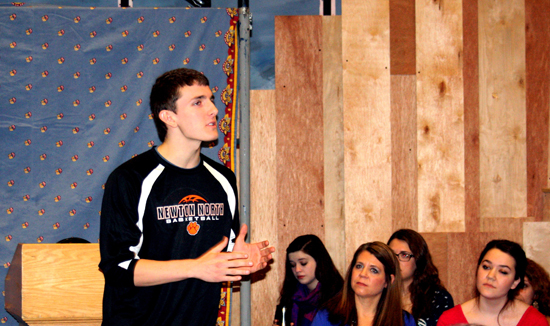 by Doug Abrams and Peter Diamond
Five finalists for the Martin Luther King, Jr. sophomore speech contests presented their speeches B-block Friday in the little theatre.
They spoke in front of a panel of judges consisting of guidance counselor Matthew Ford, principal Jennifer Price and Beals housemaster Michelle Stauss, as well as an audience.
English department head Melissa Dilworth introduced the event, describing the sophomore speech contest. To celebrate the legacy of Martin Luther King, Jr., all sophomore English teachers assigned their students to write a motivational speech. Students in each class elected a winner by voting, and English faculty judges chose five finalists from this group of semifinalists.
Jelani Asim recited the first speech, which used a sarcastic tone to illustrate his philosophy that everybody should make relaxation a top priority.
Leah Budson's speech, which was next, encouraged the audience to spread awareness about the mistreatment of members of the LGBTQ community.
In the third speech, Daniel Ruttenberg explained that students should focus more on their emotional well-being than on getting into a top college.
Shira Stonehill performed her speech next, encouraging people to transcend the media's distorted image of beauty.
Tommy Mobley presented the final speech, emphasizing the potential harm of LGBTQ slurs.
While the judges deliberated, the students who won the contest in their English class but who did not make it to the final round presented summaries of their speeches.
At the end of the event, the judges named Mobley the winner and Stonehill the runner-up.
To conclude, Dilworth accredited English teachers Tom Fabian, Tim Finnegan, Nicholas Grant, Maureen Kavanaugh, Mary Palisoul and Kate Shaughnessy for helping to plan the event and for creating the speech writing curriculum.