On Campus: Former teacher reads anthology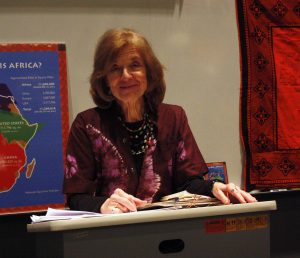 by Nicky Kaufman
For the second part of the Huntington Lecture series, a series that celebrates former principal Jennifer Huntington, former teacher Anne Serafin, read from and discussed "African Women Writing Resistance: Contemporary Voices," an anthology she co-edited. Her presentation was yesterday at 4 in the film lecture hall.
Women from 16 different countries in Africa wrote all of the poems in the anthology.
The anthology was split into seven different parts exploring the lives of African women through topics such as marriage, health problems and sexuality. To open the lecture, Serafin read the foward to the anthology. The forward is a seven stanza poem, each stanza correlating with with the seven parts of the anthology.
Then, Serafin prefaced her reading of the anthology by saying, "This is not going to be a totally happy uplifting thing."
The topics of some poems focused on AIDS, rape and incest, topics that are close to the African writers, according to Serafin. "Poetry, even when expressing pain, can be a source of peace," Serafin said.
Serafin read five poems about rape and incest starting with "Lovesung for a Father" and followed with "It's not Rape If…" Next, she read "Love," "Cosmo Africa" and "Child." All five poems were from the "Speaking Out: Young Women on Sexuality" portion of the anthology.
Serafin next read "Our Beautiful House," a poem displaying women's abilities and how they can survive without help from men.
She then focused on part four "Focusing on Survival: Women's Health Issues." She read "Tell Me a Lie," a poem about the symptoms of the HIV AIDS virus.
Serafin went on to read "A Poem Written in the Ink of the Blood Shed in Rwanda," a poem that told of the atrocities committed during the Rwandan Genocide and of the inaction by the United Nations and the United States.
She closed by reading "Liberation," a poem that discusses the suffering of the poets and the liberation the writing process brings.
Afterward Serafin answered questions about the anthology and offered the anthology for sale for $20.