North students, alumni defend history curriculum at School Committee hearing
By Samantha Fredberg and Rose Skylstad
History curricula in Newton Public Schools (NPS) was assessed and deliberated at a Newton School Committee public hearing in response to a petition Tuesday, Nov. 27 at South's auditorium.
The petition, submitted by Education Without Indoctrination (EWI) and backed by Americans for Peace and Tolerance (APT), called for an increase in transparency, a halt to biased history curricula, and the termination of superintendent David Fleishman. After hearing from all speakers, the School Committee voted 9-0 against or "no action necessary" for all seven requests.
According to history teacher David Bedar, the hearing was an "enormous success."
"We saw a huge turnout. We were pretty confident that we would have the support of the community, but this exceeded our wildest expectations," Bedar said. "A community was really gathering together in support of what we believe in."
Executive director of APT Ilya Feoktistov said that the results of the hearing were "predictable," but not what he had hoped for. "I find it concerning that public officials would call attempts to get information harassment," he said.
The petition received roughly 160 signatures from Newton voters, surpassing the 50 signatures necessary to bring the School Committee to hold a public hearing, according to School Committee chair Ruth Goldman.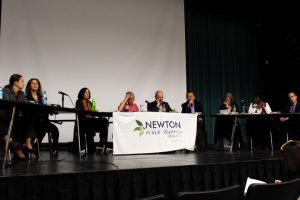 "This is unusual. The School Committee doesn't usually get petitioned to hear on different things," Goldman said. "The only thing similar to this in terms of structure was back in the early '90s when the state came out with new frameworks for teaching sex-ed post-Nancy Reagan's 'Just Say No' campaign."
Superintendent Fleishman said, "this is a first for me. I have never heard teachers say before 'I am anxious to bring up controversial topics,' and I've been doing this for a while."
The committee moved to ask the district to add a document to their website to explain the process of vetting materials, how parents can discuss issues with their students' teachers and principals, and for a presentation on an upcoming curriculum review.
Those who signed up to speak before and during the hearing were allotted three minutes each. Those in opposition to the petition, wearing "support Newton values" stickers, expressed their satisfaction with the current history curriculum in NPS. The opposition crowd included many alumni and students.
"Teaching students about the Middle East means giving them access to a representative sampling of information," said Rebecca Cantor '10. "Teaching materials that our schools use may or may not be in line with your own personal beliefs, and that's okay. In fact, that's good."
Rachel Leighton '16 said she is a "pro-Israel Jew and a political conservative," yet she still felt like her opinions were "not only welcomed, but encouraged so that students have a diverse range of perspectives."
In response to statements that students at North have been indoctrinated and are not even aware of it, senior Gabriel Applebaum said that he is capable of learning and interpreting information on his own. "I don't think I can be indoctrinated," he said.  
Jacob Gervis '16, who said he spoke on behalf of his former history class at North, asked the audience, "How often is it that you ask your child or any child to write about a subject he cares a lot about, and that subject is school? For us, school is that subject, and we hope that we might preserve Newton North and NPS so that subject might be for future alumni too."
Bedar said at the meeting that he loves NPS for its values of "integrity, open-mindedness, civil discourse, and respect for the dignity of all people." He added that claims of bias and anti-Semitism are an attack against him as a "professional educator, a Newton resident, and as a Jew."
As Bedar concluded his remarks saying, "We have lessons to prep, we have students to teach tomorrow, it's time for us to get to that job, our real job. Let's go get ready for class," over 100 teachers in the audience left the auditorium. Teachers comprised the majority of the attendants. Their departure was met with complaints from the remaining speakers in support of the petition, some of whom called out that they were not being fair to the other side.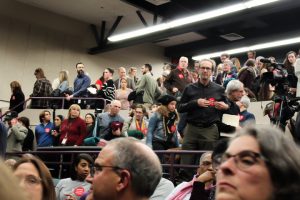 "Realistically, teachers would not have been able to stay for the entire event. People have families, they have their jobs to do, and we start teaching at 7:50 a.m. every morning," Bedar said. "We wanted to be there for a public hearing. It was not meant to be a dialogue. It was about a petition brought forward to the school committee, and there is no obligation there."
Most attendees in support of the petition, represented mainly by APT and EWI, spoke after Bedar.
According to Aaron Schneider, an EWI representative, the issue of anti-Semitism in NPS has lasted for seven years. Addressing the School Committee, Schneider said, "where I expected lies, we were met with a deafening silence."
While many opposed to the petition called for critical thinking in NPS, Richard Salter, a Newton resident, said, "Critical thinking is kind of an absurd concept. We're here to defend critical thinking, but I think we should all be here to defend the truth, and the truth should be absolute." He added, "all we wanted is for the truth to be taught in schools, and they say 'Well, the truth is taught about everything except for Israel.'"
Chairman of the Newton Republican Party and vice-chair of the Massachusetts Republican Jewish Committee Tom Mountain said, "Bedar gives the words, he snaps his fingers, and they all rise like automatrons."
"Any student who has done anything has done it on their own accord," Bedar said.