Girls' lacrosse falls to Braintree, struggles to maintain positive attitude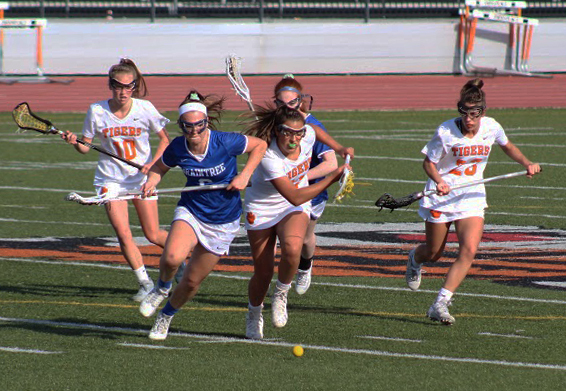 Girls' lacrosse, 5-5, lost to Braintree 19-6 at home Tuesday evening. "Once Braintree jumped out to an early lead, it became a lot harder to keep a positive attitude on the field," said senior Carmen Mcauliffe, a captain with seniors Lexi Gentile and Natalie Lynch.
After winning the opening tip, Braintree started strong  and scored two goals in the first 82 seconds of the game. North committed multiple penalties while on defense, allowing Braintree to score on penalty shots.
North struggled on offense as well, and failed to score in the first 15 minutes of the game. "It took us a while to figure out their backer pressure in the zone," said assistant coach Howie Landau.
The home team built some momentum in the remaining 10 minutes by improving on both the offensive and defensive ends. Two of North's three goals in the first half came from Lynch.
North carried that momentum into the second half where they allowed only eight goals. Gentile and sophomore Nicole Harrison kept the Wamps away from their net by playing solid defense.
"We tried to focus on more positive communication and our transition was much better in the second half," said Landau.
A goal from junior Alida Parkman in the middle of the second half gave North some hope, but Braintree was able to score several more goals and increase their lead.
North will play at Walpole on Thursday evening.