Ligerbots host robotics competition for elementary, middle school students
North and South's joint robotics team, the Ligerbots, hosted a For Inspiration and Recognition of Science and Technology (FIRST) Lego League competition with a hydro dynamics theme for students in grades four through eight, encouraging kids to engage in robotics, Saturday, Nov. 18 in the gym.
Teams were given a month and a half to build robots for the competition. The robotics challenges were then set on a course consisting of Lego structures with a hydro dynamics focus, according to senior Spencer Bowman, a Ligerbots member who refereed the event. The teams could choose to conquer up to 18 challenges, such as removing a pipe, moving a bottle of water to the opponent's field, connecting a pump addition, and flipping a manhole. The teams were also judged on a poster and group activity.
"They built their robots out of both traditional Lego pieces and Lego Technic pieces that use stud and rivet pegs to connect pieces, to power, and to control the robots" said Bowman. "Like most Legos, the Technic set is very flexible and can be used to make almost anything imaginable."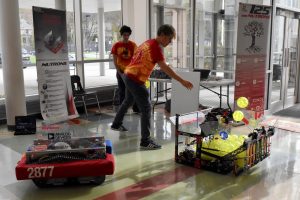 The competition challenges teams to use a familiar toy, Legos, to promote science, math, and robotics, according senior Cameron Mastoras, chief technology officer of the team. "We put on the events because they're great for the teams, and it gets our brand out there. We do make some money off of the event, but we really do the work for the kids," he said.  
The event was run through FIRST, which facilitates the competitions that the Ligerbots attend. Many Ligerbots members, such as Bowman, volunteered to referee challenges, mentor teams, and sell concessions.
According to the FIRST website, the hydro dynamics theme challenged teams to identify a problem within the human water cycle and design a solution.
Teams created poster presentations on how to solve a problem related to the hydro dynamics issue. According to Bowman, many teams created presentations "on how to reduce water waste or make water cleaner."
While the posters and robots' performance measure knowledge and understanding of the hydro dynamics and robotics, the team activity challenged groups to showcase their ability to work and problem-solve together, according to Mastoras. "They don't know the team challenge before they go in, so it shows how they think on their feet and work as a team," he said.
"By doing well at this tournament teams can move up the ladder and play in the state championship," Mastoras said. Successful teams in this tournament will compete in the state championships hosted by the Ligerbots Dec. 16. The Ligerbots will also be hosting the Massachusetts FIRST Lego League state championship Dec. 9, in which they will also be competing.