Coach "Cappy" retires after 31 years of leading North football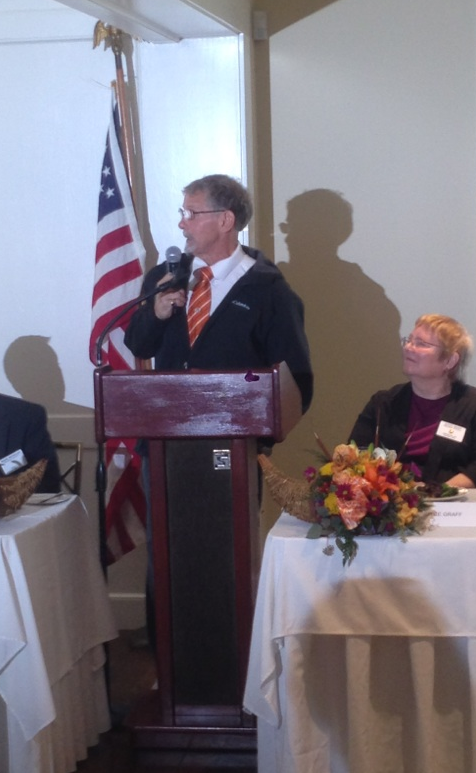 by MacKenzie Silvia
"Coaching is really like teaching, but it's in an open classroom. Athletics, drama, and music are all tied into the academic experience," said football coach Peter Capodilupo, who is set to retire at the end of this season, which has been one of the team's most successful.
Capodilupo is ending his career after 31 seasons leading the Tigers. He is the tenth longest active football coach in Eastern Massachusetts. According to the Boston Globe, Capodilupo finished his career with a record of 165-167-1.
Coach "Cappy" is a big advocator of the philosophy of team above self.
"The word trust is the word us. Everything we do, we treat it like a family working to become a better family," he said. "The greatest compliment you could ever receive is to be counted on."
Football has always intrigued Capodilupo because "it is such an interesting game," he said.
"You only have one game a week and often you play each town only once a year, so everything in that week becomes a world," Capodilupo said.
"When you have a win, it's a great joyous occasion because you worked all week for this win. When you have a loss, its a very devastating and painful thing, yet the next Monday you have to get back up whether you win or lose and get back to working on getting better."
Capodilupo is praised by his players for his desire and concern for everyone to succeed in life and football.
"He genuinely cares," said senior Andrew DeNucci, a captain. "He wants everyone on the team to be as successful as possible and he does a great job instilling life lessons in all of us through football."
"If there's one thing I appreciate about coach is that he never fails to get our team pumped up before games," senior Chris Quinn, another team captain said. "I will forever and always remember lines from coach like 'keep the worms warm' and 'one second longer.'"
Although Capodilupo has always said that winning is important, he stresses hard work to his players above all else.
"The biggest thing we talk about is being able to give up yourself to something bigger than yourself," Capodilupo said. "It's never about just you, it's about all of us. A player's job is to learn the depth and distance of his ability."
John Salemme '88 remembers Capodilupo's coaching style "being more about life experience."
"There are still a lot of things I use for work that Cappy taught us about working hard and earning your way onto the field. I was a marginal player in high school and the fact that he made me work for everything I wanted really stuck with me. The work ethic stuck," Salemme said.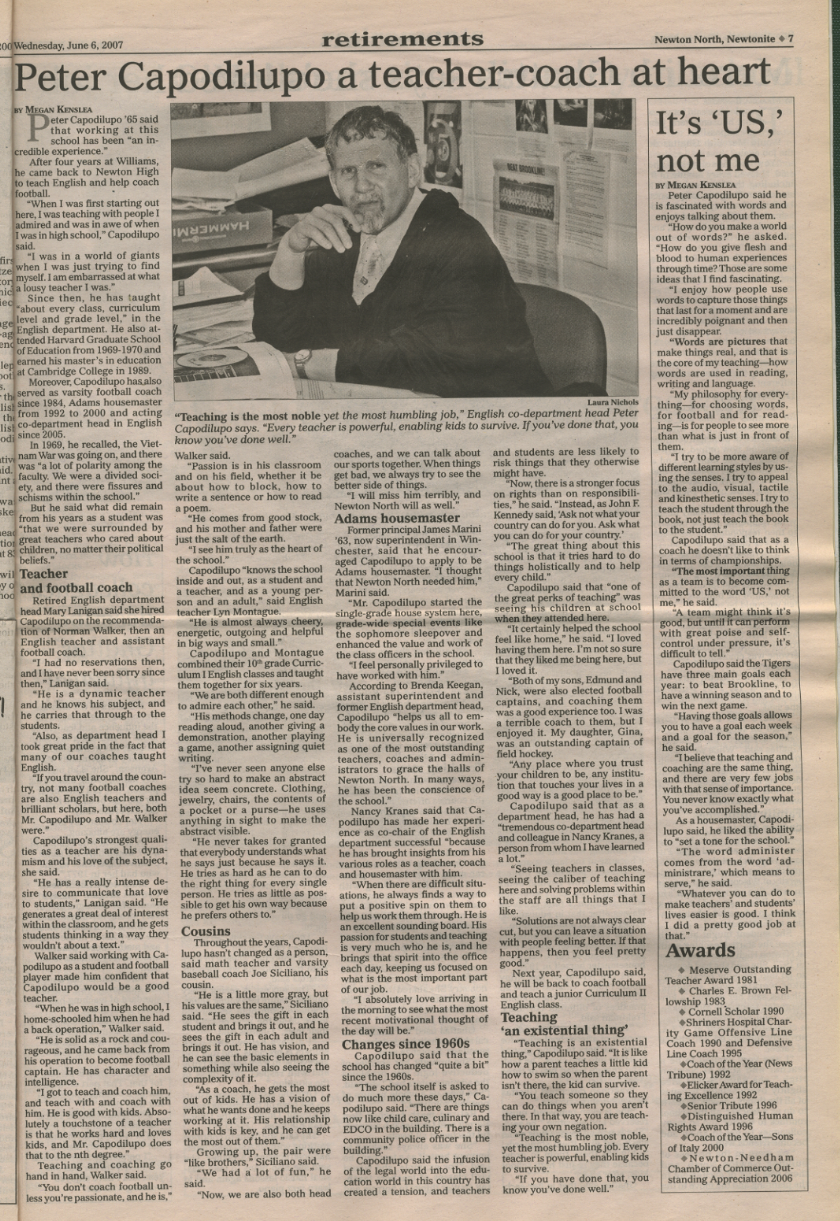 In recognition of his coaching, Capodilupo was honored at the 30th annual Newton/Brookline Rotary Thanksgiving Football Luncheon Tuesday. He was honored for his positive spirit and for being a role model for all of his students and athletes.
Brookline head coach Keith Thomas thanked Capodilupo for "bringing out the best in me and all of my players."
Boston Globe sports columnist Dan Shaughnessy recognized Capodilupo at the luncheon as "a great sculptor of souls."
"He has every quality needed for a great coach," Shaughnessy said. "Putting the young people's interests first, being an educator, being a teacher, and not taking the game too seriously and getting your priorities confused. I think he's a master at that."
In addition to coaching, Capodilupo was the Adams housemaster from 1992 to 2000 and was a co-department head of the English department. He retired as a full-time teacher in 2007, but still teaches on a part-time basis.
Capodilupo has been awarded countless times for his influence as a teacher. In 1981, he was awarded the Meserve award for excellence in teaching. In 1992 he was awarded with the Elicker Award for teaching excellence.
"Cappy said many things about teaching over the years that have stuck with me," English teacher Mike Fieleke said. "For one, Cappy said, 'you have got to teach what you love. Otherwise, what is the point? You can only be the best teacher you can be when you teach what you love.'"
Fieleke remembers thinking of Capodilupo "as the bedrock of Newton North," and how "he brought the subject of English alive for all of his students by engaging them creatively with the subject."
Capodilupo's inspirational words will forever be remembered in the North community.
"One of my favorite comments that Cappy ever made was, 'You must never back a kid into a corner. When a student has made a mistake or done something wrong, you can point that out but also offer them an opportunity to redeem themselves. This is how they learn from their mistakes, and how they learn to never give up,'" Fieleke said.
Capodilupo has made his mark on Newton North through all of his years as both a teacher and a coach.
"Its been a real privilege to coach at North," Capodilupo said. "I've had a lot of great kids."