by Adam Rabinowitz
Finding themselves in the State Finals for the third year in a row, girls' volleyball, 21-3, beat Andover 3-2 to finally bring home the State Championship.
According to senior Bali Connors, a captain with the rest of the team's seniors, the whole experience was unforgettable for the Tigers.
"We worked so hard for this and it's amazing to see how we came together as a team and how everyone really put in the hours on and off the court to make it happen. All the players are so proud of each other and especially for our coach," she said.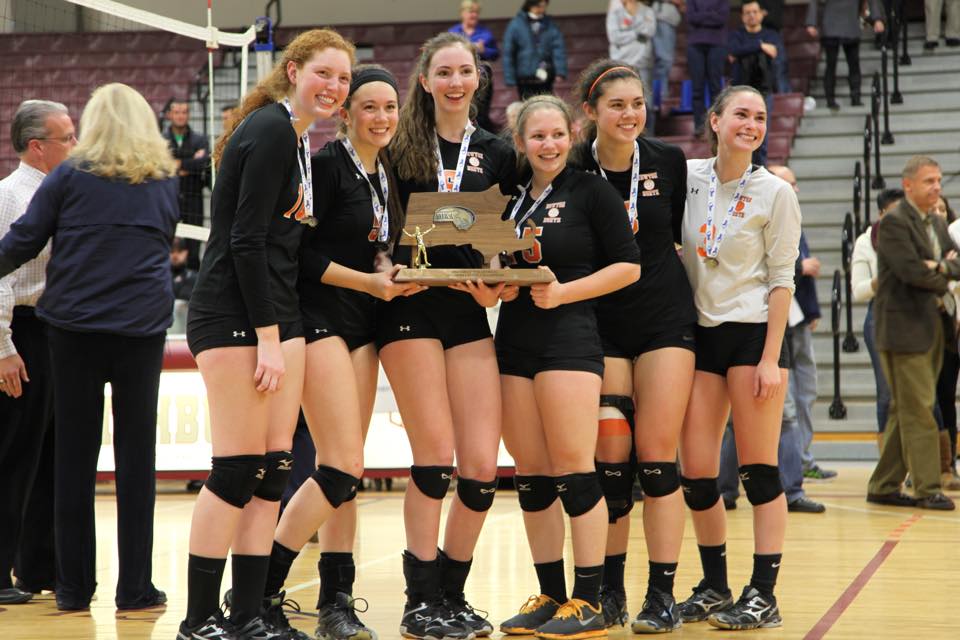 According to Connors, the Tigers started the game off a bit slow, but played better as the match went on.
"Starting the game we weren't playing like ourselves and that's why we lost the first set, but in the end we really kept fighting and pushing and never let up," she said.
Senior Sammy Marcus echoed her sentiments, saying that it took time for the team adjust to the atmosphere.
"We had the physical skills and a solid plan but the nerves and the State Championship atmosphere was something we weren't used to. We lost the first set 25-12 but bounced back and won the next set 25-21," she said.
The Tigers lost the third set 21-25, but bounced back and won the fourth set 25-12.
According to Marcus, by the fourth set, the Tigers were playing at their best.
"We were passing, setting, hitting, and blocking well. We were playing our game of volleyball and it truly showed in the fifth set. We won 15-10 with the final block kill by senior Madeleine Lundberg," she said.
Marcus also added that after two years of losing in the State Finals, this was the Tigers' year to win States for the team's coach, Richard Barton.
"We have worked so hard this season and it paid off. We not only won this for ourselves, but we did it for Richard," she said.
According to Connors, one of the keys to the Tigers' victory was the team's depth.
"We had so many players who could do anything and play any position which is rare for a team. Also, I think the bonding of this team was incredible. Part of our tournament tradition was playing games before and having fun. I think we played cohesively because we were so close as teammates which really made a difference in the end," she said.
Connors also added that she has strong hopes for Tiger volleyball in the years to come.
"The underclassmen are beyond amazing and I have total faith that they'll be a really strong team," she said.