Dance aims to repeat at State Championship
by MacKenzie Silvia
Fall dance is eager for the State Championship on Nov. 15, said senior Maria Bilotta, a captain with juniors Sonia Ferre and Lexi Gershkowitz.
Although the competitions have yet to begin, the team has continued to intensely practice daily without losing focus, Bilotta said.
"Every practice, the girls come in and are very open minded to changes in both the choreography and the formation."
Although practicing everyday can become repetitive and exhausting, Bilotta believes the team is staying positive and keeping its focus.
"We have been working hard every day in practice and we are so excited for competition day to arrive," Ferre said.
The team is anxious yet excited for the fast approaching competition, according to Gershkowitz.
Gershkowitz attributes the positive nature of the team to its chemistry. "Our team as a whole is very supportive and cooperative. We have a great sense of team spirit and sportsmanship," Gershkowitz said.
Ferre added that "our team chemistry is amazing and everyone has a positive attitude everyday."
Bilotta said she believes the knowledge of new coach Sarah Elentukh is helping the team work on what will lead them to success during the competition.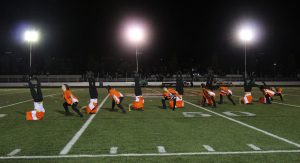 "Our new coach is beyond informed on the dance world and what our judges at the competitions will be looking for because she has been our judge at past competitions. We are all very eager to start our competition season, and are hoping for great positive results when we face off against the Newton South dance team, and also Burncoat's dance team," she said.
The team is ready to succeed in the competition and "recapture our title as state champion," Gershkowitz said.
"I have a very good feeling that our hard work in practice will pay off and we will keep our state title," Bilotta said.