by Maxwell Kozlov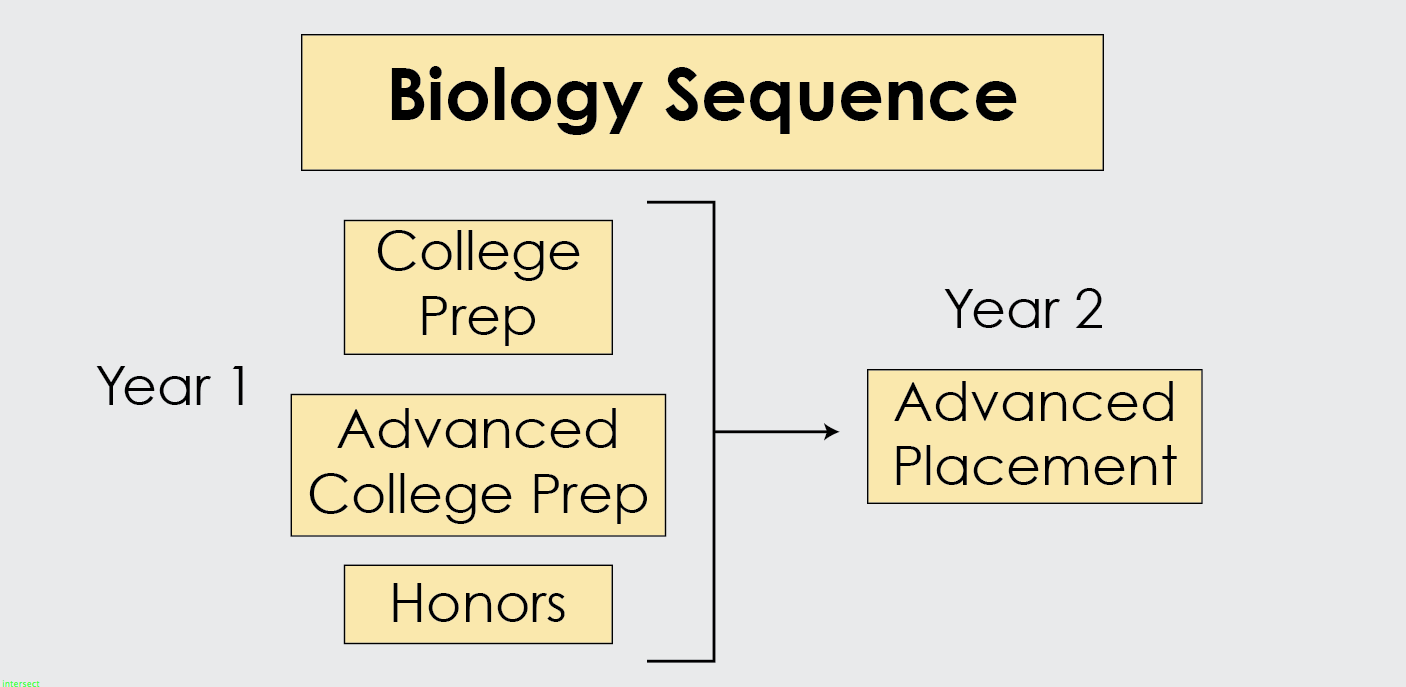 After years of striking fear into the hearts of juniors, next year, AP Biology will be made a second-year senior elective, and the science core sequence will change as well.
Juniors, and seniors who have yet to take a Biology course, will be required to take either College Prep, Advanced College Prep, or the new Honors Biology course next year. AP Biology will be restricted to seniors who have done well in Advanced College Prep or Honors Biology junior year.
A senior who requested to stay anonymous and is currently taking AP Biology, applauded the move and said "the content is extremely difficult. Everyone hopes for a C or above on a test, instead of an A or above."
Science department head Amy Winston said the way that students learn from AP Biology was primarily "cramming a lot of info into their heads," which, she said, is not how the course should be taught.
AP Biology teacher Ann Dannenberg agrees, saying, "There is a significant subset of students that struggle."
This change will align biology with chemistry and physics, which have their AP-level course as a second-year elective. The College Board recommends, on its website, that AP Biology be taught as a second-year course.
"It makes so much sense," said Winston. "Students are essentially skipping over high school biology." AP Biology is equivalent to two semesters of college biology, as opposed to most other AP courses, that are one.
Senior Irina Rojas, who took AP Biology last year, was less concerned. She said the course was "manageable for all of us who did the work." She said that they had the "general knowledge from middle school," and admitted that you have to "learn some material your own, but that's what an AP course is."
To make sure this change would not impact a student's post-secondary education negatively, college counselor Brad MacGowan conducted some research.
"We've heard over the years from colleges that they like students who take academically challenging courses," he said. "However, they worry less about the sequence, and instead leave that to the individual high school."
He added that everything will remain the same "as long as the students are doing well, and teachers are teaching good courses."
Apart from the stress of the class, some students felt pressured to take AP Biology, as the step below AP Biology is Curriculum I, according to Winston.
Sophomore Katherine Zhou, who looked forward to taking AP Biology next year and does not think the stress would impact her, said that she understands why the changes are being made, but she thinks "it should still be an option to take AP Biology as a first-year course."
Many students shared this sentiment, including sophomore Jake Roll who decided he might take "AP Chemistry next year, and leave biology for senior year."
Finally, Winston said that the AP Biology curriculum was revised in the last few years. The new course has many more open-inquiry labs that are difficult to do without prior knowledge.
The same changes are being made at South to make sure the science core sequences are aligned district-wide. "It's an important thing that we do this change together," Winston said.
"We hope this change will dramatically reduce stress," she said.
Correction: A previous version of the article misquoted Irina Rojas.