Girls' volleyball on a roll to start season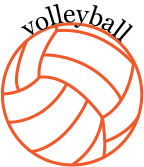 by Jonny Levenfeld
Two weeks into the regular season, girls' volleyball is tied for the top spot in the Carey division after sweeping its first three games.
Senior Emma Tavolieri, a captain with the rest of the team's seniors, attributes the Tigers' early success to team unity.
"We have a very strong team with versatile players, but our chemistry is what makes our team special," she said. "We bond on and off the court, which really shows when we play."
Tavolieri is also impressed with the depth of this year's squad, as every player has a significant role and the JV players continue to show their support.
The Tigers, who have yet to drop a set thus far, have high expectations coming off a second place finish in the state championship last year. "Our goal is to win," said Tavolieri. "We want to go to the state finals again, but this year we want to win it all."
The team will have a chance to exact their revenge on last year's champion Barnstable next month in a showdown on the road in October. According to Tavolieri, this is certainly a game the Tigers have circled on the calendar. "We want to make a statement this year," she said.
The Tigers have a tough stretch have a tough stretch with games on three consecutive days, including matchups with league rivals Braintree and Weymouth on Tuesday and Thursday.