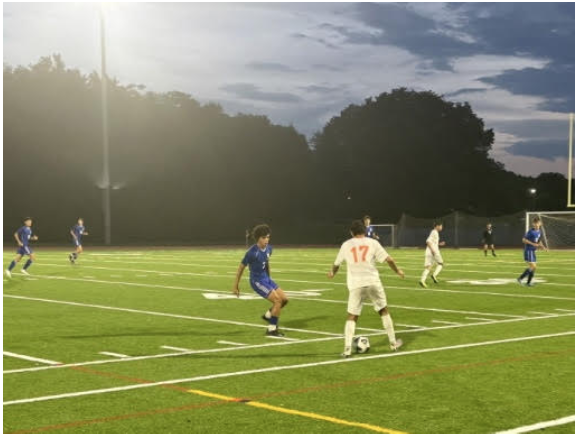 Boys' soccer opened the season with a narrow 1-0 victory over South in a close, intense away match Sunday, Sept. 9.
The game was even and fierce right from the start. Neither team managed to control possession at first. Despite not being completely dominant, the Tigers displayed positive signs in the first half, according to Roy Dow, the head coach.
 "The game plan was really just to be intense and to have a good mentality to win the ball, play hard for one another, and win our moments whether it was defending or attacking," he said. "We won both of those."
North was air-tight defensively in the first half, and South struggled to create chances. "We won so many 50-50's and everyone just worked hard the whole game," said senior Thomas Rooney, a captain along with seniors Franco Marro and Owen Potter. "I thought the whole back line stayed focused the whole time and everyone that subbed in stepped up."
The Tigers began knocking on the door later in the second half. A foul on senior Andrew Arcese led to an indirect free kick in the box that was narrowly missed by Potter. Thanks to their intense physicality, the Tigers were awarded many free kicks. This added to North's goal threat, according to Rooney. "We generated a lot of chances and generated a lot of set pieces which caused dangerous plays," he said.
South also started to get some joy before halftime. According to Dow, senior George Nassar, North's goalkeeper, made important stops. "George Nassar in goal made two or three big-time saves and kept us going in the right direction," he said.
Playing with more composure and decisiveness, the Tigers elevated their performance while maintaining the same grit and energy from the first half. "Once we settled down and started passing a little bit and trying to possess in the second half, that definitely changed the game in our favor," said Dow.
North's control finally paid off with ten minutes to go when junior Marco Comin fired in a low shot off the dribble which put the Tigers ahead. "He beat the guy nicely and beat the keeper to his near post," said Dow. 
It was a huge moment for North, but the team didn't get carried away in the emotion. They stuck to their responsibilities and saw out the game for a 1-0 win. 
According to Dow, the whole team put their toughness and courage on display. "Some new guys got called on to step into a pretty intense environment against our rivals so I think people stepping up was pretty big," he said.
Dow hopes the team will be able to match the high bar they've set for themselves. "We're confident and we're hopeful that this isn't just a one-off just because it's a big game against our rival. That this is the standard we've set for ourselves and we want to keep it going," he said.
North, 2-0, will hope to build on its success when they face Wellesley away Tuesday, Sept. 19.