Girls' swim and dive defeats Walpole, starts season strong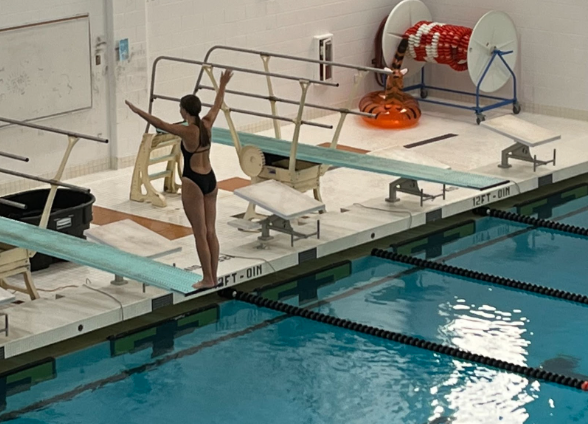 Girls' swim and dive defeated Walpole High School 93-82 Friday, September 9, at home, kicking off the season strong.
"The meet went amazing. Everyone had a lot of energy, despite the team's differences we had a lot of fun as a team." said sophomore Kerri Huang, a swimmer. "Walpole had a lot fewer swimmers than us so it was harder for them because people had to swim more events." 
Kristen Smith, the head coach, said that this win was the start the team needed. "I think this was a great opportunity to swim as a team and it gave the freshman a great intro to swim here at North." said Smith.
17 freshmen joined the team and were able to become accustomed to the format of a typical swim meet. 
The Tigers also saw some stellar individual performances. Senior Alexa Vaillancourt placed first in the 200 yard freestyle, with a time of 2:11.15 and sophomore Julia Kammer came in first in the 200 yard freestyle with a time of 2:25.23 and in the 100 yard breast-stroke with a time of 1:19.05
Senior Alexa Vailancourt qualified for sectionals in the 200 and 500 meter freestyles, and sophomore Parker Deveaux qualified for sectionals in the 100 meter backstroke and 100 meter butterfly. In addition, sophomore Kate Urdaneta qualified for states in the 50 meter freestyle.
North,1-0, will play today against Weymouth High School, at home.