Much Ado About Nothing livens theater with roller derby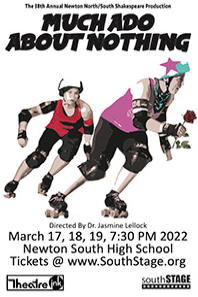 North and South's recent play opened not with typical Shakespearean dialogue, nor with the actors walking onstage, but with a roller derby bout. Every year North and South put on a joint Shakespeare show with a unique medium, and this year, that medium was roller derby.
Much Ado About Nothing put a new spin on Shakespeare while bringing two schools together on one stage. The show, directed by Newton South English teacher Jasmine Lellock, ran March 17-19 in the Lab Theatre.
"It was done partly on roller skates and I don't think many other shows have done that, at least for Shakespeare," said junior Harold Purcell, a cast member. "It was a learning experience for me."
Much Ado About Nothing is a comedy of contrived love and mixed-up grievances. The story followed multiple plotlines. One involved Benedick and Beatrice, initially enemies, whose friends and family try to set them up romantically. The young man Claudio, meanwhile, is attempting to marry Hero, the governor's daughter, but the wedding plans go awry when three people make up a story about Hero's unfaithfulness.
A series of miscommunications and faulty attempts at love ensue, with characters trying to convince others, and even themselves, that they love someone. Another factor in the chaos was the watchmen, who were dressed in the black-and-white stripes of roller derby referees and were comically incompetent at their jobs.
"It was a very fun role," said Purcell, who played the First Watchman. "I was part of the comedic relief in a way. I got to play poker on stage, which was pretty fun." Indeed, while others are talking during a scene, Purcell and another watchman were furtively playing a game of cards in the background. "I lost most of the time, which was not scripted," they added.
The show's unique features allowed the cast to discover new interests. "I like the roller skates concept; it's very creative," said freshman Uma Katz. "I kind of found a passion for roller skating afterwards, so I want to get roller skates now."
Katz added that learning Shakespeare wasn't easy at first. "The only thing that really helped me was watching the movie," she said. "It was kind of chaotic in the first couple weeks and then I realized what the plot actually was."
The show was also a chance for the cast to connect with other actors. "I met so many new people, and I have so many new South friends," said Katz.