Spontaneous Generation humors audience with four nights of improvisation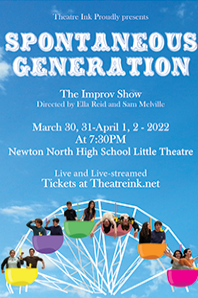 Spontaneous Generation brought tears of laughter to the audience's eyes with improvised skits and clever comebacks. Directed by senior Sam Melville and junior Ella Reid, Spon Gen ran  March 30 to April 2 in the Little Theatre.
Spon Gen is made up of several improvised skits and games. The audience members play an important role by giving input, like "non-geographical locations," for the actors to set their scene in. 
"There were a good amount of people. They were giving us good energy and we were giving good energy back," said Melville. 
An especially funny skit was when the actors took slips of paper that had been written before the show by audience members and had to use whatever the paper said without reading it beforehand. Hilarious lines came forth, ranging from "Ruthanne Fuller at a car wash" to "You know what I said to my mom after I picked pistachio ice cream? Roses are red, violets are blue, I love Amy Winston more than you."
For the actors, the final skit was a very fun one to improvise. The cast interviewed an audience member over the age of 35 about their life and future goals. Then, they turned it into a musical. Junior Zoe Kritzer, a cast member, said, "The highlight of the run was definitely when we nailed the musical for the second time. We worked really hard on it and it was fantastic to get a good one in front of people." 
Because the show was improvised, it did not follow the traditional style of rehearsing each scene in a show. "Rehearsals are kind of like practices for sports in a way because we don't know how the final product is going to turn out so we sharpen our skills and prepare for anything," said Kritzer. "We want it to go a certain way, but play-by-play, we have know idea how it will turn out."
There were many skits that both the audience and the cast found memorable. "My favorite scene I was in was probably when I was pretending to be a cow," said sophomore Oliver Perlo. "It just completely encapsulated the ridiculousness of the entire show, but also displayed the work I had put in to improve my skills as an improviser."
COVID-19 has been a roadblock for the last two years of Spon Gen. "We have a good group of people and it's been really fun to work with each other," said Melville. "Last year we couldn't do it in the Little Theatre, so we did it in the Lasker Auditorium. It is just so much better being in the intimate setting that is the Little Theatre because you are so much closer to the audience and they are right there with you."