Spontaneous Generation will provide unscripted fun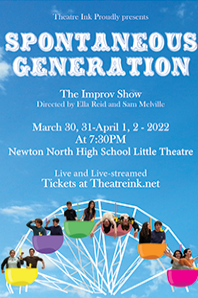 Spontaneous Generation looks to humor audiences through various improvisational comedy games. Directed by seniors Ella Reid and Sam Melville, the show will run Mar. 30-Apr. 2 at 7:30 p.m. in the Little Theatre.
Spon Gen consists of a series of improv games performed on the spot with inspiration from its audience. This year, the show is back onstage after two years of cancellations and virtual performances.
 "It's just a different experience in the Little Theatre because you're so much closer to the audience, and it's a much more intimate environment that really benefits improv," said Melville.
The show's directors worked to incorporate audience participation as much as possible. "It's so different performing improv for a few other cast members just sort of chuckling, than for a huge audience giving you a lot of suggestions you wouldn't expect. Their laughter as feedback is just so important to keep scenes going," said Reid. 
According to freshman Will Pryor, a cast member, the audience has opportunities to influence the show beyond giving the cast prompts or suggestions during a skit. "We are going to be playing a bunch of improv games. There is going to be a game where if anyone is brave enough in the audience they can jump in, and perform alongside the cast," said Pryor.
The directors believe that creating such an interactive show benefits the cast. "The energy of the audience is a big thing that we feed off of and interact with and it just all builds up," said Melville.
Another focus of the directors was to create a cast that wasn't afraid to take risks together in their improv. "If your cast can get really close, trust each other a lot, and be comfortable doing really stupid things in front of each other, your improv is automatically going to be a million times better," said Reid.
Pryor spoke to Reid's sentiment about the show's tight-knit cast, saying that he had an enjoyable experience working with his fellow performers. "I enjoyed a lot of working with very talented comedic people. It's just a great experience," he said.
Being completely composed of improv games, the show differs from other Theatre Ink performances. Rather than spending the rehearsal process practicing and revising numbers, the cast focused on improving their improvisational skills. According to Melville, the directors pushed the cast to come up with ideas that may be out of their comfort zone. "Especially with improv we know what we can do, and I feel like people just end up doing similar things, and that's what can end up being easy," said Melville. "But the show is always going to be better if people branch out." 
The directors hinted that the end of the show will feature a highlight skit. "At the end of every show there is a very special portion that involves a special audience member, and it's always a lot of fun," said Reid.
The directors added that they hope to get audiences laughing and engaged in the show. "It's so funny. It's a really high energy show," said Reid. "If you haven't been out to a show in a long time, it's high energy, it's fun, dare I say it's electric."