Much Ado About Nothing combines theater with roller derby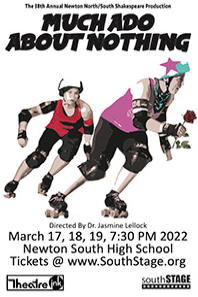 Much Ado About Nothing promises to deliver an exciting new spin on a Shakespeare classic. The show, directed by Newton South English teacher Jasmine Lellock, will run March 17-19 at 7:30 p.m. in the Lab Theatre at South.
Every year there is a joint Shakespeare play between North and South. However, this isn't your average Shakespeare show.
"This particular interpretation of it is a roller derby, which I personally have never seen before in a Shakespeare show, and it adds a whole different context," said senior Zak Glick-Macalalad.
Many of the characters spend the show roller skating at a roller derby. The prologue will even feature an entire roller derby bout, according to Glick-Macalalad. However, many of the cast had no prior experience with the sport.
"We had to include a day or so out of each week to learn how to roller skate," said Glick-Macalalad. "While that took a bit of time out of our ability to learn blocking and lines, it was also really fun to be able to bond as a cast over learning how to roller skate."
The unconventional takes don't stop there. According to senior Luana Quirino, the play also features singing. "I play Hero, so my character is pretending that she is dead, and her lover sings 'Careless Whisper' at my grave in order to mourn me."
Glick-Macalalad said another highlight came in one of his scenes. "Another scene I'm in that I like is when I get arrested and interrogated by the security guards of the roller derby," he said. "I'm just getting increasingly confused because the referee and the guards are not making any sense in anything they're saying, but even in Shakespearean English they're just speaking more or less gibberish, and a lot of it is just me and the other person who was arrested trying to figure out both how to act like we're innocent and also just what's going on."
The combination between North and South offers a unique opportunity for students to engage with different members of the Newton community. For Quirino, this is her third time performing in a joint show with South.
"It's always fun meeting new people and I'm working with someone that we were in a show with last time together," said Quirino. "It's just always great to be able to be in a show with people that I wouldn't otherwise be with at North."
Quirino added that she's looking forward to performing with her fellow cast members. "Just being able to be in the show and be around all of these other people who love acting as much as I do is good enough for me," she said. "I just genuinely love being in a show because it's this time that I get to be on stage and escape from boring life."
Tickets can be purchased online at southstage.org.