Theatre Ink's Cabaret Troupe prepares for opening night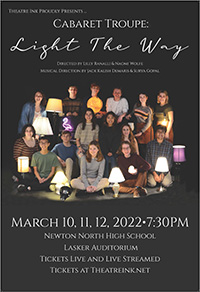 Cabaret Troupe's, "Light the Way," strives to tell important stories through contemporary musical theater. Directed by seniors Naomi Wolfe and Lily Ranalli, with music directed by junior Jack Kalish-Demaris and sophomore Surya Gopal, the show will run Mar. 10-12 at 7:30 p.m. in the auditorium.
 Cabaret Troupe is the first unmasked live show from Theatre Ink since March of 2020. 
According to Wolfe, "This cast has worked really hard for so long and I think the ultimate reward is having an audience, but also for the cast to be able to do their whole thing with lights and with sound and have it all come together."
This year, Cabaret Troupe focused heavily on discovering the story that each individual number could tell and that the audience will be able to connect to. "I think we just wanted to create a show that people could see and relate to in some way," said Ranalli. "Or to just enjoy hearing about different peoples' experiences in different walks of life."
As well as singing, the show will feature dances and a live band. Some numbers incorporate the full cast, showing how all of these elements can interact.
"The Act II opener is definitely one of our favorites," said Ranalli. "It's really different and cool and it combines all of the elements, costuming, crazy lights, and a really unique sound."
According to Ranalli, one of the highlights of the show is the live band. "We have got a pretty killer band and they have been working really hard. It's going be really exciting to hear the band combined with singers."
Overall, the cast and directors hope that the show provides fun and lightheartedness for audiences in our current world. 
"It's just a really enjoyable show to see," said senior Tal Pemstein, a cast member. "This is a hard time to exist in the world, and it can be nice to just go and experience art, and you can get out of the real world."