Imrov Jam Prepares Surprises for Audience, Cast Members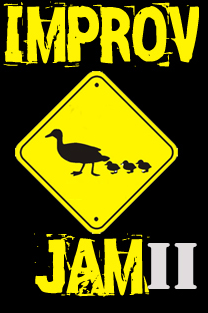 Directed by senior Sam Melville and junior Ella Reid, Improv Jam will take place Thur. Feb. 17 at 7:00 p.m. in the Little Theatre for the first time since 2020. The show will not only present an array of quality comedy skits, but also offer audience members the chance to be part of the performance itself. 
"It's improv, so we don't know what the skits are going to be about until the play," said Reid. "We've basically been preparing improv skills and how to adapt in a scene, but we haven't been preparing any of the actual scenes."
Improv Jam consists of 4-5 skits, each one performed on the spot without any prewritten script. 
In the show, an audience member suggests an idea and cast members have to be able to think on their feet and instantly transform the idea into a skit. 
According to Reid, "It's less like a play and more like a sport, where you practice skills, and practice how to adapt under pressure but you don't practice what's actually happening, because you don't know what's actually going to happen."
The chemistry between cast members in any play is important, but it is especially key to the success of improv shows. 
"If you can't trust your cast and your scene partners, and you can't know what to expect out of them, then it's not going to be good," said sophomore Nate Reilly, a cast member. "If you don't know the person at all, even if both of you are super good at it, it's going to be harder because you don't know anything about each other."
In order to create a close-knit environment, the cast meets weekly to bond and prepare for their upcoming show.  "Because there's no lines, there's nothing to memorize, rehearsals and preparation is just playing the games we're going to play during the show," said Reilly. 
Reilly added that the show enables the cast to build a unique connection with the audience. "It is one night that exists only for that audience and it's this inside joke, basically. You make people laugh, you entertain people, and you can build off the audience."
Tickets are free. The first 50 to arrive will get free jam.