'Spelling Bee' tells amusing story through unique, elementary approach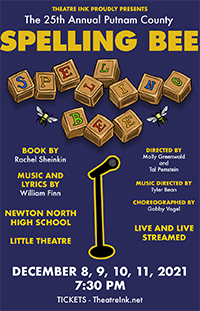 Chalk full of individualistic, quirky fourth and fifth graders, Theatre Ink's Spelling Bee runs December 8-11 at 7:30 p.m. in the Little Theater. Directed by seniors Molly Greenwold and Tal Pemstein, along with help from musical director, senior Tyler Bean, and choreographer, senior Gabby Vogel, the comedy's elementary jokes and references will take you back to your grade school years. 
"[The production] really is about growing up and realizing that adults aren't always going to be perfect and they're going to mess up," said Greenwold. "It is a really eye opening moment for a lot of kids in the performance when they realize that the people in charge don't actually know what they are doing either." 
Greenwold highlighted the unique nature of the show, being a single-act ensemble piece with no lead characters. She said, "Every character has a very distinct way they spell with a different quirk and backstory…everybody is bringing their all and exploring their characters, and it's amazing to watch that growth." 
The show centers on a fictional spelling bee set in geographically ambiguous Putnam County. While disclosing some hilarious narratives from their home lives, the students spell their way through a series of (potentially made-up) words, hoping to never hear the daunting ring of the bell signaling a spelling mistake. 
A unique element of the show is the inclusion of audience participation. According to junior Jack Kalish Demaris, a cast member, it will make for diverse performances each night, including many opportunities for improvisation and new ways to discover their characters. 
"You get this amazing blend of diverse voices and acting styles, so you have a unique relationship with each person on stage, including the audience members," said Demaris. 
According to Pemstein, the performance's theme is centered around growing up and relationships that form in unexpected situations, "like when you're stressing out about spelling." 
Pemstein added that the show truly embodies the "beauty of leaning into what you love," and "the community you find in loving something like words or language."
Tickets and additional information can be found on the Theatre Ink's website.