Theatre Ink's season opens with 'Goodbye Charles'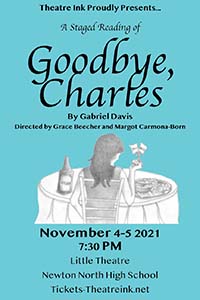 Bringing realistic and daily dilemmas to center stage, Theatre Ink's Goodbye, Charles ran Thursday, November 4, and will run again Friday, November 5 at 7:30 p.m. in the Little Theater. The romantic comedy covers themes including marriage and divorce.
"It's about two women who meet in a coffee shop every week to talk about their life," said junior Margot Carmona-Born, a director along with junior Grace Beecher. "One of them is married and getting a divorce and one of them is currently dating another man, and they kind of talk about that."
Carmona-Born praised the talent and strengths of the cast during the show's preparation, given the short amount of rehearsal time.
"There's a lot of quirky characters," said Carmona-Born. She added that cast members "are able to bring that personality to the show."
The rehearsal process in the weeks leading up to the show has shifted from blocking, where cast members work on their positioning and movement on stage, towards bigger rehearsals, where the cast runs through the entire script. In the final week of preparation, the crew finalized costumes and props.
According to Carmona-Born, the performance's theme is centered around moving on from the past.
"A lot of it is about letting go or being able to let go, so that is a huge theme that the show has," Carmona Born said.
Tickets and additional information can be found on the Theatre Ink website.