'The Addams Family' showcases talented cast in return to in person theatre at North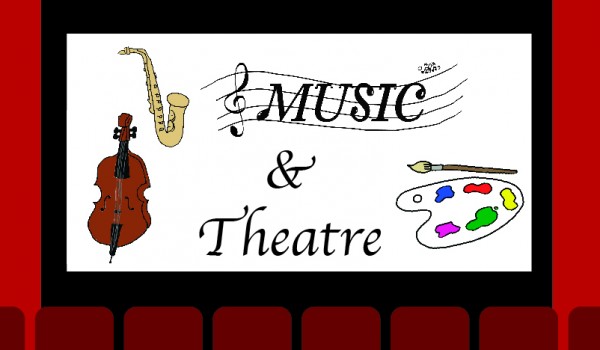 The Addams Family brought live in person theatre back to North for one of the first times since the pandemic began. Directed by Katie Clark, the musical comedy ran May 20-22 in the teacher parking lot outside the theater entrance.
The Addams Family is a musical comedy based on the original TV show and movies, and it was just the second show to feature a live audience since the shutdown began, which added to the excitement surrounding the performance.
"It was during a pandemic, during quarantine, and I don't go in person still, so it was very special to be able to do something in person, do it safely, and be able to pull it off," said sophomore Jack Kalish Demaris, who played the father, Gomez.
The show follows Wednesday Addams, played by junior Lilly Ranalli, the daughter of Gomez and Morticia Addams, played by junior Dani Roach, who has fallen in love with a boy named Lucas Beinecke, played by freshman Surya Gopal. The Addamses invite the Beineckes over for dinner, where Wednesday and Lucas hope to share their plans of marriage, and receive their parents' blessings. However, the Addamses are not your typical family. They dress in Halloween-like clothing, relish horror, and have a cobweb-filled home decked out in everything from chains to mounted heads. The Beineckes, on the contrary, arrive in bright shades of yellow and seem completely pleasant and normal. As the night goes on, several problems arise. The Addamses play a game called Full Disclosure that results in some unexpected confessions, including ones from their guests, and the game leads to multiple controversies that must be resolved by the end of the show.
The Addams Family showcased the talent of its cast in a variety of ways. Kalish Demaris starred in the role of Gomez, by incorporating singing, dancing, and amusing asides to the audience, all with a Spanish accent that he had to learn. "I've been working with an accent coach for two months. We've been meeting weekly, just every week building the accent, practicing it," said Kalish Demaris. "I wanted to go out of my comfort zone a little bit. The character I played was not something I'm totally used to, so I wanted to go all out and just own it."
Another difficult character to portray was Lurch, played by junior Tal Pemstein, who for most of the show only communicates in grunts. "I played Lurch, which means that I didn't have any real lines with words. I did a lot of grunting, but that's not words, so for me something that was really special was right at the end when I got to sing solo, having the first words that I speak in the musical. It was fun to see the audience's reaction," said Pemstein.
Pemstein added it allowed them to develop their acting in a new way. "It gave me an amazing opportunity to really focus on my reactions, and to really focus on how I could be on stage without talking and still be just as there as any other speaking character."
In between the jokes, the show incorporated more serious topics, such as when Gomez realizes his daughter is growing up and has conflicting feelings on the change. "My favorite moment that I was in on stage is the song Happy Sad, where Gomez sings about how my character is growing up and how he's happy and sad about it," said Ranalli. "It's this beautiful song that's very slow and almost like a lullaby, compared to the very upbeat, fast-paced other songs in the show, and you really see a soft side to his character. I don't even sing; I just listen to him sing to me, but it's still such a beautiful moment."
While the show is based on the TV show and movies of the same name, the cast didn't want to copy prior renditions, and many refrained from watching it as they prepared. Kalish Demaris said, "I tried staying away from it; I wanted to create my own version of the character, rather than take what already exists. I think the whole show did a good job of it being our own show, rather than taking ideas from other productions of it."
COVID-19 provided many challenges for the cast, most notably the outdoor setting. Although this is not the first show to be performed with an audience this year, it involves singing, and the health guidelines required people to be ten feet away while singing. These rules made it necessary to be outside for the first time in Theatre Ink history, on a stage the crew built in the parking lot.
This new setting had its share of unpredictable problems. "Our final dress rehearsal – we did not know it was coming – but there was roadwork, and it was really loud and we couldn't hear each other," said Pemstein. "Throughout the entire process, there was this stress: What if it rains, what if it's so windy that the mics don't work, what if cars are really loud on the road? Luckily we didn't really have those issues. We had a couple of cars honk at us; it was fun to improvise off of that."
Ranalli even said they had trouble with bugs outdoors. "During one of the rehearsals there was this wasp that was attacking us on stage and the directors were trying to have a productive rehearsal and everyone's screaming and running, and they're like 'No, get back to your places, what's going on?' and we were all like, 'If a wasp comes on stage during a show, I'm sorry, I'm out, I'm running away.'"
Despite these challenges, they found unique opportunities in the free air. "It was a lot cooler, since the costumes are generally really warm with the lights being really hot, so it was nice to feel the breeze while you're performing. It was a fun experience, definitely a fun experience," according to Kalish Demaris.
"It was different, but it was like life in the air; you were in the fresh air and the night sky," added Ranalli. In one of the songs, Fester, the brother of Gomez and played by senior Mikayla Alford, sings to the moon, which is a spotlight on the school building in the show. "Audience members told me that during the song The Moon and Me, the actual moon came out at the same time on one of the nights, so Fester was singing to the moon and the moon was actually there. That's something that never would have happened in a million years," said Ranalli.
The Addams Family also featured meticulous costumes and makeup, which took another turn due to COVID-19 restrictions. The team of wigs, hair, and makeup artists designed all the looks, but they were not able to use their skills in the usual way, according to Ranalli. "At the beginning of the show through most of it, we, as actors, were told 'You guys have to now do your own makeup.'" In order to be ready for the show, the actors were supposed to practice their makeup once a week, with meetings with the artists to help.
Even with all the complications, the chance to perform for a live audience was a very welcome change. "I think that a lot of us feel that one of the best things about live theater is that connection to the audience," said Pemstein. Ranalli added, "There's such a big difference between knowing that a hundred people watch your live stream versus seeing a hundred physical people in the space. It really makes a big difference, especially as an actor on stage, because we feed off their energy so much."
"The fact that the pandemic happened, but that we were able to be back together in person, made that show a hundred times more special than any other show, even in person ones in the past," said Ranalli.