Behind the scenes: cast members put hours of work into Nitrous Oxide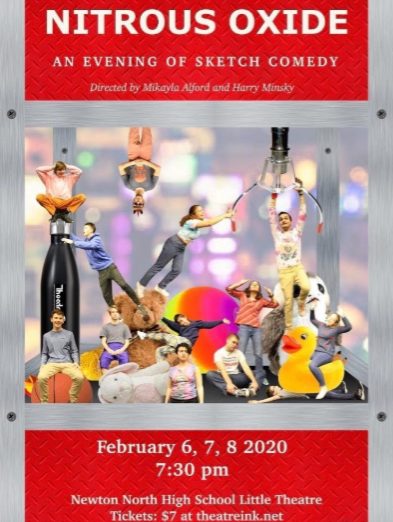 Outlets for expression are found aplenty in TheatreInk, but there is nothing to be found in the school quite like Nitrous Oxide. While Playwright's Festival gives the opportunity to write an original piece and Spontaneous Generation lets students express their comedic side, Nitrous Oxide blends both of the prior elements in what can best be described as a high school edition of Saturday Night Live.
According to junior Mikayla Alford, one of the directors of this year's troupe alongside senior Harry Minsky, "There's nothing else like this at North; there's no other experience that you can both act in and write, let alone [for] comedy."
As all shows at North do, Nitrous Oxide begins with the audition process. Alford said, "The thing we ask most people is, "Do you think you're funny? Do you like making jokes? Try out." According to senior Iris Wang, a stage manager for the show for the second year in a row, the directors look "to make sure that there's a good balance of writers and actors, and people who can do both."
Unlike past years, those involved in Nitrous Oxide were unable to audition for the big musical. According to Wang, "I think it was a very important change to the process just because everyone who was in the show was focused on the show," Wang emphasized the positive change, as the show "branched out to a lot more of the school" due to a significant portion of last year's cast graduating.
The process starts slowly. The troupe meets three times per week for three hours. The week's first two rehearsals consist of the directors introducing the troupe to a new form of comedy, such as absurdism, or random comedy that is funny for its senselessness, and the cast then pairs off to write skits with a simple, one-word inspiration, ranging from "music" to "cookies." Rehearsals end with the group sharing their drafts and giving feedback.
According to Alford, "There are so many people who I didn't know going into the process, and spending this amount of time with them allowed me to know them and become friends with them."
Wang named this as her favorite part of the process, saying that "watching the show being written before you, even if not everything makes it in, is just incredibly rewarding," as "everyone's able to come together and collaborate."
The third and final rehearsal of the week is mainly composed of the writers sharing sketches that they wrote on their own time throughout the week. The final minutes of these rehearsals are composed of the directors suggesting which idea each actor should pursue for the next week.
During this phase of the process rehearsals are fairly light in intensity and frequency. This segment lasts until a week or two before December break.
Alford added that the writing process flourished once the cast learned to trust each other, as they were"able to bounce off each other and overall make a funnier show."
After this phase has been completed, the actors look back at what they have written and choose what they think has the most comedic potential. The following two weeks see the troupe reviewing what they have written either by themselves or in pairs and polishing to a shine the skits they believe are the funniest. This segment ends by December break, during which the directors choose which sketches the show will compose of and cast the troupe into those shows.
From a directorial standpoint, Alford said the show was "a learning process" that "helped [her] grow as a person." According to Alford, she will not be directing the show next year, "so somebody else can get that experience too."
The skits selected for the show vary greatly, ranging from standard skits such as "Welcome to Newville," by sophomore Sam Melville, one joke sketches like "Bang!," by Alford, video sketches like "Garfield's Day Job," by senior Teddy Walsh, and mini series like "Vibe Check I, II, & III," by Minsky, where a few characters travel through multiple scenarios. Some sketches, such as "Rap," by senior Myles Murphy and "Morning Song," by sophomore Angel Wan and Minsky, even had actors memorize melodies and lyrics.
The final stage is the most complex, as the actors need to juggle many different characters in many different types of skits. This part of the process is "more rushed" according to Wang, as actors in each skit meet once per week very briefly. Alongside that, the writers lose some creative freedom over their works, as "it becomes the directors' vision for how [the skit] should go."
Soon after, the show begins to take up more and more time as actors rush to memorize lines while the show barrels towards them. As tech and production week roll in, actors are rehearsing for almost all afterschool time. By this time Alford said that the cast was more "tight knit than [Alford had] seen from years before."
The results of the rigorous hours of writing, editing, and rehearsing is a show that earns its unique spot at North for its ability to blend all types of humour, from satire to dark comedy to absurdism, into one versatile show.