Improv Jam presents exciting games, humor from actors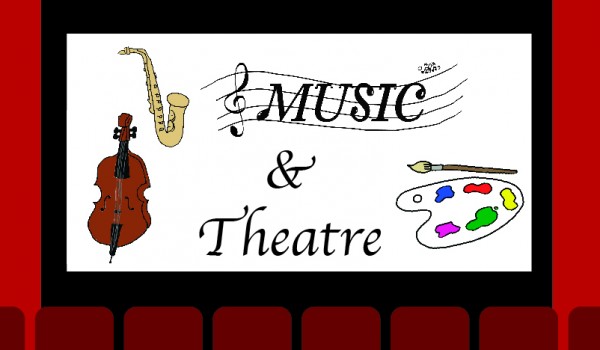 With a collection of both classic and lesser-known improv games, Theatre Ink's Improv Jam cultivated slapstick humor from the cast, which was met with frequent applause and laughter from the audience.
Directed by seniors Daze Purcell and Noor Shoresh, the show ran Friday, Jan. 10 at 7 p.m. in the Little Theater. According to Purcell, beginner and seasoned improvisers alike practiced during the biweekly Improv Club meetings.
Shoresh said the cast improved tremendously through their work in Improv Club. "We started with very rough blocks of marble and we ended up with, mwah!, Michaelangelo statues," Shoresh said, referring to the cast.
Improv Jam consisted of the cast's favorite improv games from the club. One of these games was "Death By Improv" which began with cast members calling on people in the audience for non-geographical locations and occupations. In pairs of two, the actors took turns setting up short scenes with a location or job occupation given to them randomly.
The result was an action-packed set of storylines with creative plots, including a zookeeper trying to sell a koala to get out of crippling debt and a new dance student who decided to stand up to his instructor. "Death By Improv" showed off the actors' natural senses of humor.
Sophomore Jack Sonia, a member of Improv Club, reflected on the process of practicing and doing improv. He said that if "you remember to have great energy," you can be a great improvisational actor.
In the opening skit of Improv Jam, the directors established three locations for a game: a graveyard, a Staples, and a Taco Bell. They then had actors start off a scene based on one of the locations. The directors would randomly switch the location, with the twist that the actors would have to start a new plot while referencing the last line of the past scene. Storylines took hilarious new directions as a result.
"For me, the lack of a script is kind of freeing," Purcell said, adding that improv is special because you can "just have fun on stage" and "go up and do whatever you want."
Towards the end of the show, the whole cast appeared on stage to tell jokes. During each round, an audience member would suggest something for actors to make jokes about. The cast members, who were gathered in a half-circle facing the crowd, jumped forward when they thought of a new joke or pun.
The cast focused their jokes on spoons, walruses, pianos, and tacos. As the rounds went on, the jokes got more and more clever as the cast fed off of each other's energy. It was exciting to watch and brought forth the positive, uplifting spirit of Improv Jam.
Jam-packed with great acting and comedy from North students, Improv Jam's authenticity made it a must-watch in Theatre Ink's annual rotation.
"Improv especially is so much of a 'you had to be there' sort of situation," Purcell said, adding that improv has a special ability to expose people to new senses of humor. "You bond together because of it."