"Us" thrills with strong narratives, deep messages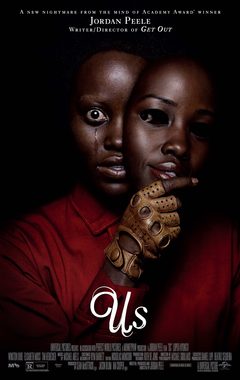 After seeing Jordan Peele's new thriller, Us, odd nightmares of red jumpsuits and golden scissors are bound to haunt audiences' dreams. The electrifying story features a family of four on vacation in Santa Cruz, California and centers around the mother, Adelaide Wilson, played by Lupita Nyong'o. The movie details her relationship with a doppelganger alien creature.
Adelaide and her husband Gabe Wilson, played by Winston Duke, along with her children Zora and Jason Wilson, played by Shahadi Joseph and Evan Alex respectively, return to her family's beach house for the first time since Adelaide suffered a traumatizing experience there as a child. She is apprehensive about going back given her experience, but her husband shakes off her concern.
When the Wilson family retreats to their house at night, their doppelgangers, known as the Tethered, visit them. The Tethereds look like their counterparts, but they have different body language and personalities. Every Tethered walks unnaturally and is bent on killing their counterpart.
A unique aspect of the movie is each actor had to embody the "normal" family member and the evil Tethered. Adelaide and her Tethered Red presented the most challenging conflict of personalities. Adelaide is motherly and strong while Red uses everything and everyone around her, even her kids and husband, to try to torture Adelaide. Nyong'o had to be these two drastically different characters which is really hard even for the best actors and she does it seamlessly. Nyong'o went to great lengths to inhabit the mindset of Red. According to a Fandango interview, she sometimes took hours in her dressing room to prepare mentally. Everything from her voice to her twisted facial expressions changes between Adelaide and Red to add a horror aspect. One of the most striking characteristics of Red is her hauntingly thin, scratchy voice, the opposite of Adelaide's deep warm voice. Nyong'o took inspiration for Red's scratchy voice from spasmodic dysphonia, a disorder that makes a person's vocal muscles spasm. Even without listening to Red speak, viewers can tell that she is a Tethered from her stiff, mechanic motions. Red walks with perfect posture without moving her arms which differs greatly from Adelaide's frantic movements. Her wide eyes, scrunched brows, and small mouth make her look doll-like. The viewer is ready for her to pounce at any second.
Nyong'o was so far into the mindset of Red that cast members had to adapt to being in scenes with her. Nyong'o's on-screen husband, Duke, supported her bold choices. "We can be dangerous, messy, and experimental with each other," Nyong'o said in a Fandango interview.  The cast had to be comfortable with each other to make the story realistic and creepy. If Nyong'o broke character, it took a long time to bring herself back into that mindset.
In the making of the film, Peele was aware that small details helped to elevate the film and bring it to life. Nyong'o and the other cast members used details to add depth to their characters. In the visual elements Peele used various easter eggs to add depth to the fictional world he created. Scissors, the primary murder weapon for the Tethereds, cut only if both parts work, which symbolizes the Tethered and humans working together. The humans only use weapons like knives and poles—not scissors—to attack the Tethereds, demonstrating their rejection of the Tethereds. When Adelaide has a chance to defend herself with scissors, she chooses to put them back down.
Peele also added the number 11:11 all over the movie. 11:11 is the only number on a clock that reads the same when reflected in a mirror. It could be another sly reference to the Tethereds, or it could reference the Bible verse 11:11 which reads, "Therefore thus saith the Lord, Behold, I will bring evil upon them, which they shall not be able to escape; and though they shall cry unto me, I will not hearken unto them" (Jeremiah 11:11). Peele might be using this verse to imply that the Tethered were not listened to by God or their human counterparts. A first-time viewer might notice the 11:11, but it takes research to realize the connection between a bible verse and the movie. Peele wants viewers to come back and see their new researched knowledge come into play.
Various plot points lead to an extended metaphor for discrimination in America. Peele references this theme when Gabe asks Red who she is and she replies, "We are Americans." A theory circulating is that when you put together Peele's two films, Get Out and Us, it could mean "get out" of the United States. Peele's movies indirectly discuss racism and discrimination, and this message could mean black people should leave the United States. Fans also think that Peele's other thriller, Get Out, is in the same universe as Us, but Peele has not confirmed any theories, leaving viewers to interpret the movie themselves. Overall, Us is the type of movie that starts a cult. Peele modeled the story after tensions in the real world to encourage viewers to question their society. Even though it is new, Us is destined to be a classic.